Des invités venus de 17 pays au prochain Carnaval de la Dubai World Cup !
A 1 mois du lancement du fameux "carnaval" de la Dubai World Cup, ce grand meeting international qui tient en haleine la planète courses durant l'hiver, le Dubai Racing Club annonce la liste des chevaux étrangers invités. Ce ne sont pas moins de 17 nations qui pourraient être représentées à Meydan, dont la France bien entendu !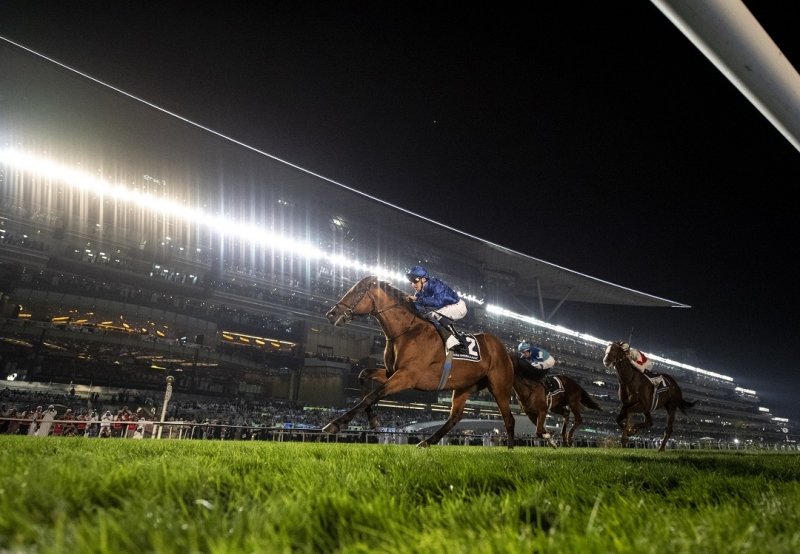 Du beau monde attendu au prochain carnaval de la Dubai World Cup à Meydan !
Alors que son lancement est prévu le jeudi 13 janvier prochain à Meydan, le fameux "Carnaval" hivernal de la Dubai World Cup annonce sa liste de chevaux étrangers invités. Le fameux meeting de Dubai est l'occasion chaque année de terminer sur le super samedi début mars avec la Dubai World Cup mais aussi les plus grandes épreuves de gazon du début d'année. Ces courses sont préparées par des concurrents internationaux tout au long du meeting à travers différentes étapes très prestigieuses, et qui offrent aussi et surtout de mirobolantes allocations !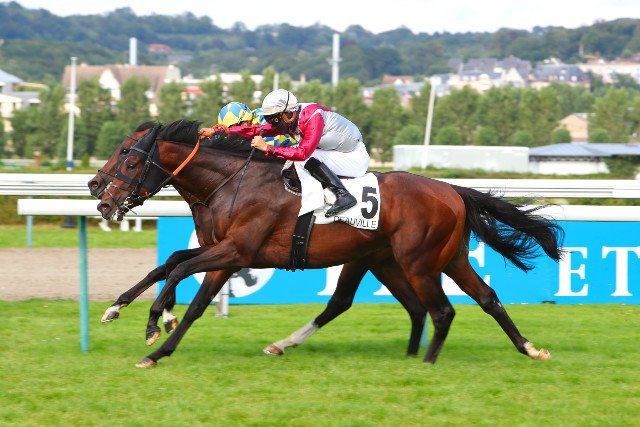 Bellharbour Music dans la liste des invités pour la team Alessandro Botti (aprh)
Comme chaque année, des chevaux français sont sur les rangs. Alessandro Botti pourrait ainsi faire le voyage avec Bellharbour Music, gagnant du prix Daphnis et véritable adepte des pistes très rapides, qui sera servi à Meydan. Habituée quant à elle du meeting, Pia Brandt est sur les rangs avec Myfancy, le frère de Mkfancy, qui vient de remporter le Prix Herod. Carina Fey pourrait être du voyage avec le flyer Manjeer, et Corine Barande Barbe avec sa crack sprinteuse Air de Valse. On note également les invitations pour deux chevaux de Henri François Devin, Integrant et Wild Majesty. Le premier cité vient de s'imposer sur la PSF deauvillaise dans une listed. Nicolas Caullery, lui aussi fan du carnaval, pourrait avoir 3 chevaux dont son bon 3 ans Fort Payne, qui a également prouvé son aptitude au sable.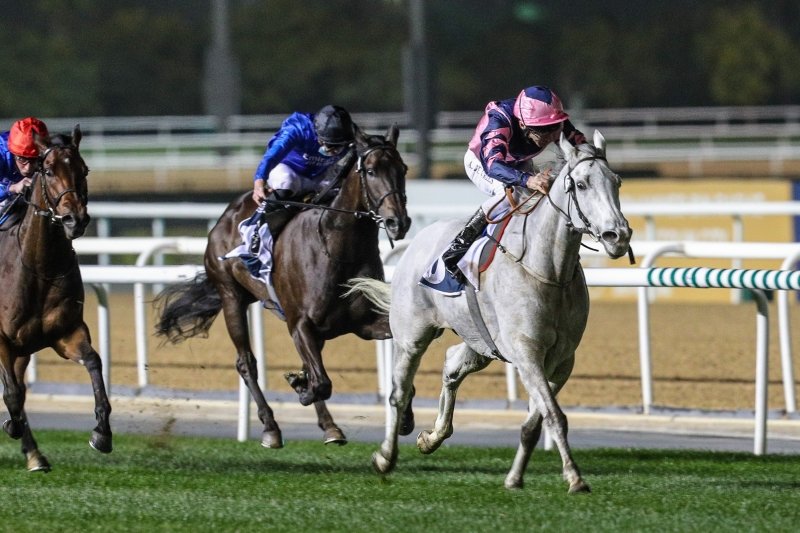 Plus en forme que jamais, le guerrier Lord Glitters devrait revenir sur le théatre de l'un de ses nombreux exploits
Du côté des autres nations, les grands noms attendus sont Lord Glitters, A Case Of You, State Of Rest, Thunder Moon ou encore Dubai Honour et Alenquer pour les anglo-irlandais. Les Etats-Unis, qui visent toujours la Dubai World Cup avec leurs meilleurs chevaux de dirt, sont aussi attendus en force. Doug O'Neill délègue notamment l'excellent Hot Rod Charlie, gagnant du Pensylvannia Derby (Gr.1) et 4e de la Breeders' Cup Classic. Viennent ensuite des nations plus atypiques comme l'Uruguay, qui a enregistré sa première victoire à Dubai l'an dernier. 10 chevaux sont invités dont 8 pour l'entraîneur Antonio Cintra. Les autres viennent de Turquie, de Grèce, Singapour, Suède, Argentine... Est même attendu avec impatience le "Frankel" Norvégien, Square de Luynes, qui va se frotter au plus haut niveau international et tenter de faire briller l'élevage français de Jacques Bérès. Un programme alléchant !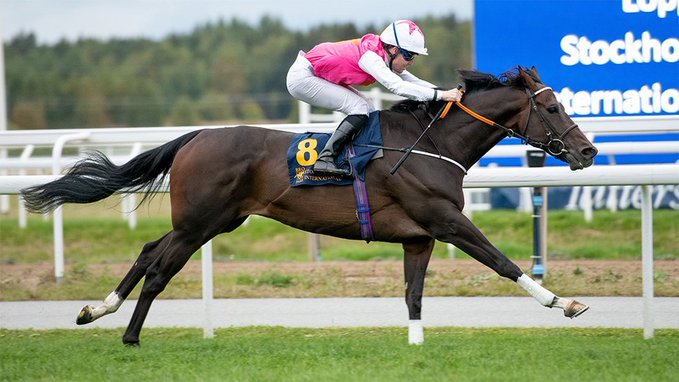 Le "FR" Square de Luynes, le "Frankel" Norvégien, devrait affronter son premier grand défi à l'étranger
VOIR LA LISTE DE TOUS LES CHEVAUX ETRANGERS INVITES AU CARNAVAL DE LA DUBAI WORLD CUP
| | | |
| --- | --- | --- |
| ENTRAINEUR | PAYS | CHEVAL |
| | | |
| ADAM WEST | UK | LIVE IN THE MOMENT |
| ADRIAN MCGUINNESS | Ireland | A CASE OF YOU |
| ADRIAN MCGUINNESS | Ireland | CURRENT OPTION |
| ADRIAN MCGUINNESS | Ireland | HARRY'S BAR |
| ADRIAN MCGUINNESS | Ireland | PIERRE LAPIN |
| ADRIAN MCGUINNESS | Ireland | CASANOVA |
| ADRIAN MCGUINNESS | Ireland | BOWERMAN |
| ALESSANDRO BOTTI | France | BELLHARBOUR MUSIC |
| ALICE HAYNES | UK | MR PROFESSOR |
| ALICE HAYNES | UK | FREYABELLA |
| AMY MURPHY | UK | ABALONE PEARL |
| ANDREW BALDING | UK | BELL ROCK |
| ANDREW BALDING | UK | STONE OF DESTINY |
| ANTONIO CINTRA | Uruguay | AERO TREM |
| ANTONIO CINTRA | Uruguay | ATLETICO EL CULANO |
| ANTONIO CINTRA | Uruguay | AJUSTE FISCAL |
| ANTONIO CINTRA | Uruguay | PERFECT LOVE |
| ANTONIO CINTRA | Uruguay | DAMA DE FERRO |
| ANTONIO CINTRA | Uruguay | NOPAYA NAA |
| ANTONIO CINTRA | Uruguay | EL PATRIOTA |
| ANTONIO CINTRA | Uruguay | UPPER CLASS |
| ARDA TASCIOGLU | Turkey | LIGHT OF DARKNESS |
| BENT OLSEN | Denmark | LEARN BY HEART |
| BENT OLSEN | Denmark | PJERROT |
| BRANDT PIA | France | MY FANCY |
| BRIAN MEEHAN | UK | PALAVECINO |
| CARINA FEY | France | MANJEER |
| CATHRINE ERICHSEN | Norway | DUCA DI COMO |
| CATHRINE ERICHSEN | Norway | MASTER BLOOM |
| CHARLES HILLS | UK | KHAADEM |
| CHARLES HILLS | UK | POGO |
| CHARLES HILLS | UK | EQUILATERAL |
| CHARLES HILLS | UK | GARRUS (IRE) |
| CHARLES HILLS | UK | MAY SONIC |
| CHARLIE FELLOWES | UK | EJTILAAB (IRE) |
| CHARLIE FELLOWES | UK | DUBIOUS AFFAIR (IRE) |
| CHRISTOS THEODORAKIS | Greece | REVAMP |
| CORINE BARANDE BARBE | France | AIR DE VALSE |
| DAN MEAGHER | Singapore | LIM'S LIGHTNING |
| DARREN BUNYAN | Ireland | J J JUMBO |
| DAVE LOUGHNANE | UK | TRUMBLE |
| DAVID O'MEARA | UK | LORD GLITTERS |
| DAVID O'MEARA | UK | SUMMERGHAND |
| DAVID O'MEARA | UK | ESCOBAR |
| DAVID O'MEARA | UK | GULLIVER |
| DAVID SIMCOCK | UK | RODRIGO DIAZ |
| DAVID SIMCOCK | UK | BLESS HIM |
| DAVID SIMCOCK | UK | TIGER CRUSADE |
| DAVID SIMCOCK | UK | KIWANO |
| DENIS HOGAN | Ireland | ALJADY |
| DERMOT WELD | Ireland | SEARCH FOR A SONG |
| DOUG O'NEILL | USA | KHANTARO D'ORO |
| DOUG O'NEILL | USA | POSITIVITY |
| DOUG O'NEILL | USA | HOT ROD CHARLIE |
| DOUG O'NEILL | USA | APPRECIATED |
| DOUG O'NEILL | USA | FORE LEFT |
| DOUG O'NEILL | USA | STRONGCONSTITUTION |
| DOUG O'NEILL | USA | DURANTE |
| DOUG O'NEILL | USA | I'LL STAND TALLER |
| DOUG O'NEILL | USA | ROOKIE MISTAKE |
| DOUG O'NEILL | USA | NOTRE DAME |
| DOUG O'NEILL | USA | GET BACK GOLDIE |
| ED WALKER | UK | DESERT DOCTOR |
| EDWARD BETHELL | UK | ARTISTIC RIFLES (IRE) |
| EDWARD DUNLOP | UK | RED VERDON |
| EMIN TOKÇALAR | Turkey | KUZEY YAGMURU |
| FAWZI NASS | UAE | SALUTE THE SOLDIER |
| FAWZI NASS | UAE | LINE OF DEPARTURE |
| FAWZI NASS | UAE | PROMPTING |
| FAWZI NASS | UAE | VALYRIAN STEEL |
| FAWZI NASS | UAE | MADKHAL |
| FAWZI NASS | UAE | SED MAARIB |
| FAWZI NASS | UAE | WITHERING |
| GEORGE BOUGHEY | UK | OSCULA |
| HAIDER SHAHEEN | Bahrain | LITIGATOR |
| HAIDER SHAHEEN | Bahrain | COOLAGH FOREST |
| HAIDER SHAHEEN | Bahrain | PRINCE OF NAPLES |
| HEATHER MAIN | UK | ISLAND BRAVE |
| HENK GREWE | Germany | FLAMINGO GIRL |
| HENRI-FRANÇOIS DEVIN | France | INTEGRANT |
| HENRI-FRANÇOIS DEVIN | France | WILD MAJESTY |
| IAN WILLIAMS | UK | ENEMY |
| IAN WILLIAMS | UK | THE GRAND VISIR |
| IAN WILLIAMS | UK | HIGHLAND DRESS |
| IAN WILLIAMS | UK | CAP FRANCAIS |
| IAN WILLIAMS | UK | CARDANO |
| IAN WILLIAMS | UK | EAST ASIA |
| IAN WILLIAMS | UK | HALIPHON |
| JAMES OSBORNE | UK | ALIGNAK |
| JAMES OSBORNE | UK | MEKONG |
| JANE CHAPPLE-HYAM | UK | SAFFRON BEACH |
| JANE CHAPPLE-HYAM | UK | AMBASSADORIAL (USA) |
| JANE CHAPPLE-HYAM | UK | BELLOSA |
| JANE CHAPPLE-HYAM | UK | ATHERBY |
| JAVIER FREN | Argentina | IRWIN |
| JESSICA HARRINGTON | Ireland | CADILLAC |
| JESSICA HARRINGTON | Ireland | REAL APPEAL |
| JOHN RYAN | UK | PISTOLETTO |
| JOSEPH O'BRIEN | Ireland | STATE OF REST |
| JOSEPH O'BRIEN | Ireland | THUNDER MOON |
| JOSEPH O'BRIEN | Ireland | BARON SAMEDI |
| JOSEPH O'BRIEN | Ireland | MASTER OF REALITY |
| JOSEPH O'BRIEN | Ireland | GEAR UP |
| JOSEPH O'BRIEN | Ireland | SAN ANDREAS |
| JOSEPH O'BRIEN | Ireland | RAISE YOU |
| JUAN F SALDIVIA | Argentina | SENEGALESCA |
| JUAN F SALDIVIA | Argentina | PELO PLATINADO |
| KADIR BALTACI | Turkey | VERNAZZA |
| KAHLIL DE BURCA | Sweden | AMHRAN NA BHFIANN |
| KAHLIL DE BURCA | Sweden | MILITARY STYLE |
| KAHLIL DE BURCA | Sweden | UCHCHAIHSHRAVAS |
| KARL BURKE | UK | SIGNIFICANTLY |
| KARL BURKE | UK | LORD OF THE LODGE |
| KARL BURKE | UK | SPYCATCHER |
| KEVIN RYAN | UK | EMARAATY ANA |
| MARCO BOTTI | UK | FELIX (GB) |
| MARCO BOTTI | UK | PENSIERO D'AMORE (IRE) |
| MARCO BOTTI | UK | THE CONQUEROR (IRE) |
| MARCO BOTTI | UK | NAO DA MAIS (BRZ) |
| MARCO BOTTI | UK | MOBASHR (USA) |
| MARK JOHNSTON | UK | ROSE OF KILDARE |
| MARK JOHNSTON | UK | THE LAST LION |
| MICHAEL APPLEBY | UK | KING OF STARS |
| MICHAEL APPLEBY | UK | EDRAAK |
| MICHAEL APPLEBY | UK | AYR HARBOUR |
| MICHAEL DE KOCK | UAE | GARRULOUS |
| MICHAEL DE KOCK | UAE | MARSHALL |
| MICHAEL DE KOCK | UAE | NAJEM SUHAIL |
| MICHAEL DE KOCK | UAE | ALBION SQUARE |
| MICHAEL DE KOCK | UAE | CELTIC VOYAGER |
| MICHAEL DE KOCK | UAE | MAJESTIC MAMBO |
| MICHAEL DE KOCK | UAE | THALER |
| MICHAEL J BROWNE | Ireland | LOGO HUNTER |
| MICK CHANNON | UK | DALANIJUJO |
| NAHUEL ORLANDI | Argentina | SEAN HALO |
| NAWAF ALMANDEEL | Saudi Arabia | STEP BY STEP |
| NAWAF ALMANDEEL | Saudi Arabia | DEACON |
| NICOLAS CAULLERY | France | FORT PAYNE |
| NICOLAS CAULLERY | France | BATWAN |
| NICOLAS CAULLERY | France | BEST SIXTEEN |
| NIELS PETERSEN | Norway | IRON BUTTERFLY |
| NIELS PETERSEN | Norway | NOBLE JUSTICE |
| NIELS PETERSEN | Norway | HEAR THE DRUMS |
| NIELS PETERSEN | Norway | CHIEFOF COMANCHES |
| NIELS PETERSEN | Norway | SQUARE DE LUYNES |
| NIELS PETERSEN | Norway | KICK ON |
| NIELS PETERSEN | Norway | KING DAVID |
| NIELS PETERSEN | Norway | BULLOF WALL STREET |
| NIELS PETERSEN | Norway | COULD BE KING |
| NIELS PETERSEN | Norway | TUWAIQ |
| NIELS PETERSEN | Norway | ASCOT BRASS |
| NIGEL TINKLER | UK | ACKLAM EXPRESS |
| NINA LENSVIK | Sweden | SUSPICIOUS MIND |
| NINA LENSVIK | Sweden | SANARY |
| ONUR OZELCANAT | Turkey | FINAL DANCE |
| ONUR OZELCANAT | Turkey | LONG RUNNER |
| ONUR OZELCANAT | Turkey | AEGEAN FINALE |
| OSVALDO D DAVILA | Argentina | ZODIACAL |
| OWEN BURROWS | UK | HUKUM |
| PATRICK WAHL | Sweden | SILENT NIGHT |
| PETER CHARALAMBOUS | UK | APOLLO ONE |
| RAPHAEL FREIRE | Norway | HOTLINE BLING |
| RAPHAEL FREIRE | Norway | CAIO SHARK |
| RICARDO COLOMBO | Chile | VITA DA MAMMA |
| RICARDO COLOMBO | Chile | ROYAL LUCK |
| RICARDO COLOMBO | Uruguay | KIEFER |
| RICARDO COLOMBO | Uruguay | BLANC DE NOIRS |
| RICARDO LE GRANGE | Singapore | KATAK |
| RICARDO RAMALLO | Sweden | EL GUANCHE |
| RICHARD HANNON | UK | CHINDIT |
| RICHARD HANNON | UK | HAPPY ROMANCE |
| RICHARD HANNON | UK | FANCY MAN |
| RICHARD HANNON | UK | OH THIS IS US |
| RICHARD SPENCER | UK | TYSON FURY |
| ROBERT COWELL | UK | ATALIS BAY |
| ROBERT COWELL | UK | DUBAI STATION |
| ROGER FELL | UK | MARIE'S DIAMOND |
| SAYED MOHAMMED SAEED | Bahrain | BAASHIR |
| SAYED MOHAMMED SAEED | Bahrain | MAYSTAR |
| SAYED MOHAMMED SAEED | Bahrain | TAQAREER |
| SIMON CRISFORD | UK | COURT HOUSE |
| SIMON CRISFORD | UK | WITHOUT A FIGHT |
| SIMON CRISFORD | UK | FINEST SOUND |
| SIMON CRISFORD | UK | ALGIERS |
| SIMON CRISFORD | UK | ERASMO |
| SIMON CRISFORD | UK | ROULSTON SCAR |
| SIMON CRISFORD | UK | VINTAGER |
| SIMON CRISFORD | UK | BAHRAIN PRIDE |
| SIMON CRISFORD | UK | HALIMI |
| SIMON CRISFORD | UK | LATEST GENERATION |
| SIMON CRISFORD | UK | LEGAL ATTACK |
| SIMON CRISFORD | UK | URGENT APPEAL |
| SIMON CRISFORD | UK | FRANZ KAFKA |
| SIMON CRISFORD | UK | CHANCE |
| SIMON CRISFORD | UK | INFLUENCER |
| SIMON CRISFORD | UK | FAR HOPE |
| SIMON CRISFORD | UK | SAFRA |
| SIMON CRISFORD | UK | ASWAN |
| SUSANNE BERNEKLINT | Sweden | I KIRK |
| SUSANNE BERNEKLINT | Sweden | PLATA O PLOMO |
| SUSANNE BERNEKLINT | Sweden | STEINAR |
| TEVFIK BARDAKCI | Turkey | BURGAS |
| TOM DASCOMBE | UK | FLAMING RIB |
| TOM DASCOMBE | UK | MISTY GREY |
| TOM DASCOMBE | UK | EVER GIVEN |
| WILL CLARKEN | Australia | SECOND SLIP |
| WILL CLARKEN | Australia | PARSIFAL |
| WILL CLARKEN | Australia | HE'S A BALTER |
| WILLIAM HAGGAS | UK | DUBAI HONOUR |
| WILLIAM HAGGAS | UK | ALENQUER |
| WILLIAM HAGGAS | UK | MY OBERON |
| WILLIAM HAGGAS | UK | GROCER JACK |
| WILLIAM HAGGAS | UK | MOHAAFETH |
| WILLIAM HAGGAS | UK | ROBERTO ESCOBARR |
| WILLIAM KNIGHT | UK | SIR BUSKER |