Saint des Saints reaches the top
This is the magic word to sell a foal in England: Saint des Saints. The one who was conceived following a joke out of a relatively tired mare, provides hope and brings energy to the market of the racing industry.
For sure the English love him, especially because of the results of his offsprings (Quel Esprit, Quito de la Roque) in Gr.1 company at Punchestown and Leopardstown but also thanks to Salut Flo who won a Gr.3 at Cheltenham in 2012. Saint des Saints scores at the highest level which excites the british. In fact, the mere mention of his name, makes them open their wallets full of pounds as promptly as the French Cancan dancers would lift their legs at the first sound of Offenback song : The Infernal Gallop.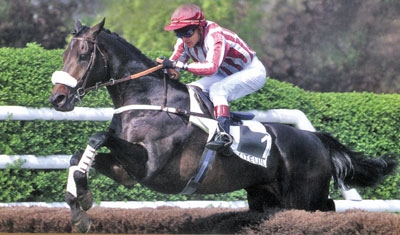 Saint des Saints, ridden by Benoit Gicquel, defending Jacques Détré's racing colours

Now aged 14, Saint des Saints has great records as a sire. This winter was the most prosperous of his NH career across the Channel, but he also flew at Auteuil this spring. Saint des Saints had already produced Synaptic, Monpilou, Santa Bamba owned by Jacques Détré and Saint Macaire, owned by Mrs Patrick Papot. And, in recent weeks, after dominating both meetings of Cagnes sur Mer and Pau, he finally took the lead of the "black-type" sires list of the first trimester. Saint Macaire looks like he will become a champion in Cross country and Overlord, won the Grande Course de Haies de Printemps at Auteuil ! This is the biggest handicap of the year, a Gr.3 offering nearly €70,000 to the winner. To top it all, Chavoy finished second on the same day in the Prix Saint-Sauveur (Listed). Saint des Saints can be a proud daddy!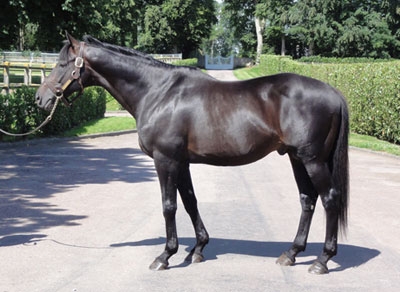 Saint des Saints, at Haras d'Etreham in 2011.


Saint des Saints is the first champion to run under the colors of Jacques Détré and is also a new flying star for Haras de Saint-Voir since it was taken over by Nicolas de Lageneste. While in training with Guillaume Macaire, Saint des Saints won four group races at 4 over hurdles at Auteuil in 2002.,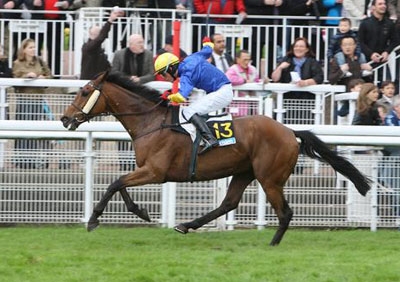 Overlord (Saint des Saints) wins the Grande Course de Haies de Printemps (Gr.3). He was bred by Anne and Baudouin de la Motte Saint-Pierre at Haras du Pley.

From 32 to 125 mares covered in one season !

Based at Haras d'Etreham, then moved to Haras de Tuileries, Saint des Saints began his stallion duties in 2003 at €4,500, a relatively high price given the usual average for a NH sire, and he didn't covered many mares. The most difficult season for him was the fourth, in 2006, ( his first offspring was 2yo) : Saint des Saints has only sired 32 mares.
But when his first runners appeared on the track in 2007, he was back very quickly on the list of the must fancied sires, and was overbooked. In 2008, it went from 32 to 125 mares covered ! Saint des Saints is not that much into the mating process and he drags his feet to honor all the candidates. To restrain his book, his fee was raised to €6,000 in 2009 and he was "limited" to 94 mares, then reduced to €4,000, a direct consequence of the crisis. He was therefore overwhelmed with demand : 85 mares in 2010, 93 in 2011 ... he sired a lot again this spring and will most likely be limited in numbers and increased in price next year.
Watch Saint des Saints video at Etreham Stud.


All is not so easy (everything just hangs to his style ...)


Indeed, Saint des Saints is out of Chamisène, a purely flat bred mare (Pharly), winner of the Prix de Sandringham (Gr.3) and Malleret (Gr.3) for Count de Lastours. She is a sister to Lou Piguet, second of the Prix de la Forêt, (stallion with no particular interest), and Le Balafré a good national sire, winner of the Prix Jean Prat (Gr.1). Chamisène arrived at Nicolas Lageneste's farm in the mid-90s, when he first started. She didnt produced anything good and only had a small progeny as she was barren between 1986 and 1991, and did not get in foal again from 1993 on. Then, Nicolas de Lageneste tried his luck with her "once more": first he went to Germany to get her covered by Lavirco at the beginning of his stud career, in vain. So he decided to have a go with Cadoudal. It was a radical change of stallion for the mare, then aged 17... We know the result.

Note: Nicolas de Lageneste got one last foal out of Chamisène, Sacro Saint. by Kendor who retired to stud unraced following injuries

On en parle dans l'article