Motivator once again with Trève
Bred by Haras du Quesnay, Trève wins the Prix Vermeille and gives her sire Motivator, arrived in France for the 2013 season, a superb Gr.1 success ahead of Arc week end. Unbeaten in 4 outings, Cheik Joaan Al Thani new purchase promise a great race early October.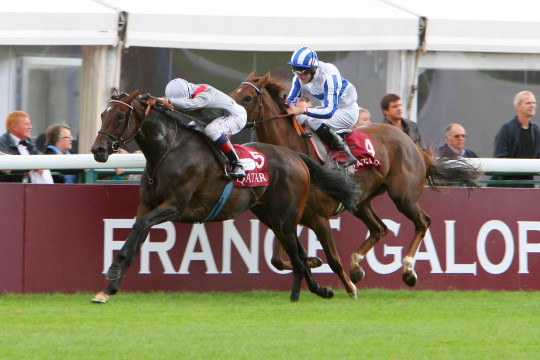 Trève, a daughter of Motivator, wins the Gr.1 Prix Vermeille under Lanfranco Dettori
for Cheik Joaan Al Thani and Haras du Quesnay
Across the Atlantic, freshman sire from Haras de la Reboursiere, a son of Kendor, Literato takes a Gr.1 straight away with his first crop thanks to Alterité at Belmont Park in the Garden City Stakes (see article).
Still in USA, the arabian Dahess takes the Alec Courtelis Arabian Juvenile Stakes (Gr.3) with his american representative Thess is Awesome.

Other french young sire, Myboycharlie scores in a listed race one of his french 2yo.
Over jumps, the Prix Finot (Listed) was divided: Saint des Saints defeats Califet in one group while Poliglote takes the first accessit of the second.