Cheltenham : french touch
Martaline leaves Cheltenham with two Gr.1, contests to his counter, over hurdles and on the chase, with two horses bred in Allier. What a skill !
Two Gr.1 laureates for Martaline during the Cheltenham festival :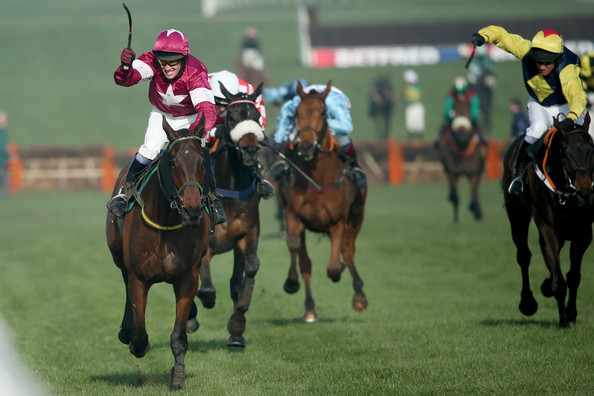 Very Wood, bred by Catherine &Bernard Jacquemont,

in partnership with Jean-Paul Gronfier and his son Antoine, born and raised in Allier, rwins the Albert Bartlett Novices' Hurdle (3m) at 5 for trainer Noel Meade.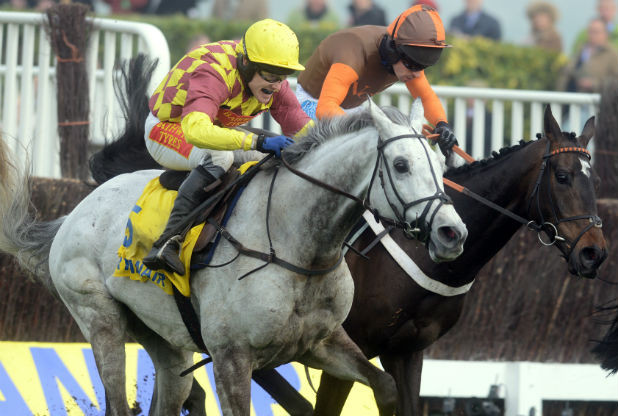 Grey like his sire, Dynaste, bred by Paul Chartier, scores in his second Gr.1
of his career thanks to the Ryanair Chase under Tom Scudamore for David Pipe
My Risk gets the Queen Mother Champion Chase (Gr.1) with the AQPS "made in Grugerie", Sire de Grugy, a second consecutive Gr.1 success,th group win in his last outings. Module is 3rd for Jean-Marie Baradeau and David Lumet.
By Authorized, Tiger Roll gets the best of Kentucky Hyden (Kentucky Dynamite) from Haras de Manneville, in the Gr.1 event Triumph Hurdle. Lets also note that Calipto, a son of Califet bred by André Priolet, is 4th.
Great group places for Ballingarry, Fragrant Mix, Smadoun, Alberto Giacometti and Turgeon.
In France, at Auteuil, the prix d'Indy and Troytown, two Gr.3s, gave victory to french based stallions : Poliglote wins the first hurdle contest with Polygona for Manuel Garcia and Yann-Marie Porzier (Policy Maker 2nd, Dream Well, 3rd) while the second mentioned race, a chase, went to Saint des Saints with Saint Palois for Haras du Luy and Mme Papot (Network is 3rd).
Semaine des étalons du 2014/03/10 au 2014/03/16
Père
Cheval
Sexe
Age
Lieu
Discipline
Place
Al Namix
Alizee Rochelaise (AQPS)
F
10
Argentan
Steeple
1er
Balko
Latyle
F
10
Fontainebleau
Steeple
1er
Elvstroem
Outback Joe
H
13
Morphettville
Plat
1er G2
Gentlewave
Todd
H
10
Limerick
Haies
1er
Great Pretender
Plumeur
H
13
Auteuil
Haies
2ème Listed
Great Pretender
Jarrouse
H
10
Enghien-Soisy
Haies
1er
Greengroom
Ultra Pepita (AA)
F
12
Mont-de-Marsan
Haies
1er
Hannouma
Nouma Jelois
F
9
Enghien-Soisy
Haies
1er
Honolulu
Goldinina
F
9
Carrere (Martinique)
Plat
1er
Kapgarde
Hyla Du Mathan
F
11
Nimes
Steeple
1er
Kapgarde
Arnulf
H
12
Argentan
Cross
1er
Kapgarde
Voyage A New York (AQPS)
H
11
Carlisle
Haies
1er
Khalkevi
Rusquela
H
10
Enghien-Soisy
Steeple
1er
Khalkevi
Khalassar
H
11
Mont-de-Marsan
Haies
1er
Kingsalsa
Tache Noire
M
12
Roma
Plat
1er
Le Havre
Orbec
M
9
Bordeaux le Bouscat
Plat
1er
Le Havre
Diego Valor
M
9
Mont-de-Marsan
Plat
1er
Le Havre
Suedois
H
9
Chantilly
Plat
2ème Listed
Literato
Koliakhova
F
9
Saint-Cloud
Plat
1er
Moss Vale
Cross Out
M
2020
Roma
Plat
1er
Motivator
Our Phylli Vera
M
11
Plumpton
Haies
1er
Motivator
Domination
H
13
Limerick
Steeple
1er
Naaqoos
Gangnam Style
F
9
Saint-Cloud
Plat
1er
Naaqoos
Spoulgas
M
9
Marseille Pont de Vivaux
Plat
1er
Nidor
Ugo Clementais (AQPS)
H
12
Argentan
Cross
1er
Pomellato
Another Party
M
9
Chantilly
Plat
3ème Listed
Saint Des Saints
Saint Call
H
9
Bordeaux le Bouscat
Haies
1er
Saint Des Saints
Saint Palois
H
12
Auteuil
Steeple
1er G3
Slickly
Shaslika
F
10
Compiegne
Plat
1er
Slickly
Estrella Delnorte
F
9
Carrere (Martinique)
Plat
1er
Slickly
Swift Harmony
F
10
Saint-Cloud
Plat
1er
Stormy River
River Cam
H
11
Angouleme
Plat
1er
Stormy River
Cajun
M
9
Marseille Pont de Vivaux
Plat
1er
Ungaro
Suntiep
H
14
Cheltenham
Steeple
3ème Listed
Vatori
Rose Vista
F
11
Saint-Cloud
Plat
3ème G3
Whipper
Raphaelus
H
13
Marseille Pont de Vivaux
Plat
1er