ELEVAGE COUTEAUDIER LOUIS ET FLORENCE

Couteaudier Louis
La Vernière
58250 Fours
Tél. 03 86 50 24 94

Louis Couteaudier breeds from a single family discovered by his ancestors in 1920, which has produced Martinet II, Val d'Alene and recently Triolo d'Alene.
NEWS : Triolo d'Alene, already a dual Gr.3 winner, bred by the Couteaudier family won a Listed over fences at Kempton in January 2016 !
Louis and Florence Couteaudier have about ten AQPS broodmares at Fours in the region of Nevers.The mares, which all descend from the bloodlines of Louis' father Hubert, cohabit with 100 cattle on 185 hectares. The Couteaudiers also breed sport horses for their son Luc who is based in Normandy.



Four generations of the Couteaudier family have been involved in horses in this tiny village close to the stallion station of Cercy la Tour, where most of the mares have been covered over the years.



The first mare Quennevières (by Gilbert PS and Hortense) was born in 1916 at Chalmoux. She was bought by great-grandfather François Mathé in 1920, who passed her to his son in law Louis Couteaudier.



Quennevières produced jumps winner Gamine du Rousseau (Gala PS) in 1928, who later gave birth to Dalila in 1947. In 1952 the latter produced Idole du Rousseau (Vermeil), Hubert Couteaudier's first mare.



Idole du Rousseau was an excellent broodmare. Her first offspring Tobrouck II (1963 Verdi) won 8 races. She also produced Baroud II, winner of the Grand Steeple Chase des Flandres.



The story continues thanks to Vodka II, the full sister of Tobrouck II, who gave birth to Prix du Président de la République hero Martinet II (1978 Cap Martin).



Another branch of the family gave another Président de la République winner Perceval (1981 Saumon), a grandson of Idole du Rousseau. An 8-time winner, Perceval was the best AQPS of his generation on the flat.



Val d'Alène, a great grandson of Idole du Rousseau, won 9 races including the Prix Lutteur III, Montgomery, Racing Post Chase, and 2nd in the Grand Steeple-Chase de Paris.



Louis Couteaudier continues to produce numerous winners from this AQPS family. His best current horse is Ocarina d'Alène, winner of 4 races at Auteuil.



Ocarina d'Alène is out of Joliette d'Alène (Garde Royale), on of three daughters of Moldau which Louis Couteaudier kept unraced when taking on the family breeding operation.





Private breeding operation

185 hectares

10 AQPS broodmares

Biggest winners: Val d'Alène, Cabernet, Klarine d'Alène, Pipelette d'Alène, Ocarina d'Alène, Long Courrier, Opatiga, Quissac, Utanova, Scala IV, Colombia, Haïfa du Noyer, Laïka du Noyer, Triolo d'Alene.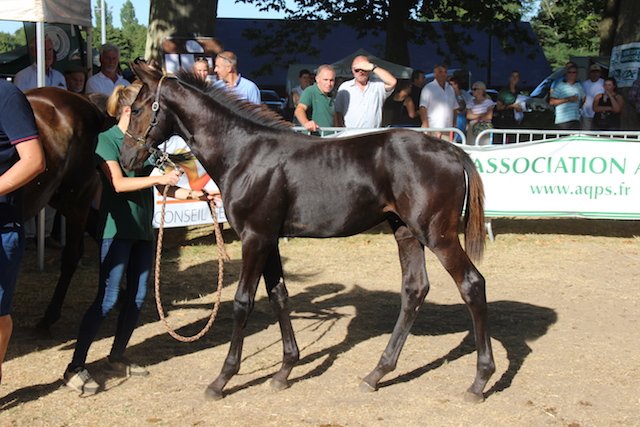 Aucune vidéo n'est disponible
Broodmare band
Juments non actives
Winners
Février 2020
Décembre 2019
2019/12/26 - Farouk D'Alene 1er - Down Royal (IRE)

2019/12/15 - Fantasio D'Alene 2ème Future Champions" Inh Flat Race (Listed Race) 4-7yo" (L) - Navan (IRE)
Novembre 2019
Octobre 2019
Septembre 2019
Mai 2019
Avril 2019
Décembre 2018
Août 2018
Juillet 2018
Juin 2018
Mai 2018
Avril 2018
Janvier 2018
Novembre 2017
Octobre 2017
Septembre 2017
Août 2017
Juin 2017
Mai 2017
Avril 2017
Décembre 2016
Novembre 2016
Octobre 2016
Septembre 2016
Juillet 2016
Juin 2016
Mai 2016
Avril 2016
Mars 2016
Février 2016
Janvier 2016
Novembre 2015
Octobre 2015
Septembre 2015
Août 2015
Juin 2015
Mai 2015
Mars 2015
Février 2015
Novembre 2014
Octobre 2014
Septembre 2014
Décembre 2013
Novembre 2013
2013/11/30 - TRIOLO D'ALENE 1er Hennessy Gold Cup Chase (Gr 3) - Newbury (GB)

2013/11/02 - Triolo D'Alene 3ème United House Gold Cup Handicap Chase (Gr 3) - Ascot (GB)
Avril 2013
2013/04/28 - Triolo D'Alene 1er - Huntingdon (GB)

2013/04/05 - TRIOLO D'ALENE 1er John Smith's Topham Chase (Gr 3) - Aintree (GB)
Décembre 2012
Janvier 2012
2012/01/21 - Triolo D'Alene 1er - Ascot (GB)

2012/01/13 - Thermidor 1er - Pau (FR)
Novembre 2011
Octobre 2011
Septembre 2011
Mars 2011
Mai 2009
Sales & shows
Retrouvez la liste des participations aux ventes et shows de cet établissement.
Sprinter Sacré Show Decize le 2019/06/15
Lot
Nom
Pere
Mere
Issue
27
Hedwige D'Alene F17

Fuisse x Mascotte D'Alene

Fuisse
Mascotte D'Alene
Non classé
29
Helen D'Alene F17

Coastal Path x Passion D'Alene

Coastal Path
Passion D'Alene
1er
77
Jalisca d'Alene F19

No Risk At All x Colombia D'Alene

No Risk At All
Colombia D'Alene
3ème
90
Jaffa d'Alene F19

Elliptique x Opaline Du Noyer

Elliptique
Opaline Du Noyer
Non classé
Show AQPS Le Lion d'Angers le 2018/08/23
Lot
Nom
Pere
Mere
Issue
38
Itialene F18

Doctor Dino x Bejca

Doctor Dino
Bejca
5ème
Sprinter Sacré Show Decize le 2018/06/08
Lot
Nom
Pere
Mere
Issue
81
Idole D'Alene F18

Karaktar x Opaline Du Noyer

Karaktar
Opaline Du Noyer
1er
Concours AQPS - Finale interrégionale Decize le 2017/08/25
Lot
Nom
Pere
Mere
Issue
61
Helen D'Alene F17

Coastal Path x Passion D'Alene

Coastal Path
Passion D'Alene
2ème
76
Harry D'Alene M17

Coastal Path x Agatha D'Alene

Coastal Path
Agatha D'Alene
1er
Concours de 2 ans AQPS Cercy-la-Tour le 2017/06/09
Lot
Nom
Pere
Mere
Issue
9
Fine Fleur D'Alene F15

Network x Ocarina D'Alene

Network
Ocarina D'Alene
6ème
Concours AQPS de Decize Decize le 2016/08/26
Lot
Nom
Pere
Mere
Issue
31
Fakir D'Alene H15

Cokoriko x Serbanne

Cokoriko
Serbanne
Non classé
32
Farouk D'Alene H15

Racinger x Mascotte D'Alene

Racinger
Mascotte D'Alene
Non classé
53
Gallice D'alene F16

Rail Link x Qualisse D'Alene

Rail Link
Qualisse D'Alene
Absent
98
Gatsby D'Alene M16

Network x Passion D'Alene

Network
Passion D'Alene
1er
Finale Interrégionale et vente de Decize Decize le 2015/08/28
Lot
Nom
Pere
Mere
Issue
90
Fakir D'Alene H15

Cokoriko x Serbanne

Cokoriko
Serbanne
Absent
98
Fantasio D'Alene M15

Saddler Maker x Passion D'Alene

Saddler Maker
Passion D'Alene
Non classé
100
Farouk D'Alene H15

Racinger x Mascotte D'Alene

Racinger
Mascotte D'Alene
Non classé
Concours de 2 ans AQPS Cercy le 2015/06/12
Lot
Nom
Pere
Mere
Issue
3
Divine D'Alene F13

Voix Du Nord x Passion D'Alene

Voix Du Nord
Passion D'Alene
Non classé
Finale Interrégionale et vente de Decize DECIZE le 2014/08/29
Lot
Nom
Pere
Mere
Issue
12
Colombia D'Alene F12

Network x Ocarina D'Alene

Network
Ocarina D'Alene
1er
42
Calisson D'Alene H12

Vendangeur x Qualisse D'Alene

Vendangeur
Qualisse D'Alene
Non classé
Concours de 2 ans AQPS Cercy la Tour le 2014/06/13
Lot
Nom
Pere
Mere
Issue
5
Cantilene F12

Laveron x Jebba

Laveron
Jebba
8ème
15
Colombia D'Alene F12

Network x Ocarina D'Alene

Network
Ocarina D'Alene
1er
Concours AQPS interrégional du Centre-Est Decize le 2013/08/30
Lot
Nom
Pere
Mere
Issue
54
Dalila D'Alene F13

Alberto Giacometti x Opaline Du Noyer

Alberto Giacometti
Opaline Du Noyer
Absent
84
Diego D'Alene H13

Honolulu x Mascotte D'Alene

Honolulu
Mascotte D'Alene
1er
Concours de 2 ans AQPS Cercy-la-Tour le 2013/06/05
Lot
Nom
Pere
Mere
Issue
34
Basilic D'Alene M11

Fragrant Mix x Haifa Du Noyer

Fragrant Mix
Haifa Du Noyer
2ème
Concours interrégional AQPS de modèle et allures Decize le 2011/08/26
Lot
Nom
Pere
Mere
Issue
61
Baladine D'Alene F11

Laverock x Opaline Du Noyer

Laverock
Opaline Du Noyer
2ème
Classifieds
Il n'y aucune annonce pour cet établissement
Stallions
Il n'y aucun étalon référencé pour cet établissement