Joyeuse, la demi-sœur de Frankel s'impose pour ses débuts !
La demi-sœur de Frankel âgée de 2 ans par Oasis Dream et nommée Joyeuse a fait des débuts victorieux sur l'hippodrome de Lingfield ce mardi 28 Mai. Les bookmakers la placent déjà à 25-1 pour les 1000 Guineas 2014. Ses frères, Frankel et Bullet Train sont tous deux étalons. Le premier est bien sûr resté la propriétaire du Prince Khalid Abdullah tandis que Bullet Train va partir étalon en Australie cette année après avoir commencé sa première année de monte en 2013 aux Etats-Unis.
A precocious type
Joyeuse, the 2yo sister to the best horse ever Frankel is also trained by Sir Henry Cecil. By Oasis Dream out of Kind, she already shows more precocity than her eldest brothers. Just to compare, Frankel (Galileo) won on his first outing on 13th August as a juvenile, Bullet Train (Sadler's Wells) on 27th October for his first run.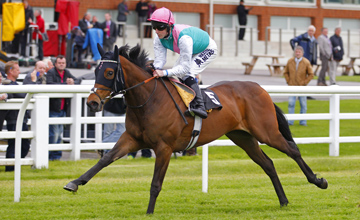 Joyeuse, ridden by Tom Queally
Noble Mission
(
Galileo
), another elder brother to
Joyeuse
and winner of the Gordon Stakes (Gr. 3) defeating
Encke
(St Leger Stakes Gr. 1) only ran once at 2 on 25th October and finished second. At 3, he made a victorious come back on the track at Newbury in 21st April. Last 25th May,
Noble Mission
won his second listed contest by beating the good
Genzy
, bred by
Haras de Précolette
.
Note : Kind, the dam of these amazing siblings made her debuts on 5th September as a 2yo to finish third. She had to wait for her fourth run to lose her maiden status.
Watch Joyeuse, Frankel's sister, victorious debuts.

Bullet Train stands at Bowness Stud
We learnt recently thanks to our english colleagues that Bullet Train was to stand in Australia for the 2013 southern hemisphere breeding season. He will stand at Bowness Stud, a fam owned by John North in New South Wales, at Aus$10,000. Following promising debuts, winner of the Lingfield Derby Trial (Gr. 3), Bullet Train turned to be his brother Frankel's lead horse. Straight after this last outing in the Champion Stakes (Gr. 1) in 2012, he was purchased by a US breeder syndicate to stand at Wintergreen Farm, Kentucky, at a fee of $7,500.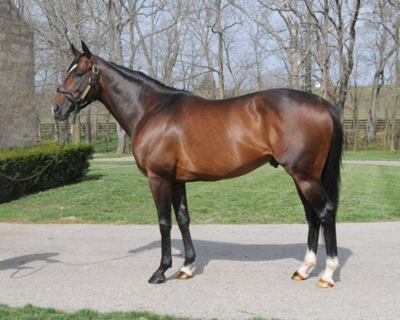 Bullet Train will attend the southern hemisphere breeding season this year
Not so reachable, Frankel stood at this owner's farm Banstead Manor Stud this year at a fee of GBP 125,000 live foal. His bookings were of course closely selected :
- African Rose (Haydock Sprint Cup)
- Albanova (triple Gr. 1 winner in Germany)
- Alexander Goldrun (Prix de l'Opera, Pretty Polly Stakes twice, Nassau Stakes and Hong Kong Cup)
- Alwajeeda (Queen Elizabeth Challenge Cup)
- Arrive (dam of Promising Lead, Pretty Polly Stakes)
- Aspiring Diva (dam of Emulous, Matron Stakes)
- Balance (triple Gr. 1 winner in USA, half sister to Zenyatta)
- Binche (dam of Proviso, quadruple Gr. 1 winner in USA, and Byword, Prince of Wales's Stakes)
- Clepsydra (dam of Passage of Time, Critérium de Saint-Cloud, and Timepiece, Falmouth Stakes)
- Dancing Rain (Oaks, Preis der Diana)
- Danedream (Arc, King George, Grand-Prix de Baden-Baden twice and Grand-Prix de Berlin, scanned in foal)
- Dar Re Mi (Yorkshire Oaks, Sheema Classic, Pretty Polly)
- Diary (dam of Total Gallery, Abbaye de Longchamp)
- Divine Proportions (Morny, Marcel Boussac, Poule d'Essai, Diane, Rothschild)
- Dynaforce (Flower Bowl, Beverly D. Stakes)
- Eden's Causeway (dam of Eden's Moon, Las Virgines Stakes, herself covered by Frankel)
- Emulous (Matron Stakes)
- Etoile Montante (Prix de la Forêt)
- Fallen Star (dam of Fallen For You, Coronation Stakes)
- Flirtation (dam of Attraction, five times Gr.1-winner, UK Guineas, Irish Guineas, Coronation Stakes)
- Giofra (Falmouth Stakes)
- Heat Haze (Matriarch Stakes and Beverly D. Stakes)
- Honorine (dam of Treasure Beach, Irish Derby, Secretariat Stakes)
- Hurry Home Hillary (dam of Bellamy Road, Wood Memorial)
- In Lingerie (Sprinter Stakes)
- Lady Vettori (dam of Lope de Vega, Poule d'Essai and Jockey-Club)
- Lahaleeb (E.P. Taylor Stakes)
- Lahudood (Flower Bowl Invitational Handicap and Breeder's Cup Filly and Mare)
- Lightening Pearl (Cheveley Park Stakes)
- Maycocks Bay (dam of Sariska, Oaks and Irish Oaks)
- Mi Sueno (Del Mar Debutante Stakes)
- Midday (Yorkshire Oaks, Vermeille, Nassau St. three times, Breeder's Cup Filly and Mare Turf, scanned in foal)
- Midsummer (dam of Midday, see above)
- Miss Keller (E.P. Taylor Stakes)
- Musical Treat (dam of Finsceal Beo, Marcel Boussac, UK Guineas and Irish Guineas)
- Model Queen (dam of Regal Parade, Haydock Sprint Cup)
- Nebraska Tornado (Diane, Moulin de Longchamp)
- Oatsee ( 2011 broodmare of the year in USA)
- Penne (dam of Méandre Grand-Prix de Paris, de Saint-Cloud et de Berlin)
- Proportional (Marcel Boussac)
- Queen's Magic (Cheveley Park Stakes)
- Quest To Peak (dam of Special Duty, Guineas, Poule d'Essai)
- Red Bloom (Fillies Mile)
- Rose of Summer (dam of Laragh, Hollywood Starlet Stakes)
- Soignée (dam of Stacelita, Saint-Alary, Diane, Vermeille, Jean Romanet, Flower Bowl, Beverly D. Stakes)
- Stacelita (see above)
- Tariysha (dam of Arcano, Morny)
- Timepiece (Falmouth Stakes)
- Vodka (Japan Cup, Tenno Sho, Yasuda Kinen, Victoria Mile)
- Waldmark (dam of Masked Marvel, St Leger Stakes)
- Zagora (Breeder's Cup Filly and Mare Turf andDiana Handicap, scanned in foal)
- Zee Zee Top (Opéra, dam of Izzi Top, Pretty Polly Stakes)
- Zomadarah (Italian Oaks, dam of Dubawi, National Stakes, Irish Guineas, Le Marois)