WHITECLIFFSOFDOVER
2014 (USA)
WAR FRONT et ORATE par A.P. INDY
Bai / 2014 / 1.65m / Haras 2018
3.000€ en 2020
Stationné à : Haras de la Haie Neuve
1er fils du top étalon américain War Front à rentrer au haras en France, Whitecliffsofdover a été l'un des meilleurs 2 ans de sa génération. Ce placé du Prix Jean-Luc Lagardère, gagnant de Listed à Newmarket a une mère propre soeur de Pulpit, lui-même père de Tapit. Sa grand-mère, gagnante de Gr.1, est issue de la proche famille des étalons Johannesburg et Tale Of The Cat.
1ère année de monte au Haras de la Haie Neuve en 2018 où il a sailli 92 juments.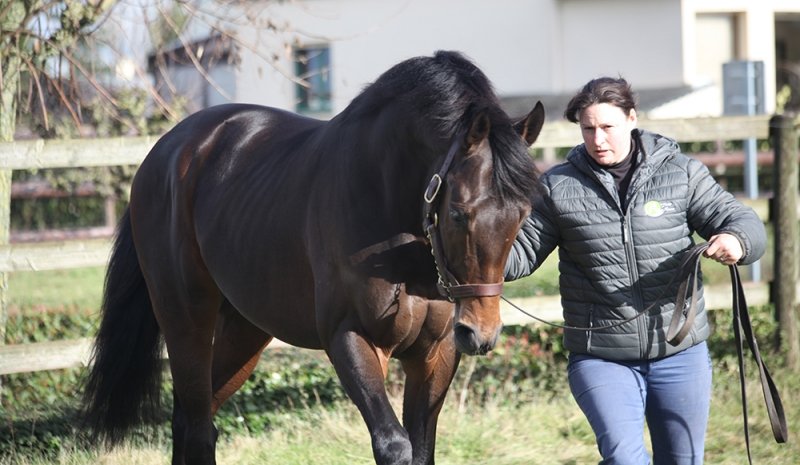 Performances
Acheté yearling $1.150.000 par Coolmore, Whitecliffsofdover a gagné son maiden en août de ses 2 ans à Naas avant de se placer 2e des Sommerville Stakes à Newmarket (Gr.3) et 3e du Prix Jean-Luc Lagardère (Gr.1). Egalement lauréat de Listed à 3 ans pour sa rentrée à Newmarket, Whitecliffsofdover était un spécialiste des 1400m.
Meilleures performances
1er

bet365 European Free Handicap (L) (Plat) 1400m


Newmarket (GB) - 2017

2ème

Tattersalls Stakes (Registered As The Some... (Gr 3) (Plat) 1400m


Newmarket (GB) - 2016

3ème

Qatar Prix Jean-Luc Lagardère (Grand Crit... (Gr 1) (Plat) 1600m


Chantilly - 2016

3ème

Owenstown Stud Stakes (L) (Plat) 1400m


Naas (IRE) - 2017

1er

Irish Stallion Farms European Breeders Fun... (Plat) 1400m


Naas (IRE) - 2016
Statistiques
| Courses | Victoires | Place | Gains | Indice Distance * |
| --- | --- | --- | --- | --- |
| 11 | 2 | 6 | 112 286 € | 1500 m |
| | 18.18% | 54.55% | | |
* Moyenne des distances des victoires et places de courses Gr.1, Gr.2, Gr.3 et Listed en plat (arrondie à la centaine)
Pédigrée
Whitecliffsofdover

2014 (USA)
Northern Dancer

1961 (CAN)

Weekend Surprise

1980 (USA)
Admirals Voyage

1959 (USA)

Honest Pleasure

1973 (USA)
What A Pleasure

1965 (USA)
Lignée maternelle
Télécharger au format PDF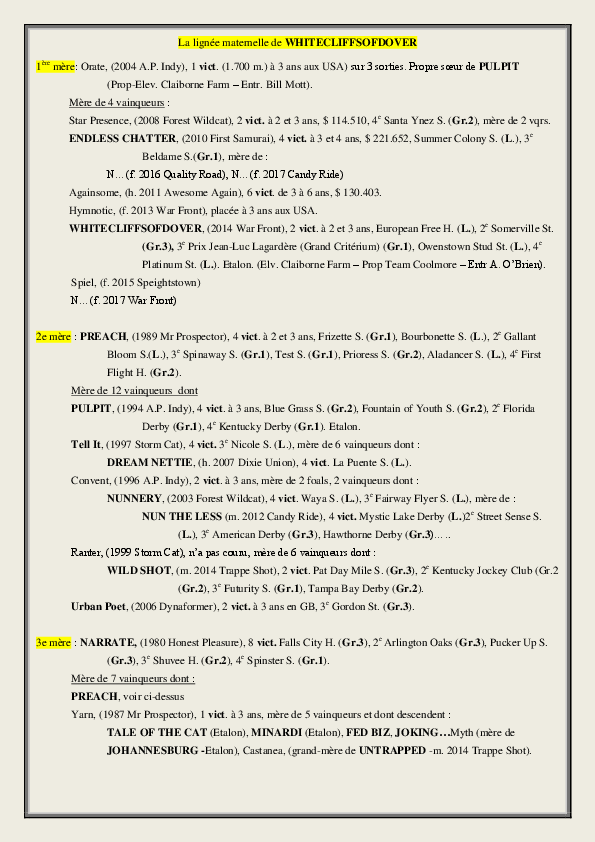 Générateur de pédigrée
Cet étalon n'a pas développé de formule de présentation complète (forfait premium).
Ventes & Shows
Retrouvez la liste des participations aux ventes et shows de l'étalon et de ses produits.
Vente Mixte de Février Deauville du 11/02/2020 au 12/02/2020
Lot
Nom
Pere
Mere
Issue
285
Dover Dream M19

Whitecliffsofdover x Everlasting Dream

Whitecliffsofdover
Everlasting Dream

2 500€

CHAUVEL Benjamin
Salon des Etalons du Lion Lion d'Angers le 11/01/2020
Lot
Nom
Pere
Mere
Issue
9
Whitecliffsofdover M14

War Front x Orate

War Front
Orate
Sprinter Sacré Show Decize le 15/06/2019
Lot
Nom
Pere
Mere
Issue
82
JOKE F19

Whitecliffsofdover x Quristine

Whitecliffsofdover
Quristine
Absent
Salon des Etalons du Lion 2019 Le Lion d'Angers le 12/01/2019
Lot
Nom
Pere
Mere
Issue
46
Whitecliffsofdover M14

War Front x Orate

War Front
Orate
Salon des Etalons du Lion Le Lion d'Angers le 13/01/2018
Lot
Nom
Pere
Mere
Issue
48
Whitecliffsofdover M14

War Front x Orate

War Front
Orate
Autumn Horses in Training Sale Newmarket du 30/10/2017 au 03/11/2017
Lot
Nom
Pere
Mere
Issue
656
Whitecliffsofdover M14

War Front x Orate

War Front
Orate
Retiré
Production
Saillies & Naissances
Déclarées en France d'après les données gérées par le SIRE-POMPADOUR
2019
monte
2019
juments
saillies
63
naissances
déclarées
0
Saillies
AJAB BERE

par PEER GYNT (JPN)

ALEFA

par LE BALAFRE

ALWAYS HOPE (GER)

par LORD OF ENGLAND (GER)

AMAZING STORY

par CRICKET BALL (USA)

AMIGA INTIMA

par DYLAN THOMAS (IRE)

BAMIYANE

par KOUROUN

BLABLABLA

par KENDARGENT

BLACK WHIP (IRE)

par WHIPPER (USA)

BRIGHT SMILE

par ELUSIVE CITY (USA)

CARNET DES NUITS

par HIGHEST HONOR

CELESTA BERE

par HOLD THAT TIGER (USA)

CHRISIIDA (GER)

par WINGED LOVE (IRE)

COMBLOUX (USA)

par SOUTHERN HALO (USA)

DIAMOND SURPRISE (GB)

par MARK OF ESTEEM (IRE)

DOURIYA (USA)

par GIANT'S CAUSEWAY (USA)

ESTAFINA

par VERGLAS (IRE)

ETTA

par HURRICANE CAT (USA)

FAMILY

par DONALD DUCK

FITNESS QUEEN (USA)

par GILDED TIME (USA)

FLEUR DE NOEL

par CHAMBERLIN

FLUTE DIVINE (GB)

par ROYAL APPLAUSE (GB)

FRENCH FAIRY (IRE)

par FASTNET ROCK (AUS)

GARAIYBA

par DALAKHANI (IRE)

HOLD THE THOUGHT (GB)

par GALILEO (IRE)

KALLISTI

par SOLDIER OF FORTUNE (IRE)

KUNOICHI (USA)

par VINDICATION (USA)

KYPRIANO'S ANGEL

par KENDOR

L'ETE (CHI)

par HUSSONET (USA)

LA TEAM D'ANGE

par PENNY'S PICNIC (IRE)

LAW AND ORDER

par LAWMAN

LERINA

par PRIOLO (USA)

LETTRE A OLIVE

par LE HAVRE (IRE)

LIXARIVA

par SLICKLY

MAMUSELLA (IRE)

par INVINCIBLE SPIRIT (IRE)

MARIE GALANTE (GB)

par BEAT HOLLOW (GB)

MASSAGENA

par AMERICAN POST (GB)

MINUTE LIBELLULE

par BLACKDOUN

MIRANDA FROST

par VESPONE (IRE)

MISS HELENE

par LE HAVRE (IRE)

MONTANA MOON

par HERNANDO

NATICA

par SUBOTICA

NO CONTROL (USA)

par PULPIT (USA)

PRODICE SPRINGS

par SAGEBURG (IRE)

QUICK SUN

par VIDEO ROCK

RACY RULES (IRE)

par AUSSIE RULES (USA)

RAML (GB)

par IN THE WINGS (GB)

ROYALRIQUE

par ENRIQUE (GB)

RUN IN PARIS (IRE)

par HURRICANE RUN (IRE)

SHAMAR LOVE (IRE)

par SHAMARDAL (USA)

SIYOUNA PLACIS

par SIYOUNI

SIZAL

par SICYOS (USA)

SUNDAYSUN

par SUNDAY BREAK (JPN)

SUNSHADA

par SUNDAY BREAK (JPN)

TINA NOVA

par TIN HORSE (IRE)

VALIBI BERE

par RUSSIAN BLUE (IRE)

VOIE DES TSARS

par EARLY MARCH (GB)

VUTZ

par KHALKEVI (IRE)

WHISPERING ROSE (IRE)

par MONTJEU (IRE)

WOMAN LOVELY

par DERNIER EMPEREUR (USA)

YPOMONI (GB)

par GREEN TUNE (USA)

ZAMBEZIE

par ZAMBEZI SUN (GB)

ZINA BLUE

par ANABAA BLUE (GB)

ZOFFANYIA

par ZOFFANY (IRE)
2018
monte
2018
juments
saillies
94
naissances
déclarées
60
Naissances
APPROACH THE WEST (IRE)

par NEW APPROACH (IRE)

: WHITE THE WEST (F19 PS) - Thierry Tailleur
BLABLABLA

par KENDARGENT

: N. (M19 PS) - Thierry De La Heronniere
BOREA BERE

par HURRICANE CAT (USA)

: JAZZ BERE (M19 PS) - S.a.s. Regnier
CARISHA

par SILVER FROST (IRE)

: JARIKA (F19 PS) - Andre Marcel Pommerai
CARNET DES NUITS

par HIGHEST HONOR

: BOJACK HORSEMAN (M19 PS) - Paul Mer
CHARMING EYES (IRE)

par WHIPPER (USA)

: PATIENCE MERILL (F19 PS) - Eric Chapel
COUNTRY GIRL

par COUNTRY REEL (USA)

: N. (F19 PS) - E.a.r.l. Haras De La Haie Neuve
COURMARINE (IRE)

par SMART STRIKE (CAN)

: JESS BERE (F19 PS) - E.a.r.l. Haras De La Haie Neuve
DALGHARINA

par DALGHAR

: WARMAX (M19 PS)
DARWIN'S RHEA

par DELLA FRANCESCA (USA)

: JUNIOR BERE (M19 PS) - E.a.r.l. Haras De La Haie Neuve
DELVITA

par PINMIX

: KERICLIF (M19 PS) - Raymond Choupeaux
DESERT GALE (IRE)

par POUR MOI (IRE)

: MIMI MALPIC (F19 PS) - Pierre Pasquet
DULCIE (GB)

par HERNANDO

: FALAISES DE CHAUX (F19 PS) - Susanne Ritson
EARLY FLOWER

par EARLY MARCH (GB)

: BLEU CELESTE (F19 PS) - Benedicte Cherel
EVERLASTING DREAM (GB)

par OASIS DREAM (GB)

: DOVER DREAM (M19 PS) - Bernard Beugras
FLUTE DIVINE (GB)

par ROYAL APPLAUSE (GB)

: N. (M19 PS) - S.a.r.l. Horse Business
GLORY DREAM

par SAGACITY

: GLORY WHITE (F19 PS) - Frederic Landais
GRACIE HART (GB)

par SAKHEE'S SECRET (GB)

: N. (M19 PS) - Jackie Penny
INCANTU (IRE)

par KHELEYF (USA)

: N. (F19 PS) - Yannick Wattez
INSOLITE

par LITERATO

: IMPREVISIBLE (F19 PS) - Dorothee Saliou
KENZA DES AIGLES

par KENDARGENT

: WOLWERINE (F19 PS) - Lionel Bayle
LA GARNERIE

par COUNTRY REEL (USA)

: JARDINIER (M19 PS) - S.c.e.a. De Maulepaire
LAFRIA

par ZAMINDAR (USA)

: DAME VERA (F19 PS) - S.c.e.a. Elevage Malerai
LINOROVA (USA)

par TREMPOLINO (USA)

: BEAUTY FATALE (F19 PS) - Christophe Plisson
LOUPANA

par LOUP SOLITAIRE (USA)

: N. (M19 PS) - Haras De Sainte Gauburge
LUXDOR DU GOASTION

par VERBIER

: JIVARO DES SOURCES (M19 PS) - Jean-Luc Rouxel
MADIRAINE

par LE HAVRE (IRE)

: MAGIC CLIFF (M19 PS) - S.c.e.a. Ecurie La Grugerie
MANDEX DU FRENE

par LAYMAN (USA)

: AS WHITE (M19 PS) - Thierry Pigeon
MARCHANTIE

par CHICHI CREASY

: MARGOULIN (M19 PS) - E.a.r.l. Haras De La Gisloterie
MARICHEN

par PEER GYNT (JPN)

: N. (F19 PS) - San Gabriel Inv. Inc
MARSHVITE

par ANABAA (USA)

: BELLE DES PRES (F19 PS) - Gerard Blandeau
MARY MONTAGU (IRE)

par DANEHILL DANCER (IRE)

: N. (F19 PS) - E.a.r.l. Haras De La Haie Neuve
MILONGUERA

par INDYGO SHINER (USA)

: SINCERAMENTE (F19 PS)
MIRANDA FROST

par VESPONE (IRE)

: N. (F19 PS) - S.c.e.a. Haras De Treli
MISS ANNIE

par DUBAWI (IRE)

: N. (F19 PS) - S.c.e.a. Du Haras Des Sablonnets
MONATORA

par HECTOR PROTECTOR (USA)

: JAMES BERE (M19 PS) - E.a.r.l. Haras De La Haie Neuve
MUMGALA

par SAMUM (GER)

: CALIFORNIE (F19 PS)
MYSTERYONTHEBOUNTY (USA)

par MYSTERY STORM (USA)

: N. (F19 PS) - E.a.r.l. Haras De La Haie Neuve
ONENITEINHEAVEN (IRE)

par CHOISIR (AUS)

: N. (M19 PS) - Bianca Willemstijn
PARTICULIERE (GB)

par SPECTRUM (IRE)

: N. (F19 PS) - E.a.r.l. Haras De La Haie Neuve
PIQUETERA (GB)

par ORATORIO (IRE)

: JOYCE GALESTE (F19 PS) - Evelyne Poitevin
QURISTINE

par APRIL NIGHT

: JOKE (F19 AQPS) - Etienne Leenders
RAML (GB)

par IN THE WINGS (GB)

: NEW IMPULSE (F19 PS) - Emilien Raulline
REALDAD (ARG)

par VICTORY SPEECH (USA)

: N. (M19 PS) - E.a.r.l. Haras De La Haie Neuve
SANISA

par PANIS (USA)

: JANISA BERE (F19 PS) - E.a.r.l. Haras De La Haie Neuve
SECOND LIFE

par HIGH YIELD (USA)

: ISTOUTIE (F19 PS) - Olivier Le Quere
SLAVENSKA

par VETTORI (IRE)

: COEURS (M19 PS) - Andre Marcel Paysan
SPECIAL REWARD (GB)

par BAHAMIAN BOUNTY (GB)

: LA PETITE VIREE (F19 PS) - Bernard Rochette
SPEEDY DES SOURCES

par SNOW CAP

: JAVA DES SOURCES (F19 PS) - Jean-Luc Rouxel
SUCH A MEMORY

par HOLD THAT TIGER (USA)

: N. (F19 PS) - Eric Lemaitre
SWEETDREAMS

par CADEAUX GENEREUX (GB)

: DREAM WHITE (M19 PS) - Anelly Le Toux
TINERA

par KENDOR

: TINETTE (F19 PS) - E.a.r.l. Haras De La Gisloterie
TIZIANA (USA)

par DIXIE UNION (USA)

: JACEE BERE (M19 PS) - S.a.s. Regnier
VERRIYA

par ZAMINDAR (USA)

: VERRY SMART (M19 PS)
VESLY

par LE HAVRE (IRE)

: JOKO GALESTE (M19 PS) - Evelyne Poitevin
VIKIPIA

par GOLDNEYEV (USA)

: JOUTE (F19 AQPS) - S.a.r.l. Haras Du Fougeray De La Ferronniere Et De Mirande
VIOLETTE DU BOULAY

par UNTIL SUNDOWN (USA)

: JELDA DU BOULAY (F19 AQPS) - Herve Poirier
VOXNA

par TAKE RISKS

: CLIFF D'ANGE (M19 PS) - Steven Fouilleul
VUTZ

par KHALKEVI (IRE)

: JAZZ DE NUTZ (M19 AQPS) - Dorothee Saliou
WICCA

par INVINCIBLE SPIRIT (IRE)

: WIN LOVE (F19 PS) - Florian Robert
Saillies
AMARINDA (GER)

par TIGER HILL (IRE)

ARRIVEDERLA (IRE)

par ACCLAMATION (GB)

ARRONDIE

par INCHINOR (GB)

BELLE PERRUCHE

par RAJPOUTE

BINT MAKBUL (GB)

par MAKBUL (IRE)

BUNRAKU (GB)

par CACIQUE (IRE)

COUPE DU ROI

par KINGSALSA (USA)

DANCE TOUPIE

par DANSILI (GB)

ENDORPHIN (IRE)

par WHIPPER (USA)

ESQUINADE

par ARCHANGE D'OR (IRE)

ESTAFINA

par VERGLAS (IRE)

FITNESS QUEEN (USA)

par GILDED TIME (USA)

FREEZE LAW

par LAWMAN

FRENCH FAIRY (IRE)

par FASTNET ROCK (AUS)

GOLD COAST

par TAMAYUZ (GB)

GOLDAMIX (IRE)

par LINAMIX

HOLIDAY MAKER (GB)

par DUBAI DESTINATION (USA)

HURRICANE PLACE

par HURRICANE CAT (USA)

HUZALSA

par KINGSALSA (USA)

LA TEAM D'ANGE

par PENNY'S PICNIC (IRE)

LADY ASTRONOMER

par ASTRONOMER ROYAL (USA)

LAND OF LIFE (IRE)

par LANDO (GER)

LEGINIT (USA)

par DEHERE (USA)

LIGNEROLLES

par LE HAVRE (IRE)

MADAME BEATRICE

par HOLD THAT TIGER (USA)

MASARAAT

par ALHAARTH (IRE)

NAVIGATRICE (GB)

par AUSSIE RULES (USA)

NO CONTROL (USA)

par PULPIT (USA)

RIVER TREBOR (USA)

par MYRAKALU

RUE CLOVIS

par PEDRO THE GREAT (USA)

SADIEROSECLIFFORD (IRE)

par POET'S VOICE (GB)

SCOTTISH DIVA (GB)

par SELKIRK (USA)

SWAHILI

par RAJSAMAN

VANDALIXA

par LINAMIX
2017
monte
2017
juments
saillies
0
naissances
déclarées
0
2016
monte
2016
juments
saillies
0
naissances
déclarées
0
2015
monte
2015
juments
saillies
0
naissances
déclarées
0
2014
monte
2014
juments
saillies
0
naissances
déclarées
0
2013
monte
2013
juments
saillies
0
naissances
déclarées
0
Jumenterie France Sire
Etalons présents parmis les plans de monte et/ou produits des élevages suivants