CAPTAIN CHOP : la vidéo de l'étalon secret du Haras des Faunes !
19/04/2013 - Film d'étalon
Alain Chopard est un grand novateur. Encore une fois, le créateur du Haras des Faunes près de Bordeaux en Gironde fait un truc pas comme les autres. Il révèle soudainement son étalon caché : Captain Chop, le seul et unique fils du défunt maître des 2 ans Indian Rocket. Il le lance en privé avec une quinzaine de ses meilleurs juments !
" " I really care about this horse. I had his dam, his gradndam, his sire, as well as his granddam sire. He defended my racing colours and was a great juvenile. He is the only son of Indian Rocket and I decided to keep him and have him at stud. Privately first. This is the reason why I did not say anything at the beginning of the 2013 breeding season. I have sent Captain Chop my best broodmares, and he will cover around 15 mares."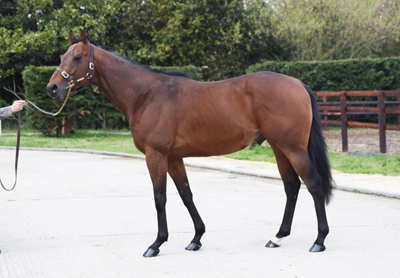 Captain Chop
Indeed, in this small book, we can find Free Track (dam of Action Chop), Very Sol (dam of Chopastair), Gooseley Lane (1st Listed), Zaliana (sister to Queen America), Indiana Chope (sister to Chopastair). Thus, Alain Chopard, who owns around 45 mares, will send a third of his band to the new stallion. The man is used to challenges and win them actually! From Panis until today, in between Soave and his last british recuit Deportivo, Alain Chopard always bet on his stallions.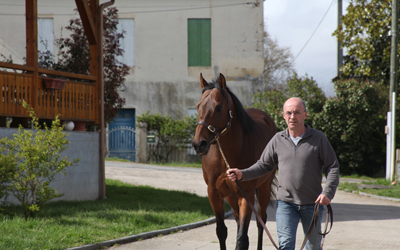 Alain Chopard introduces Haras des Faunes secret stallion !
Indian Rocket's adventure was a real stage in his life. When I purchased Indian Rocket, in partnership with Maxime Jarlan, I did not have a penny. I had to get a loan of €55.000 from the bank while I was still living in a mobil home!" This crazy bet will make his fortune. Already proven across the Channel with a black type winner, the son of Indian Ridge, a bit uncertain as a sire of sire, blew up all numbers with his 2yos. He even turned champion 2yo sire few times, including last year in 2012 with his last crop. Indeed, Indian Rocket died of colics in 2009.
Captain Chop is turning into a lovely stallion physically.

while Indian Rocket was only a souvenir in the breeding industry, Alain Chopard turns up with a successor, Captain Chop, the first and probably his last reprentative. Captain Chop was one of the best 2yo in 2010. He attracted all attention when winning the Prix du Début on his first attempt, by 5L over 4 1/2f, at the end of March, for the trainer Didier Guillemin under Flavien Prat's saddle. He also won his last race as a juvenile, the Prix Zeddaan, Listed, at Fontainebleau. Captain Chop was placed twice 2nd in Gr.3 company in the Prix de Cabourg (behind Pontenuovo) and Eclipse (a short head to Split Trois). "My biggest regret is the Prix Morny. We made a mistake by changing his jockey for this big race while we should have kept our old habits. He came as he was going to win but gave up in the last strides. We finished 7th, 2 lengths from Dream Ahead and Tin Horse !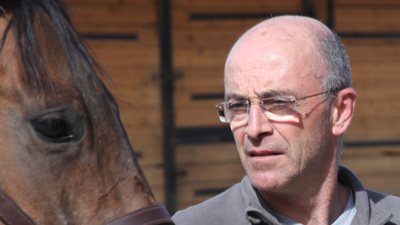 Alain Chopard believes in himself and his horses. His strength : his willpower !


Captain Chop is the second foal of his dam Hatane Chop, who bred two other winners afterwards, by Muhaymin and Soave, while waiting for the 2yo and yearling both by Deportivo. Daughter for former home stallion Sin Kiang, Hatane Chop did not manage to win a race but she is a sister to the good Chopoulou (Nombre Premier), winner of 5 races and Listed placed.

" Next year, Captain Chop will be offered on the stallion market ". It would be surprising that, in the meantime, Alain Chopard does not resist to the customers pressure who enjoyed Indian Rocket and who will come back to his son...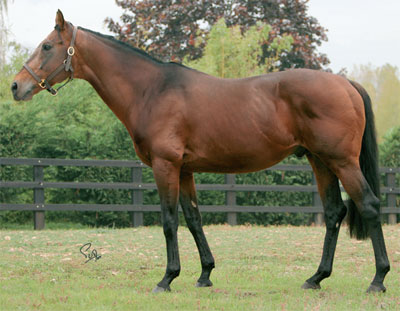 Indian Rocket, sire of Captain Chop. It is amazing how they look alike.
On en parle dans l'article