2013 review: Group races in France (flat)
Time goes fast, and 2013 is over. The racing season has gone by with lots of sport and emotions. We take a look back at 2013 flat group contests . By Xavier Bougon.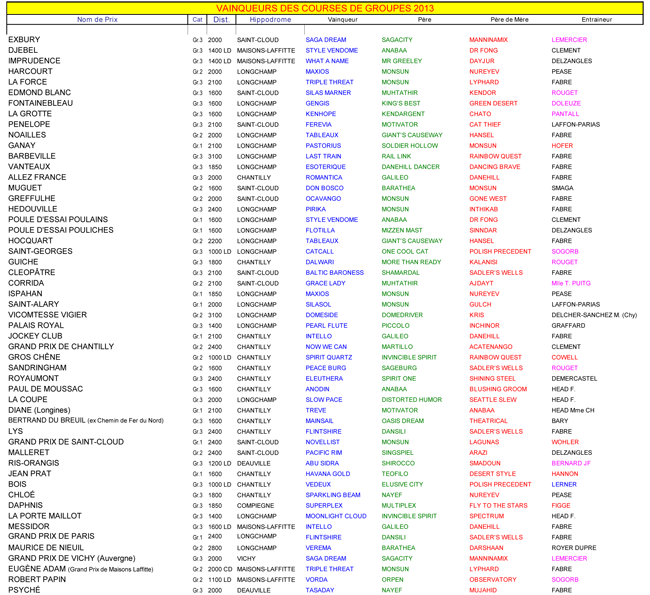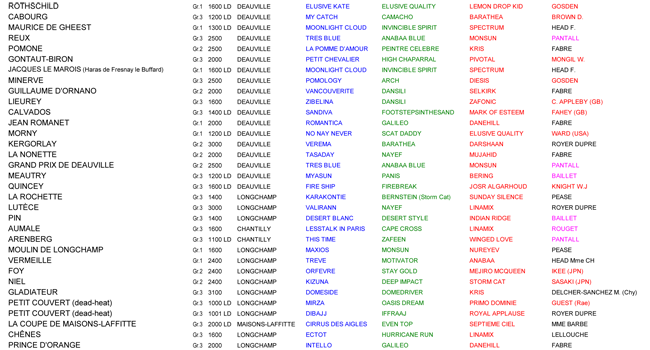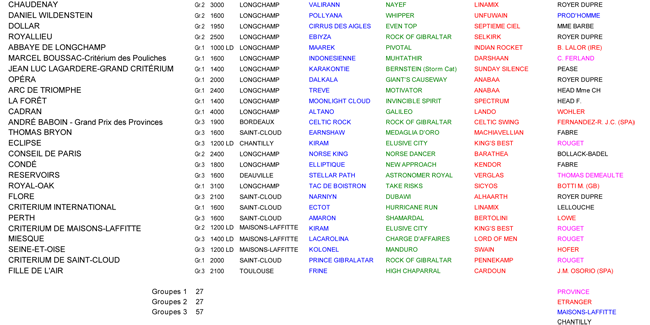 In this 2013 general review, you can take a look at all group laureates from the first black type race if the year : Prix Exbury won by Saga Dream for trainer Freddy Lemercier up to the last one of the calendar, Prix Fille de l'Air won by spanish filly of Duc d'Alburquerque, Frine. A total of 111 group races for 2013. Only Prix de Reux, a prep race for Grand-Prix de Deauville, was promoted from listed event to Gr. 3 from 2012 to 2013.
On the training center side, Chantilly's yards are ahead with 63 group win inclusing 22 for André Fabre only. A third of french group races were for André Fabre! As for foreigners, new contestants appear in the charts like Charles Appleby, new trainer for Godolphin (cf Al Zarooni scandal). See below all group winners traines in 2013.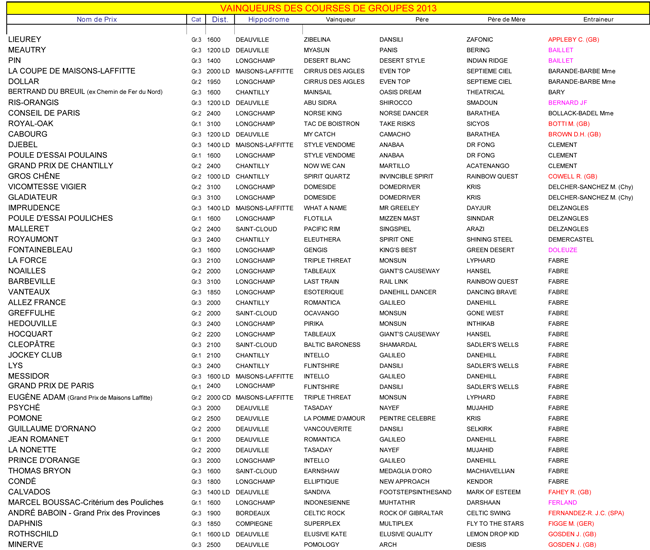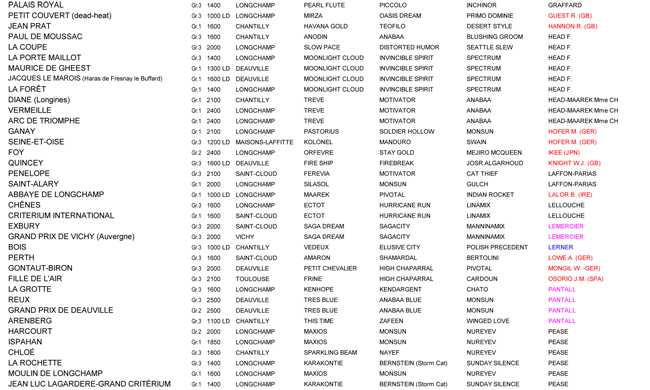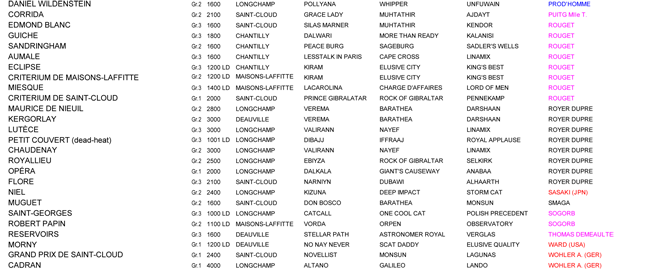 As for stallions, the late Monsun knocks out Galileo. His progeny totalises 9 flat group wins in 2013 including in Gr.1s like Maxios (Prix du Moulin de Longchamp and Prix d'Ispahan), Silasol (Prix Saint-Alary) and Novellist (Grand-Prix de Saint-Cloud). Beaten but still in the race Galileo gets a comfortable 2nd place. His best representative in France in 2013, Intello, won Prix du Jockey-Club, a nice conforting contest. Invincible Spirit and Nayef share the third spot dead heat with 5 group wins; No Gr.1 for Nayef but 3 for his rival Invincible Spirit, sire of champion filly Moonlight Cloud.
Dansili and Motivator (sire of the exceptional Trêve) complete the charts (4 group victories) defeating Anabaa, Barathea Elusive City, Giant's Causeway, Muhtathir and Rock Of Gibraltar (3 wins).
Freshman sires were in the limelight during the 2013 season like Spirit One, sire of promising Eleuthera (Prix de Royaumont Gr. 3), his first group winner and Multiplex (sire of Superplex Prix Daphnis Gr. 3), Norse Dancer (sire of Norse King Prix du Conseil de Paris Gr. 2), Charge d'Affaires (sire of Lacarolina Prix Miesque Gr. 3) and Martillo (sire of Now We Can Grand-Prix de Chantilly Gr. 2).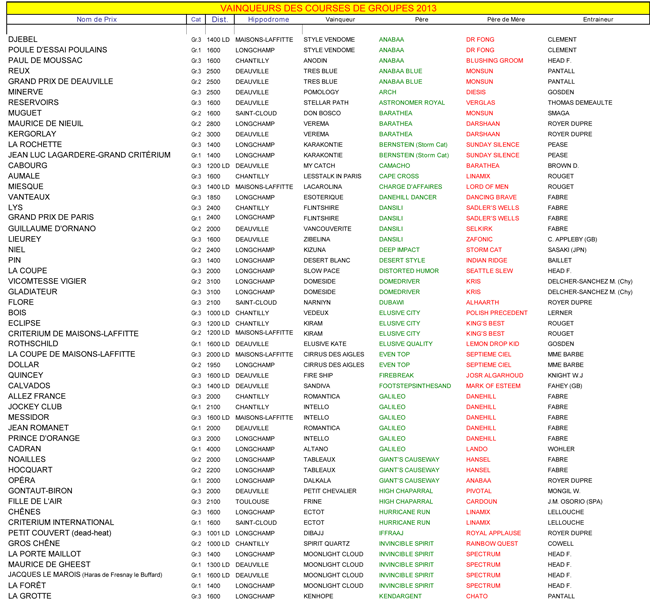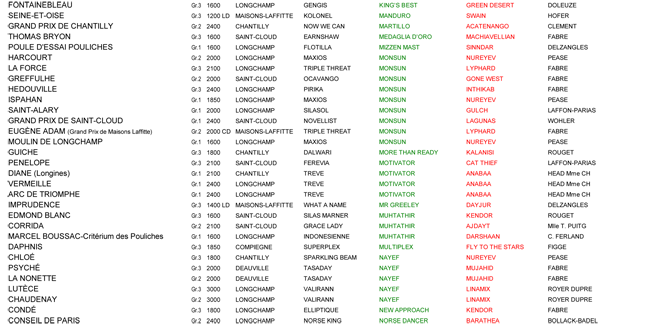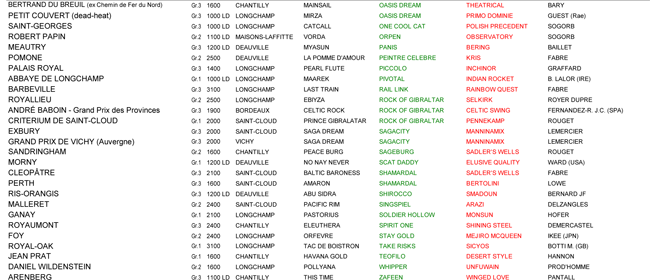 Finally, if we take a look at the dam sires, Linamix is on the top (cf Ectot Critérium de Saint-Cloud Gr. 1) as well as Danehill (cf Intello) with 5 wins each beating Anabaa, Monsun, Nureyev, Sadler's wells and Spectrum (4wins) before Darshaan and Kris (3 wins). Two former french sires are on the list, new at this level : Dr Fong, damsire of Style Vendome, exportexported since in Turkey and King's Best,damsire of juvenile Kiram. We can not forget Sinndar,'s performance, damsire of Flotilla (Poule d'Essai des Pouliches Gr. 1) and Smadoun from Abu Sidra's pedigree.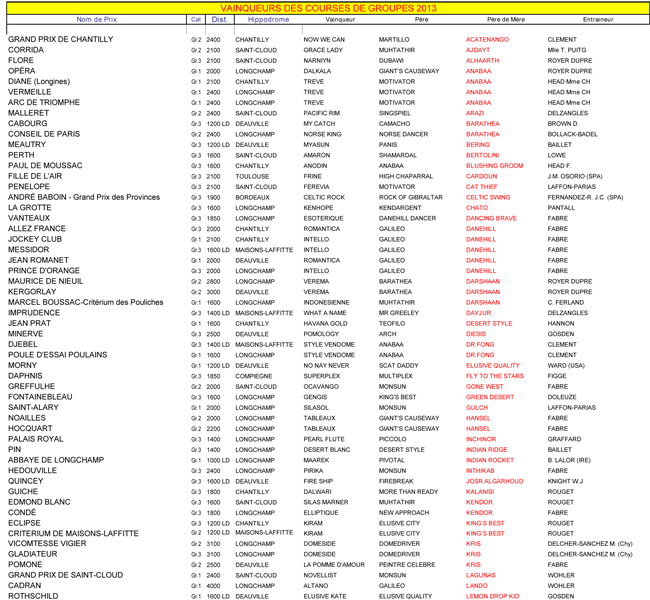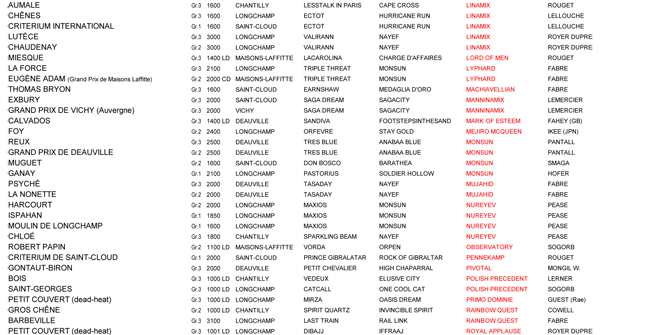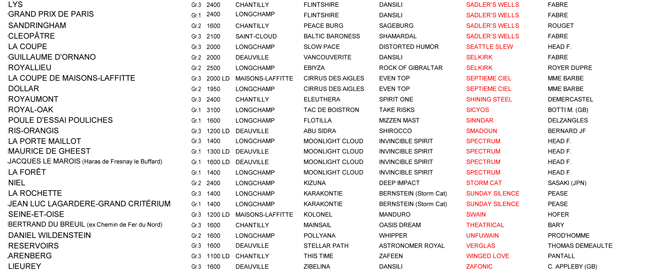 Télécharger en format PDF :
Group Races winners in France in 2013
Group Races winners in France in 2013 (sires)

Group Races winners in France in 2013 (damsires)

Group Races winners in France in 2013 (trainers)