Arqana February Sale : a mare foals just after going through the ring
2014/02/11 - Sales & shows
Consignors of lot 171 of Arqana's 2014 February Sale, Anna and Etienne Drion of Coulonces Consignement offered on the ring a daughter of Medicean in foal to Rajsaman for her owner-breeder Gérard Augustin-Normand. Named Carolles, the mare was due to foal on 22nd February.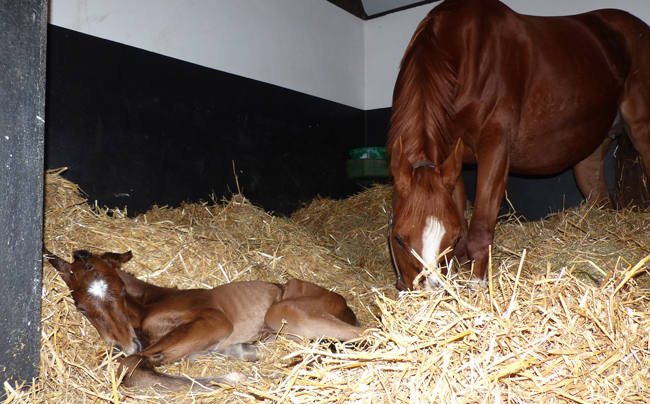 Rumors about the birth of this strong and powerful Rajsaman filly were spread quickly around Deauville's sales ring.
Purchased as a yearling for €160,000 by Sylvain Vidal for Gérard Augustin-Normand in October 2009, Carolles did not race unfortunately. Following her first Le Havre foal in 2013 (also sold at the 2014 February Sale), Carolles was covered by the fighter Rajsaman last year. The filly born on Monday during the sales is on eof the first foals by Rajsaman. Thus, up to today, 8 Rasjaman foals were born at Haras de la Cauvinière, all full of life according to Sylvain Vidal.
ML Bloodstock, represented by Guy Chérel, purchaser of Carolles, are the lucky breeders of this Rajsaman filly. Asking few elderly professionals around the place, without mentioning names, no mare ever foaled just after going through the ring ! Both mare and filly are doing great, she tood up quickly for a suck.