Berceau de l'élevage Del Luca, le Haras de Quétiéville a trouvé un nouveau souffle en la personne de Guido Sels, l'éleveur d'American Devil, Best Of Max, Max Dynamite (2ème de la Melbourne Cup 2015) au cœur du Pays d'Auge et de sa verte vallée.
Ancienne propriété de Madame Cino Del Duca, le Haras de Quétiéville situé sut les communes de Biéville-Quétiéville et du Mesnil-Mauger a accueilli des chevaux de tout premiers plans tels Bewitched (Prix du Cadran), Herbager (Prix du Jockey-club, Grand prix de Saint-Cloud) ou encore Soltikoff (Arc de Triomphe), des sujets achetés et ou élevés au Haras. Le manoir, aujourd'hui magnifiquement restauré, trône au milieu de la propriété de 80 hectares d'herbages. Une longue allée bordée de grands platanes s'offre à la vue des rares visiteurs étant une propriété privée située dans la vallée de la Dives.

En moins de 10 ans d'activité, Guido Sels, originaire de Belgique, a su redonner à ces terres ses lettres de noblesses. Sa casaque verte au gros-bleu a eu deux partants dans le Prix du Jockey-Club en 2013 : Max dynamite et Lion d'Anvers, deux élèves maison. Quelques mois plus tard et après des victoires ou places dans les Listed et Groupes, ces deux coursiers furent vendus respectivement 200.000€ et 260.000€ à la vente de l'Arc.

Une vingtaine de poulinières sont stationnés au Haras de Quétiéville au milieu de bovins normands. Ces dernières produisent chaque année au minimum un cheval de Black-Type. Les meilleurs d'entre eux se nomment American Devil et Max Dynamite. Le premier nommé est lauréat de Listed à 2 ans dans le Prix Roland de Chambure, quintuple pace de Gr.1 et gagnant du Palais Royal Gr.3 à l'âge de 5 ans, il est aujourd'hui étalon au Haras de Grandcamp depuis 2015. Quant à Max Dynamite, il est gagnant de la Lonsdale Cup (Gr.2) et surtout 2ème de la Melbourne Cup (Gr.1) en 2015.

Environ 1/4 des yearlings passent aux ventes Arqana et Osarus.

Le débourrage et le pré-entrainement sont effectués à différents endroits pour faciliter l'organisation avec les entraineurs, ceux-ci sont :
le Haras de Grandcamp, Haras du Chêne, Ecurie Quéré Séverine, Ecurie des Chaumes pour le plat.
La SCEA des Sens, Ecurie de la Ridaudière pour l'obstacle.

Si cela est nécessaire pour leur bien être des chevaux, certains partent en remise en forme : à la mer chez Francis Gamichon ou à la piscine au Haras de Sassy.

L'Ecurie Haras de Quétiéville travaille avec différents entraineurs situé en province :
Henri Alex Pantall, Jean Michel Lefebvre, Philippe Decouz, Ludovic Gadbin pour le plat.
Arnaud Chaillé Chaillé, Patrick Chevillard, Fabrice Foucher pour l'obstacle.

Les foins sont faits sur place au haras ; les aliments sont achetés à Royal Oats (céréale et baileys).

Depuis 2016, des propriétaires étrangers nous font confiance pour leur élevage en nous laissant leurs poulinières en pension.

Haras de Quétiéville :
80 hectares,
23 juments,
1 étalon, American Devil, stationné au Haras de Grandcamp,
50 boxes,
4 salariés

Meilleurs produits élevés :
American Devil, Max Dynamite, Best Of Max, Black max, Lion d'Anvers, Gold For Tina, Prima Noa, American Nizzy, Okapina, All Speedy en plat
Dara Tango, Powerful Blue en obstacle.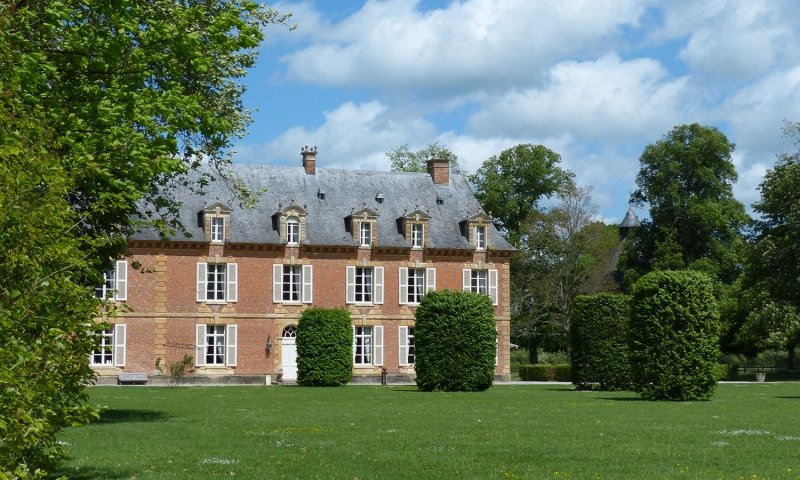 Aucune vidéo n'est disponible
Jumenterie
Vainqueurs
Avril 2017
Mars 2017
14/03/2017 - Destination - Dortmund (GER)

01/03/2017 - Destination - Dortmund (GER)
Novembre 2016
Septembre 2016
Août 2016
Juillet 2016
Mai 2016
Avril 2016
Mars 2016
Décembre 2015
Novembre 2015
Octobre 2015
Septembre 2015
Août 2015
Juillet 2015
Juin 2015
Mai 2015
Avril 2015
Février 2015
Décembre 2014
Novembre 2014
Octobre 2014
Septembre 2014
Août 2014
Juillet 2014
Juin 2014
29/06/2014 - Man Fieber - Zonza (FR)

01/06/2014 - Man Fieber - Ajaccio (FR)
Mai 2014
Avril 2014
Mars 2014
Février 2014
Septembre 2013
Août 2013
Juillet 2013
Juin 2013
Mai 2013
Avril 2013
Mars 2013
Décembre 2012
Novembre 2012
Octobre 2012
Septembre 2012
Août 2012
Juin 2012
Mai 2012
Avril 2012
Septembre 2011
16/09/2011 - All Dynamite - Saint-Cloud (FR)

04/09/2011 - American Devil 3ème Prix la Rochette (Gr 3) - Longchamp (FR)
Juillet 2011
Mai 2011
Décembre 2010
Novembre 2010
Mai 2010
Avril 2010
Janvier 2010
Juin 2009
Avril 2009
25/04/2009 - Max In Love - Cavaillon (FR)

12/04/2009 - Max In Love - Carpentras (FR)
Ventes & Shows
Retrouvez la liste des participations aux ventes et shows de cet établissement.
Vente d'Été Deauville du 30/06/2015 au 02/07/2015
Lot
Nom
Pere
Mere
Issue
180
Le Kanibal M13

Mamool x Roxinne

Mamool
Roxinne
Racheté

5 000 €

Vente Mixte de Février Deauville le 10/02/2014
Lot
Nom
Pere
Mere
Issue
38
Prima Noa F09

Layman x Noa Sajani

Layman
Noa Sajani

8 500 €

MAB AGENCY
140
Green Nizzy F05

Green Tune x True Vision

Green Tune
True Vision

4 000 €

NATAF Paul
248
Goldfieber F04

Medaaly x Goldkatze

Medaaly
Goldkatze
Racheté

8 500 €

273
Jazz Protegee F06

Della Francesca x Jazzie

Della Francesca
Jazzie

9 500 €

ASSOCIATION DES ELEVEURS DE PUR SANG ANGLAIS
Vente Mixte Deauville le 11/02/2013
Lot
Nom
Pere
Mere
Issue
85
Nouvelle Europe F04

Spectrum x Nouvelle Fortune

Spectrum
Nouvelle Fortune
Racheté

28 000 €

205
All Risk F05

Pyramus x Alpina

Pyramus
Alpina
Racheté

18 000 €

269
Diamond Nizzy F06

Sadler's Wells x Diarshana

Sadler's Wells
Diarshana
Racheté

11 000 €
Annonces
Il n'y aucune annonce pour cet établissement
Étalons
Il n'y aucun étalon référencé pour cet établissement