MASTEROFTHEHORSE
2006 (IRE)
SADLER'S WELLS et SHOUK par SHIRLEY HEIGHTS
Bai / 2006 / 1.65m / Haras 2012
1.600€ en 2019
Stationné à : Haras du Mazet
Un fils direct de Sadler's Wells arrive au Haras du Mazet en 2019, Masterofthehorse. Gagnant à 2 ans, 3e de Sea The Stars dans le Derby d'Epsom en battant Rip Van Winkle, ou encore 3e du champion de la famille Tsui à 2 ans dans les Beresford Stakes (Gr.2), Masterofthehorse a débuté sa carrière d'étalon en mai 2012 en Irlande à Annshoon Stud.
Ses produits se sont vendus jusqu'à £95.000 et £60,000 en 2018.
Père de vainqueurs à l'entrainement chez John Oxx et Karl Burke.
Propre frère d'Alexandrova, une triple gagnante d'Oaks et de Magical Romance (Cheveley Park Stakes Gr.1) de la famille de Chicquita. Même croisement que High Chaparral, Milan, In The Wings, Fame And Glory.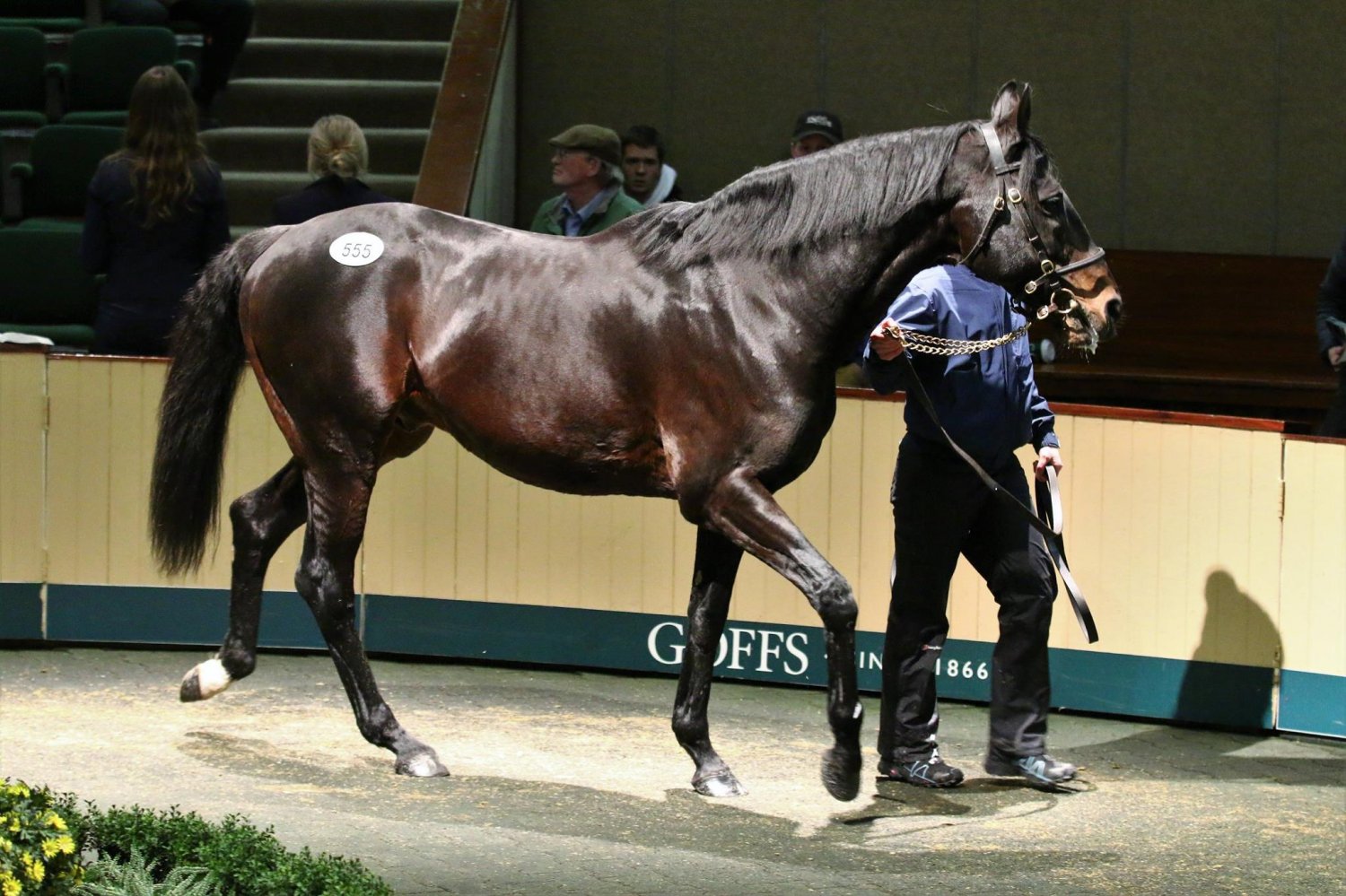 Performances
Dauphin de Gan Amhras, un futur placé des 2000 Guineas, en débutant sur le mile de Naas en juillet de ses 2 ans, Masterofthehorse a été entrainé par Aidan O'Brien pour lequel il a gagné sa deuxième sortie en août avant de se placer, toujours à 2 ans, 3e de Sea The Stars dans les Beresford Stakes (Gr.2) au Curragh.
A 3 ans, Masterofthehorse se classe 2e du Gr.3 Chester Vase pour sa réapparition en battant Debussy (futur lauréat de l'Arlington Million et du Prix Eugène Adam) puis à nouveau 3e derrière le champion Sea The Stars dans la course phare, le Derby d'Epsom (Gr.1) à un nez de Fame & Glory et devançant Rip Van Winkle.
Meilleures performances
2ème

Virgin Money Chester Vase (Gr 3) (Plat) 2500m


Chester (GB) - 2009

3ème

Investec Derby (Gr 1) (Plat) 2400m


Epsom (GB) - 2009

3ème

Juddmonte Beresford Stakes (Gr 2) (Plat) 1600m


Curragh (IRE) - 2008

1er

Hurry Harriet Listed Race 13th August at G... (Plat) 1600m


Gowran Park (IRE) - 2008

2ème

Coolmore Hurricane Run (C & G) Maiden (Plat) 1600m


Naas (IRE) - 2008
Statistiques
| Courses | Victoires | Place | Gains | Indice Distance * |
| --- | --- | --- | --- | --- |
| | | | 0 € | 2200 m |
| | 0% | 0% | | |
* Moyenne des distances des victoires et places de courses Gr.1, Gr.2, Gr.3 et Listed en plat (arrondie à la centaine)
Pédigrée
Masterofthehorse

2006 (IRE)
Northern Dancer

1961 (CAN)
Lignée maternelle
Télécharger au format PDF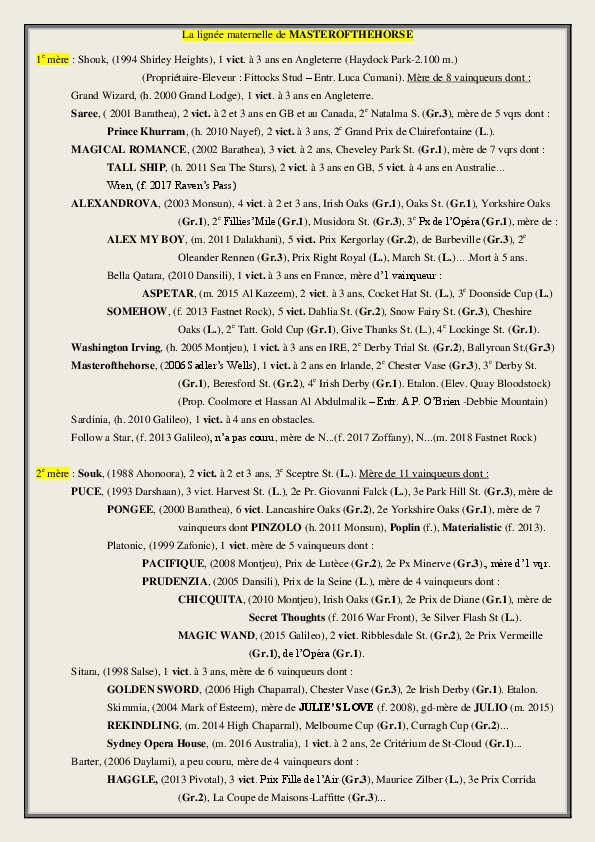 Générateur de pédigrée
Cet étalon n'a pas développé de formule de présentation complète (forfait premium).
Ventes & Shows
Retrouvez la liste des participations aux ventes et shows de l'étalon et de ses produits.
December National Hunt Sale Kill du 11/12/2019 au 12/12/2019
Lot
Nom
Pere
Mere
Issue
291
N (Epping 2019) M19

Masterofthehorse x Epping

Masterofthehorse
Epping
348
N (Heron Marsh 2019) M19

Masterofthehorse x Heron Marsh

Masterofthehorse
Heron Marsh
November National Hunt Sale Fairyhouse du 10/11/2019 au 14/11/2019
Lot
Nom
Pere
Mere
Issue
1053
N (Blayney Queen 2019) M19

Masterofthehorse x Blayney Queen

Masterofthehorse
Blayney Queen

2 200€

Johnstown Stables
1057
N (Candlefort Ava 2019) M19

Masterofthehorse x Candlefort Ava

Masterofthehorse
Candlefort Ava

1 800€

Matthew Fogarty (P.S.)
1072
N (Ennistown Lady 2019) M19

Masterofthehorse x Ennistown Lady

Masterofthehorse
Ennistown Lady

1 900€

Eric Smith (P.S.)
1092
N (Mill Race Clo 2019) M19

Masterofthehorse x Mill Race Clo

Masterofthehorse
Mill Race Clo
Racheté

3 200€

August National Hunt Sale Fairyhouse du 13/08/2019 au 15/08/2019
Lot
Nom
Pere
Mere
Issue
332
N (Speed Lady 2016) H16

Masterofthehorse x Speed Lady

Masterofthehorse
Speed Lady
Racheté

4 500€

371
N (Truckers Princess 2015) F15

Masterofthehorse x Truckers Princess

Masterofthehorse
Truckers Princess

2 000€

Nigel Johnston
Spring HIT/P2P Sale Doncaster du 22/05/2019 au 23/05/2019
Lot
Nom
Pere
Mere
Issue
331
Sastruga H13

Masterofthehorse x Crimson Blue

Masterofthehorse
Crimson Blue

6 500£

Henry Oliver
497
Jack Thunder H14

Masterofthehorse x Acqua Pesante

Masterofthehorse
Acqua Pesante

35 000£

Simon Christian/C. Mann
February Sale Kill du 05/02/2019 au 06/02/2019
Lot
Nom
Pere
Mere
Issue
198
N (Madam Go Marching 2018) M18

Masterofthehorse x Madam Go Marching

Masterofthehorse
Madam Go Marching
Absent
February National Hunt Sale Fairyhouse le 29/01/2019
Lot
Nom
Pere
Mere
Issue
42
N (Supreme Matriarch 2018) M18

Masterofthehorse x Supreme Matriarch

Masterofthehorse
Supreme Matriarch
Racheté

10 000€

72
N (Winter Picnic 2018) F18

Masterofthehorse x Winter Picnic

Masterofthehorse
Winter Picnic
Racheté

900€

Salon des Etalons du Lion 2019 Le Lion d'Angers le 12/01/2019
Lot
Nom
Pere
Mere
Issue
67
Masterofthehorse M06

Sadler'S Wells x Shouk

Sadler'S Wells
Shouk
December NH Sale Kill du 12/12/2018 au 13/12/2018
Lot
Nom
Pere
Mere
Issue
555
Masterofthehorse M06

Sadler'S Wells x Shouk

Sadler'S Wells
Shouk

65 000€

Anshoon Bloodstock
November National Hunt Sale Fairyhouse du 11/11/2018 au 16/11/2018
Lot
Nom
Pere
Mere
Issue
791
N (Madam Go Marching 2018) M18

Masterofthehorse x Madam Go Marching

Masterofthehorse
Madam Go Marching
Racheté

3 000€
Production
Récents vainqueurs
Meilleurs produits
03/07/2019 - Equus Millar (6a) - Worcester - GB (Steeple) - 3300m
18/07/2018 - Night Of Power (3a) - Fairyhouse - IRE (Plat) - 2400m
07/07/2018 - Night Of Power (3a) - Naas - IRE (Plat) - 2000m
27/10/2017 - Night Of Power (2a) - Dundalk - IRE (Plat) - 1600m
31/12/2016 - Touch Me (2a) - Lingfield - GB (Plat) - 1400m
18/01/2016 - Zainat (3a) - Wolverhampton - GB (Plat) - 1700m
03/07/2019 - Equus Millar (6a) - Worcester - GB (Steeple) - 3300m
18/07/2018 - Night Of Power (3a) - Fairyhouse - IRE (Plat) - 2400m
07/07/2018 - Night Of Power (3a) - Naas - IRE (Plat) - 2000m
27/10/2017 - Night Of Power (2a) - Dundalk - IRE (Plat) - 1600m
31/12/2016 - Touch Me (2a) - Lingfield - GB (Plat) - 1400m
18/01/2016 - Zainat (3a) - Wolverhampton - GB (Plat) - 1700m
Saillies & Naissances
Déclarées en France d'après les données gérées par le SIRE-POMPADOUR
2019
monte
2019
juments
saillies
18
naissances
déclarées
0
Saillies
CALISPERRIA

par KAPGARDE

CIAOBELA DE LA BRUNIE

par GNOME

DIVACHOPE

par DEPORTIVO (GB)

DOMINA BELLA

par GREAT PRETENDER (IRE)

EVA LUNA

par PEINTRE CELEBRE (USA)

EVERLASTING LOVE (GB)

par PURSUIT OF LOVE (GB)

HESTAMPE JAPONAISE

par KADALKO

KADALVOIX

par KADALKO

KALIOPEE DE L'EDEN

par ADAM IV

KLASSICAL RISK

par MY RISK

KOBAL SKY

par BALKO

MANOORI (IRE)

par DALAKHANI (IRE)

MISS LENA (GB)

par MEDICEAN (GB)

NAFRAH (USA)

par SHAMARDAL (USA)

PRINCESSE DU LARGE

par KAPGARDE

SMABELLE

par VILLEZ (USA)

TANYCHEFNILAND

par CHEF DE CLAN

UKLANIE

par DALAKHANI (IRE)
2018
monte
2018
juments
saillies
0
naissances
déclarées
0
2017
monte
2017
juments
saillies
0
naissances
déclarées
0
2016
monte
2016
juments
saillies
0
naissances
déclarées
0
2015
monte
2015
juments
saillies
0
naissances
déclarées
0
2014
monte
2014
juments
saillies
0
naissances
déclarées
0
2013
monte
2013
juments
saillies
0
naissances
déclarées
0
Jumenterie France Sire
Etalons présents parmis les plans de monte et/ou produits des élevages suivants