CAPTAIN CHOP
2008 (FR)
INDIAN ROCKET et HATANE CHOPE par SIN KIANG
Bai / 2008 / 1.60m / Haras 2013
3.000€ en 2019
Elevé par : Haras des Faunes
Stationné à : Haras des Faunes
Le 1er et seul fils d'Indian Rocket étalon. Excellent 2 ans, Captain Chop succède à son regretté père. Privé en 2013, il a sailli d'emblée les meilleures juments de l'élevage des "Chop". Il a été proposé au public dès 2014 (année de ses 1ers foals). Neveu du robuste Chopoulou, un des 1ers bons "Chopard", descendant d'une grande souche "Rothschild", il a gagné le Prix du Début fin mars à Saint-Cloud sur 900m a gagné Listed à 2 ans après avoir conclu 2e des Prix de Cabourg (Gr.3) et Eclipse (Gr.3).
Père du bon Capchop, issu de sa première génération ou encore de Mon Amie Chop (2e Prix des Sablonnets Listed).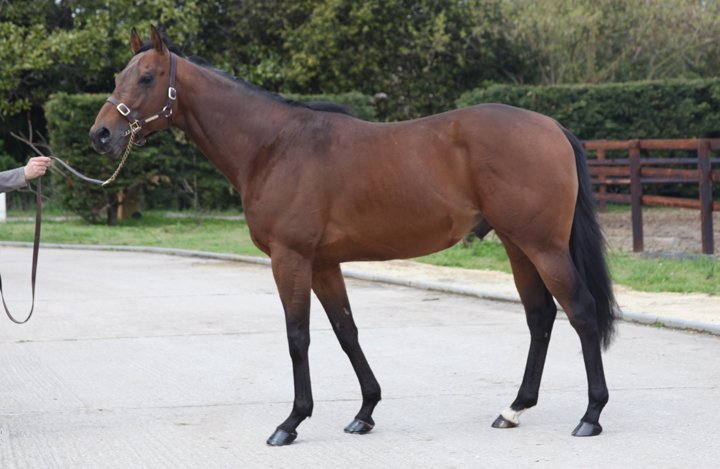 Performances
Titulaire de 3 victoires pour 9 sorties à l'âge de 2 ans, Captain Chop a gagné d'emblée par 5 longueurs dans le Prix du Début, sur 900 m à Saint-Cloud fin mars. Deux fois 2e de Gr.3 dans les Prix de Cabourg à Deauville et Eclipse à Maisons-Laffitte, le fils d'Indian Rocket a remporté une listed en novembre sur les 1200 m de Fontainebleau. Encore placé de Listed à 3 ans, il dépasse les 250.000 € de gains (primes comprises).
Meilleures performances
1er

PRIX ZEDDAAN (L) (Plat)


Fontainebleau - 2010

2ème

PRIX ECLIPSE (Gr 3) (Plat)


Maisons-Laffitte - 2010

2ème

PRIX DE CABOURG (Gr 3) (Plat)


Deauville - 2010

2ème

Prix Sigy (L) (Plat) 1200m


Chantilly - 2011

2ème

Prix Montenica (L) (Plat) 1300m


Deauville - 2011

3ème

Prix Servanne (L) (Plat) 1200m


Maisons-Laffitte - 2012

1er

PRIX PENSBURY (Plat)


Chantilly - 2010

1er

PRIX DU DEBUT (Plat)


St Cloud - 2010
Statistiques
| Courses | Victoires | Place | Gains | Indice Distance * |
| --- | --- | --- | --- | --- |
| 21 | 3 | 12 | 257 857 € | 1200 m |
| | 14.29% | 57.14% | | |
* Moyenne des distances des victoires et places de courses Gr.1, Gr.2, Gr.3 et Listed en plat (arrondie à la centaine)
Pédigrée
Fabulous Dancer

1976 (USA)
Money For Nothing

1962 (GB)

Northern Dancer

1961 (CAN)

Last of the Line

1967 (USA)

Come Up Smiling

1973 (USA)

Brigadier Gerard

1968 (GB)

King of Macedon

1974 (IRE)
Bubbling Beauty

1961 (USA)
Lignée maternelle
Télécharger au format PDF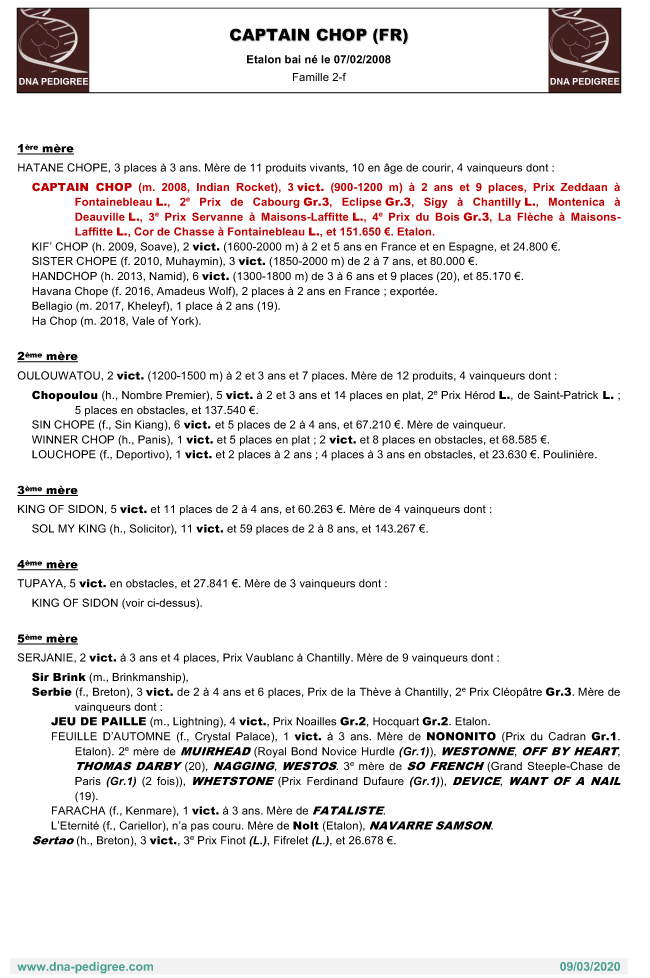 Générateur de pédigrée
Cet étalon n'a pas développé de formule de présentation complète (forfait premium).
Ventes & Shows
Retrouvez la liste des participations aux ventes et shows de l'étalon et de ses produits.
Breeze-Up La Teste du 10/04/2019 au 11/04/2019
Lot
Nom
Pere
Mere
Issue
9
DELHI CHOPE F17

Captain Chop x Star Chope

Captain Chop
Star Chope
Racheté

18 000€

65
LAVINACHOPE F17

Captain Chop x Harmony's Chope

Captain Chop
Harmony's Chope
Racheté

3 000€

Vente Mixte de Février Deauville du 12/02/2019 au 13/02/2019
Lot
Nom
Pere
Mere
Issue
202
Lamchope F15

Captain Chop x Selam

Captain Chop
Selam

9 000€

CHOPARD Alain
Vente de Yearlings La Teste du 04/09/2018 au 05/09/2018
Lot
Nom
Pere
Mere
Issue
65
DELHI CHOPE F17

Captain Chop x Star Chope

Captain Chop
Star Chope

19 000€

BOUTIN CEDRIC S.E.
125
ARROW CHOP M17

Captain Chop x Azagra

Captain Chop
Azagra
Absent
259
VICTOCHOP M17

Captain Chop x Ma Victoryan

Captain Chop
Ma Victoryan

19 000€

ITS BLOODSTOCK
280
MAITRECHOP M17

Captain Chop x MY PRINCESS

Captain Chop
MY PRINCESS

16 000€

WALTON WILLIAM
Breeze Up La Teste le 25/04/2018
Lot
Nom
Pere
Mere
Issue
65
WAR CHOPE F16

Captain Chop x Eyes of War

Captain Chop
Eyes of War
Racheté

27 000€

Vente d'élevage de Décembre Deauville du 09/12/2017 au 12/12/2017
Lot
Nom
Pere
Mere
Issue
840
MAITRECHOP M17

Captain Chop x MY PRINCESS

Captain Chop
MY PRINCESS
Racheté

6 500€

885
DELHI CHOPE F17

Captain Chop x Star Chope

Captain Chop
Star Chope
Racheté

5 500€

Vente de yearlings La Teste du 06/09/2017 au 07/09/2017
Lot
Nom
Pere
Mere
Issue
10
JAKADICHOPE F16

Captain Chop x Jadichope

Captain Chop
Jadichope
Racheté

9 000€

155
FLOWER CHOPE F16

Captain Chop x Tulipe Rouge

Captain Chop
Tulipe Rouge
Racheté

8 000€

168
WALYSCHOPE F16

Captain Chop x Wa Zine

Captain Chop
Wa Zine
Racheté

7 000€

244
WAR CHOPE F16

Captain Chop x Eyes of War

Captain Chop
Eyes of War

22 000€

THOMAS DEMEAULTE XAVIER
Vente d'Eté Deauville du 05/07/2017 au 06/07/2017
Lot
Nom
Pere
Mere
Issue
290
Scary Chop M14

Captain Chop x Halloween Star

Captain Chop
Halloween Star
Absent
423
Capchop H14

Captain Chop x Gooseley Lane

Captain Chop
Gooseley Lane
Absent
Vente Breeze Up et CAE La Teste le 26/04/2017
Lot
Nom
Pere
Mere
Issue
7
Jak Angel H15

Captain Chop x Lady Jak

Captain Chop
Lady Jak
Absent
Vente de Yearlings La Teste du 14/09/2016 au 15/09/2016
Lot
Nom
Pere
Mere
Issue
28
Evabienchope F15

Captain Chop x Free Track

Captain Chop
Free Track

30 000€

SOGORB PHILIPPE
70
Jak Angel H15

Captain Chop x Lady Jak

Captain Chop
Lady Jak

5 000€

CHOPARD ALAIN
277
Mon Amie Chop F15

Captain Chop x Bouboulina

Captain Chop
Bouboulina

7 000€

CHOPARD ALAIN
Breeze up Deauville le 14/05/2016
Lot
Nom
Pere
Mere
Issue
45
Aratos H14

Captain Chop x Malinday

Captain Chop
Malinday

30 000€

CESANDRI Maxime
Vente de Yearlings La Teste du 15/09/2015 au 16/09/2015
Lot
Nom
Pere
Mere
Issue
100
Capchop H14

Captain Chop x Gooseley Lane

Captain Chop
Gooseley Lane

37 000€

AGENCE FIPS
Vente Yearlings V.2 Deauville le 18/08/2015
Lot
Nom
Pere
Mere
Issue
461
Aratos H14

Captain Chop x Malinday

Captain Chop
Malinday

20 000€

ARTEMIS BLOODSTOCK INVESTMENTS
Etalons du Sud-Ouest Pau le 17/01/2015
Lot
Nom
Pere
Mere
Issue
4
Captain Chop M08

Indian Rocket x Hatane Chope

Indian Rocket
Hatane Chope
Production
Récents vainqueurs
Meilleurs produits
28/10/2017 - Mon Amie Chop (2a) - 2ème Prix des Sablonnets (L) - Nantes (Plat) - 1600m
12/03/2019 - Capchop (5a) - Chantilly (Plat) - 1300m
28/01/2019 - Capchop (5a) - Cagnes-sur-Mer (Plat) - 1300m
02/12/2018 - Gueraty (2a) - La Zarzuela - SPA (Plat) - 2000m
27/10/2018 - Scary Chop (4a) - Siracusa - ITY (Plat) - 2000m
21/10/2018 - Gueraty (2a) - La Zarzuela - SPA (Plat) - 1600m
30/09/2018 - Gueraty (2a) - La Zarzuela - SPA (Plat) - 1500m
12/08/2018 - Manu Chop (3a) - Aurillac (Plat) - 2000m
01/06/2018 - Iggy Chop (4a) - Toulouse (Plat) - 2000m
27/05/2018 - Jak Angel (3a) - Dax (Plat) - 2300m
10/05/2018 - WAR CHOPE (2a) - Tarbes (Plat) - 1100m
17/02/2018 - Capchop (4a) - Cagnes-sur-Mer (Plat) - 1300m
05/01/2018 - Lamchope (3a) - Deauville (Plat) - 1500m
14/12/2017 - Lamchope (2a) - Deauville (Plat) - 1300m
27/11/2017 - Iggy Chop (3a) - Pornichet (Plat) - 1700m
23/11/2017 - Mon Amie Chop (2a) - Lyon la Soie (Plat) - 1800m
08/11/2017 - Iggy Chop (3a) - Chantilly (Plat) - 1900m
26/09/2017 - Joubachope (3a) - Bordeaux le Bouscat (Haies) - 3300m
22/09/2017 - Lamchope (2a) - Fontainebleau (Plat) - 1400m
27/08/2017 - Monsterchop (3a) - Guadeloupe(Karukera) (Plat) - 1700m
24/07/2017 - Mon Amie Chop (2a) - Chantilly (Plat) - 1000m
23/07/2017 - Rubychop (3a) - Royan la Palmyre (Haies) - 3500m
14/07/2017 - Defi Chope (3a) - Dieppe (Haies) - 3400m
28/06/2017 - Mon Amie Chop (2a) - Maisons-Laffitte (Plat) - 1000m
13/05/2017 - Lamchope (2a) - Deauville (Plat) - 1000m
12/04/2017 - Mon Amie Chop (2a) - Fontainebleau (Plat) - 1000m
04/04/2017 - Scary Chop (3a) - Salon-de-Provence (Plat) - 2000m
31/03/2017 - Mon Amie Chop (2a) - Bordeaux le Bouscat (Plat) - 1000m
23/03/2017 - Evabienchope (2a) - Saint-Cloud (Plat) - 900m
17/03/2017 - Lamchope (2a) - Fontainebleau (Plat) - 900m
13/03/2017 - Capchop (3a) - Toulouse (Plat) - 1200m
13/10/2016 - Tipi Chop (2a) - Bordeaux le Bouscat (Plat) - 1600m
29/08/2016 - Joubachope (2a) - Pornichet (Plat) - 1600m
05/07/2016 - Capchop (2a) - La Teste de Buch (Plat) - 1200m
02/06/2016 - Defi Chope (2a) - Lyon Parilly (Plat) - 1000m
23/05/2016 - Capchop (2a) - Bordeaux le Bouscat (Plat) - 1000m
16/04/2016 - Capchop (2a) - Bordeaux le Bouscat (Plat) - 1000m
12/03/2019 - Capchop (5a) - Chantilly (Plat) - 1300m
28/01/2019 - Capchop (5a) - Cagnes-sur-Mer (Plat) - 1300m
02/12/2018 - Gueraty (2a) - La Zarzuela - SPA (Plat) - 2000m
27/10/2018 - Scary Chop (4a) - Siracusa - ITY (Plat) - 2000m
21/10/2018 - Gueraty (2a) - La Zarzuela - SPA (Plat) - 1600m
30/09/2018 - Gueraty (2a) - La Zarzuela - SPA (Plat) - 1500m
12/08/2018 - Manu Chop (3a) - Aurillac (Plat) - 2000m
01/06/2018 - Iggy Chop (4a) - Toulouse (Plat) - 2000m
27/05/2018 - Jak Angel (3a) - Dax (Plat) - 2300m
10/05/2018 - WAR CHOPE (2a) - Tarbes (Plat) - 1100m
17/02/2018 - Capchop (4a) - Cagnes-sur-Mer (Plat) - 1300m
05/01/2018 - Lamchope (3a) - Deauville (Plat) - 1500m
14/12/2017 - Lamchope (2a) - Deauville (Plat) - 1300m
27/11/2017 - Iggy Chop (3a) - Pornichet (Plat) - 1700m
23/11/2017 - Mon Amie Chop (2a) - Lyon la Soie (Plat) - 1800m
08/11/2017 - Iggy Chop (3a) - Chantilly (Plat) - 1900m
28/10/2017 - Mon Amie Chop (2a) - 2ème Prix des Sablonnets (L) - Nantes (Plat) - 1600m
26/09/2017 - Joubachope (3a) - Bordeaux le Bouscat (Haies) - 3300m
22/09/2017 - Lamchope (2a) - Fontainebleau (Plat) - 1400m
27/08/2017 - Monsterchop (3a) - Guadeloupe(Karukera) (Plat) - 1700m
24/07/2017 - Mon Amie Chop (2a) - Chantilly (Plat) - 1000m
23/07/2017 - Rubychop (3a) - Royan la Palmyre (Haies) - 3500m
14/07/2017 - Defi Chope (3a) - Dieppe (Haies) - 3400m
28/06/2017 - Mon Amie Chop (2a) - Maisons-Laffitte (Plat) - 1000m
13/05/2017 - Lamchope (2a) - Deauville (Plat) - 1000m
12/04/2017 - Mon Amie Chop (2a) - Fontainebleau (Plat) - 1000m
04/04/2017 - Scary Chop (3a) - Salon-de-Provence (Plat) - 2000m
31/03/2017 - Mon Amie Chop (2a) - Bordeaux le Bouscat (Plat) - 1000m
23/03/2017 - Evabienchope (2a) - Saint-Cloud (Plat) - 900m
17/03/2017 - Lamchope (2a) - Fontainebleau (Plat) - 900m
13/03/2017 - Capchop (3a) - Toulouse (Plat) - 1200m
13/10/2016 - Tipi Chop (2a) - Bordeaux le Bouscat (Plat) - 1600m
29/08/2016 - Joubachope (2a) - Pornichet (Plat) - 1600m
05/07/2016 - Capchop (2a) - La Teste de Buch (Plat) - 1200m
02/06/2016 - Defi Chope (2a) - Lyon Parilly (Plat) - 1000m
23/05/2016 - Capchop (2a) - Bordeaux le Bouscat (Plat) - 1000m
16/04/2016 - Capchop (2a) - Bordeaux le Bouscat (Plat) - 1000m
Statistiques production en france
à jour le 21/04/2019
| Courses | Victoires | Place | Gains |
| --- | --- | --- | --- |
| 302 | 32 | 122 | 875 773 € |
| | 10.6% | 40.4% | |
Saillies & Naissances
Déclarées en France d'après les données gérées par le SIRE-POMPADOUR
2018
monte
2018
juments
saillies
28
naissances
déclarées
0
Saillies
AMINACHOPE

par DEPORTIVO (GB)

AMOUR PARFAIT (IRE)

par SPINNING WORLD (USA)

ANDOLORISE (IRE)

par FOOTSTEPSINTHESAND (GB)

CALINATA

par CANYON CREEK (IRE)

COCO CHOPE

par SOAVE (GER)

CORTINA

par FALCO (USA)

DWALILYA

par DESERT STYLE (IRE)

FACE THE GIPSY (USA)

par WAR CHANT (USA)

GOT BACK

par KHELEYF (USA)

ILHAM

par MUHAYMIN (USA)

KENZ

par INDIAN ROCKET (GB)

L'APOLOGIE

par DELLA FRANCESCA (USA)

L'AVENTURA

par LIBRETTIST (USA)

LAIA CHOPE

par SOAVE (GER)

LAUREVA CHOPE

par PANIS (USA)

LONSOME DRIVE

par DOMEDRIVER (IRE)

LOREA CHOPE

par SOAVE (GER)

MA VICTORYAN

par KHELEYF (USA)

MADEMOISELLE FLORE (GB)

par FOOTSTEPSINTHESAND (GB)

MARIACHOPE

par SOAVE (GER)

MOON SERENADE (GB)

par KEY OF LUCK (USA)

NUIT D'IVRESSE

par HENRYTHENAVIGATOR (USA)

RIVER AVON

par STORMY RIVER

ROCKZANDA (IRE)

par ROCK OF GIBRALTAR (IRE)

SHINE A LINE

par TERTULLIAN (USA)

SPRING BALLAD

par SLEEPING CAR

YAZZEYNE

par TEOFILO (IRE)

ZALIANA

par DALIAPOUR (IRE)
2017
monte
2017
juments
saillies
59
naissances
déclarées
37
Naissances
ALIZE CHOPE

par SOAVE (GER)

: AFTER CHOP (M18 PS)
AMAZING LADY (GER)

par LORD OF ENGLAND (GER)

: N. (F18 PS) - Myriam Vasseur
ANA STYLE

par ANABAA BLUE (GB)

: AIM FOR GOLD (F18 PS) - Simon Urizzi
ARRIVEDERLA (IRE)

par ACCLAMATION (GB)

: AGAMEMNON (M18 PS) - Christophe Jouandou
BOLGA BERE

par HOLD THAT TIGER (USA)

: CAPTAIN DUNDEE (M18 PS) - E.a.r.l. Haras De Saint-Vincent
CEODORA (GER)

par EFISIO (GB)

: NEDJMA LOU (F18 PS)
CHOP DES REYS

par SOAVE (GER)

: CAPTAIN DIVINE (F18 PS)
DILUVIENNE

par KALDOUN

: INDIAN DEAL (F18 PS)
DONA CHOPE

par DEPORTIVO (GB)

: DAN CHOP (M18 PS)
DULCINA

par KENDARGENT

: N. (F18 PS) - Fabrice Vermeulen
ENOUGH PAINT (IRE)

par NEW APPROACH (IRE)

: CHOPALE (F18 PS)
GIULIA FARNESE (IRE)

par VERGLAS (IRE)

: N. (M18 PS) - Fabrice Vermeulen
HICKORY HILL

par GOLD AWAY (IRE)

: IDYLILIQ (F18 PS) - Francois Jereczek
IAMACHOPE

par NAMID (GB)

: YAKA CHOPE (F18 PS)
IN MEMORY

par CHIMES BAND (USA)

: CAPTAIN MASSAGOT (M18 PS)
JAKALI

par MAJORIEN (GB)

: CAPTAIN JAK (M18 PS) - Karine Bataille
KENDARLYSA

par KENDARGENT

: STEEVY (M18 PS) - Guy Pariente Holding Sprl
KENORINA

par KENDARGENT

: SANOVA (F18 PS) - Guy Pariente Holding Sprl
KENWYSA

par KENDARGENT

: KALARINA (F18 PS) - Guy Pariente Holding Sprl
LAVISTAHERMOSA

par DEPORTIVO (GB)

: LAS DE CHOP (M18 PS)
LODA

par ZIETEN (USA)

: MELEK (F18 PS)
MARTIKA

par MARTILLO (GER)

: LORAND (F18 PS) - Irene Scheldt
MAXXI (IRE)

par DANSILI (GB)

: MISSY CHOPE (F18 PS)
MISS FANTASTICA

par FANTASTIC LIGHT (USA)

: MISKA CHOPE (F18 PS)
MUSIC CHOPE

par DEPORTIVO (GB)

: CHIC AND CHOPE (F18 PS)
MY VIRGINIA

par SHIROCCO (GER)

: CHOP AN HOUR (M18 PS)
PARK LANE

par ORPEN (USA)

: ADRI LANE (F18 PS) - Frederic Ehlinger
QUE JE T'AIME (GB)

par DR FONG (USA)

: LA REINE BLANCHE (F18 PS)
RACENESS

par ZAMINDAR (USA)

: RAKEL CHOPE (F18 PS)
SAND DIAMOND

par TURTLE BOWL (IRE)

: SKIP CHOP (M18 PS)
SHALL WE DANCE

par NOMBRE PREMIER (GB)

: N. (M18 PS) - Sandrine Gavilan
SPELLBOUND

par TERTULLIAN (USA)

: N. (F18 PS) - Fabrice Vermeulen
STOA (IRE)

par PEINTRE CELEBRE (USA)

: CAPTAIN LOUGIE (F18 PS) - Jean-Louis Dehez
STORMY FLIGHT

par STORMY RIVER

: BILAL SIMON (M18 PS)
TURTLE BEACH

par TURTLE BOWL (IRE)

: TURTLE CHOPE (F18 PS)
WALIYA

par SILVER FROST (IRE)

: WALACHOPE (F18 PS)
WATER BELLS (IRE)

par VAL ROYAL

: GIRLS CHOPE (F18 PS)
Saillies
AMINACHOPE

par DEPORTIVO (GB)

AMOUR PARFAIT (IRE)

par SPINNING WORLD (USA)

AVIS DE TEMPETE

par BAROUD D'HONNEUR

BLUE CAVES (GB)

par DANSILI (GB)

CHANTILLY FRAISE

par MYBOYCHARLIE (IRE)

FLORANCIA

par EXCELLENT ART (GB)

FLOWER (GB)

par ZAMINDAR (USA)

FREE TRACK

par SOLID ILLUSION (USA)

GOT BACK

par KHELEYF (USA)

HISTOIRE (IRE)

par WHIPPER (USA)

L'APOLOGIE

par DELLA FRANCESCA (USA)

LA FANETTE

par WHIPPER (USA)

LONSOME DRIVE

par DOMEDRIVER (IRE)

MESHA DREAM

par MESHAHEER (USA)

MINOR POINT (GB)

par SELKIRK (USA)

NANOUK (IRE)

par NOMBRE PREMIER (GB)

NOLWENN

par POUR MOI (IRE)

NUIT D'IVRESSE

par HENRYTHENAVIGATOR (USA)

ORIA CHOPE

par DEPORTIVO (GB)

REDONDAINE

par BERTOLINI (USA)

SLICE OF LIFE

par NOMBRE PREMIER (GB)

THE LUCKY GO GIRL (GER)

par DR DEVIOUS (IRE)
2016
monte
2016
juments
saillies
9
naissances
déclarées
6
Naissances
AZAGRA (IRE)

par ELUSIVE CITY (USA)

: ARROW CHOP (M17 PS)
BALLYVILLE

par BALLINGARRY (IRE)

: NATCHOPE (F17 PS)
HARMONY'S CHOPE

par SIN KIANG

: LAVINACHOPE (F17 PS)
MA VICTORYAN

par KHELEYF (USA)

: VICTOCHOP (M17 PS)
MY PRINCESS

par SOAVE (GER)

: MAITRECHOP (M17 PS)
STAR CHOPE

par DEPORTIVO (GB)

: DELHI CHOPE (F17 PS)
Saillies
BAIONA ONE (IRE)

par MUJADIL (USA)

CHOPE HISTORY

par SOAVE (GER)

DEAUVILLE ROYALE (GB)

par ROYAL APPLAUSE (GB)
2015
monte
2015
juments
saillies
7
naissances
déclarées
5
Naissances
EYES OF WAR

par MUHAYMIN (USA)

: WAR CHOPE (F16 PS)
GUERENDIAIN (SPA)

par DYHIM DIAMOND (IRE)

: GUERATY (M16 PS) - Pierre Ducos
JADICHOPE

par MUHAYMIN (USA)

: JAKADICHOPE (F16 PS)
TULIPE ROUGE

par PANIS (USA)

: FLOWER CHOPE (F16 PS)
WA ZINE

par IRON MASK (USA)

: WALYSCHOPE (F16 PS)
Saillies
DESERT CITY

par SIMON DU DESERT

LADY DOMINO

par SECOND EMPIRE (IRE)
2014
monte
2014
juments
saillies
19
naissances
déclarées
13
Naissances
Saillies
BELLEPLACE

par LORD OF MEN (GB)

HOOSICK FALLS (USA)

par PRECISE END (USA)

LINNGARA

par LINNGARI (IRE)

MY VIRGINIA

par SHIROCCO (GER)

RASTELLA

par FUNAMBULE (USA)

TULIPE ROUGE

par PANIS (USA)
2013
monte
2013
juments
saillies
20
naissances
déclarées
15
Naissances
Saillies
CHOPINETTE

par SIN KIANG

FREE TRACK

par SOLID ILLUSION (USA)

NOVA LADY (USA)

par MR. GREELEY (USA)

SCOTCH MOCKERY

par PERSIFLEUR (USA)

STELLA ROCKET

par INDIAN ROCKET (GB)
2012
monte
2012
juments
saillies
0
naissances
déclarées
0
Jumenterie France Sire
Etalons présents parmis les plans de monte et/ou produits des élevages suivants