MACHUCAMBO
2011 (FR)
ANABAA BLUE et MATERIALISTE par ZAFONIC
Alezan / 2011 / 1.64m / Haras 2016
1.200€ en 2020
Stationné à : Haras de la Croix Sonnet
Double gagnant de Derby - Derby du Midi et Derby du Languedoc, Machucambo a ses premiers 2 ans en 2019. Ce fils du gagnant du Prix du Jockey-Club Anabaa Blue est issu de la famille du gagnant d'Arc Sakhee et du top étalon et multiple vainqueur de Gr.1 Mastercraftsman.
Prime de 5.000€ à l'éleveur de son premier vainqueur et de 10.000€ à l'éleveur de son premier vainqueur de Listed. Premier vainqueur avec son 1er partant, Mucho Macho.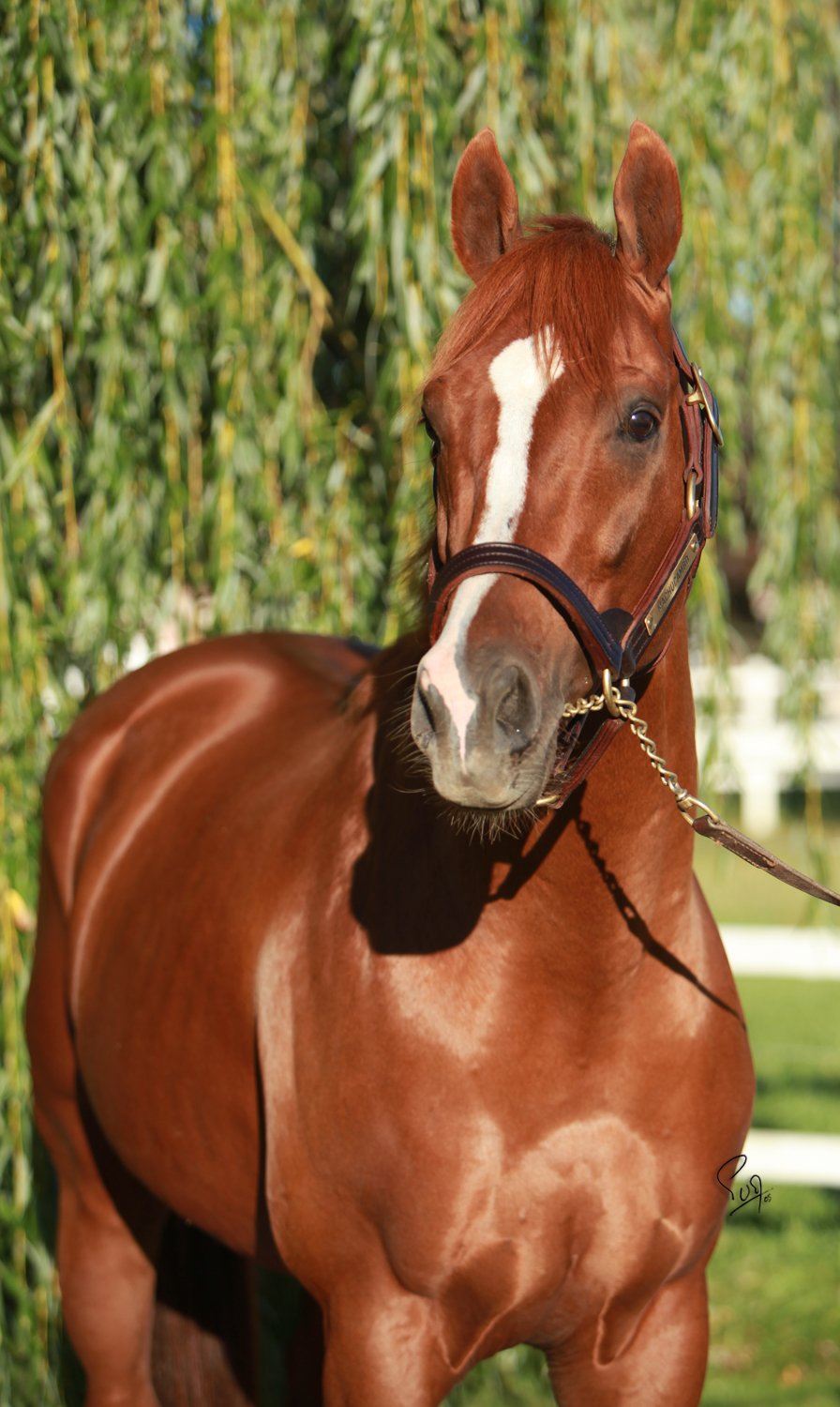 Aucune vidéo n'est disponible
Performances
Entrainé par Christophe Ferland, Machucambo a débuté 4e à Angers sur 2000m à 2 ans avant de remporter son maiden à Toulouse au mois de novembre. A 3 ans, il signe 3 victoires consécutives : le Prix Daniel Guestier - le 158e Derby du Midi (Listed) - le Derby du Languedoc (Listed).
Machucambo a battu les excellents Danza Cavallo, Garlingari, Petite Parisienne, Orbec, Pachadargent, Bodhi, Auvray, Guardini tout au long de sa courte carrière stoppée par un accident dans le Grand-Prix de Paris.
Meilleures performances
Statistiques
| Courses | Victoires | Place | Gains | Indice Distance * |
| --- | --- | --- | --- | --- |
| 7 | 4 | 2 | 137 432 € | 2400 m |
| | 57.14% | 28.57% | | |
* Moyenne des distances des victoires et places de courses Gr.1, Gr.2, Gr.3 et Listed en plat (arrondie à la centaine)
Généalogie
Allez Les Trois

1991 (USA)
Allez Les Trois

1991 (USA)
Northern Dancer

1961 (CAN)
Admirals Voyage

1959 (USA)

Northern Dancer

1961 (CAN)

Northern Dancer

1961 (CAN)
Les références de Anabaa Blue 1998 GB par DNA Pedigree
ANABAA BLUE (GB)
, bai, né en 1998, par
Anabaa
et
Allez Les Trois
par
Riverman
Inbred 4x2 sur Riverman - Issu d'une gagnante de Gr.3, sœur utérine de King's Best (2000 Guineas Gr.1) et Urban Sea (Prix de l'Arc de Triomphe Gr.1, mère des gagnants de Gr.1 Galileo, Black Sam Bellamy, My Typhoon et Sea the Stars).
14 courses de 2 à 4 ans, 4 vict. (2000-2400 m), 5 places, Prix du Jockey Club (Gr.1), Noailles (Gr.2), Grand Prix de Chantilly (Gr.2), 2e Prix Lupin (Gr.1), Niel (Gr.2), Foy (Gr.2), et 825.320 €.
Entré au haras en 2003
.
Production sur Plat
Production en Obstacle
SPIRIT ONE
(Sicyos), Arlington Million
Gr.1
, Prix Exbury
Gr.3
, des Chênes
Gr.3
, Critérium du FEE
L.
, 2e Critérium International
Gr.1
TRES BLUE
(Monsun), GP de Deauville
Gr.2
, 2e Deutsches Derby
Gr.1
ZINABAA
(Linamix), Prix Daniel Wildenstein
Gr.2
, du Muguet
Gr.2
, Quincey
Gr.3
, Grand Prix de Compiègne
L.
ANACARDE
(Generous), Prix Maurice Caillault
L.
BLUE CAYENNE
(Kendor), Prix Contessina
L.
, 3e Prix de Seine-et-Oise
Gr.3
CLAIRE ET BLEU
(Kaldoun), Grand Prix du Nord
L.
, Prix de la Pépinière
L.
, 2e Prix Allez France
Gr.3
MACHUCAMBO
(Zafonic), Derby du Midi
L.
, du Languedoc
L.
SIMBA
(Baryshnikov), GP de Compiègne
L.
Absolutely Me
(Diesis)
Conti di Luna
(Exit to Nowhere)
Kadence Blue
(Bering)
Shining Sea
(Linamix)
Thanks Again
(Jeune Homme)
Très Rapide
(Monsun)...
ENERGICA
(Barathea), Prix Ketch
(L.)
KOTKIDY
(Subotica)
Artemidor
(Polish Summer) (18)
Charli Parcs
(Nikos)
Powerful Blue
(Fusaichi Pegasus)
Speedy Blue Girl
(Monsun)
Zianabaa
(Zieten)...
Générateur de pédigrée
Cet étalon n'a pas développé de formule de présentation complète (forfait premium).
Ventes & Shows
Retrouvez la liste des participations aux ventes et shows de l'étalon et de ses produits.
Production
Récents vainqueurs
Meilleurs produits
08/07/2020 - Mucho Macho (3a) - Marseille Borely (Plat) - 1200m
16/05/2020 - Mucho Macho (3a) - Salon-de-Provence (Plat) - 1100m
29/06/2019 - Mucho Macho (2a) - Dax (Plat) - 1400m
08/07/2020 - Mucho Macho (3a) - Marseille Borely (Plat) - 1200m
16/05/2020 - Mucho Macho (3a) - Salon-de-Provence (Plat) - 1100m
29/06/2019 - Mucho Macho (2a) - Dax (Plat) - 1400m
Saillies & Naissances
Déclarées en France d'après les données gérées par le SIRE-POMPADOUR
2020
monte
2020
juments
saillies
0
naissances
déclarées
0
2019
monte
2019
juments
saillies
12
naissances
déclarées
0
Saillies
BEAUTE ABSOLUE

par RAJSAMAN

BECBEC

par SLICKLY

DIANE BERE

par HOLD THAT TIGER (USA)

EVER DESDEMONE

par SHAKESPEAREAN (IRE)

EVERGREY

par VERGLAS (IRE)

HERMANCE (GB)

par ENRIQUE (GB)

LANDO'S GIRL

par LANDO (GER)

LIVE LIFE

par LINAMIX

MARTRE

par PEDRO THE GREAT (USA)

PALACE BLEU

par PALACE EPISODE (USA)

RARE

par HIGHEST HONOR

VICKI

par PERSIAN COMBAT (USA)
2018
monte
2018
juments
saillies
17
naissances
déclarées
12
2017
monte
2017
juments
saillies
5
naissances
déclarées
2
Naissances
ALTESSE DESJY

par MARTALINE (GB)

: DAME DE COEURDESJY (F18 PS) - Catherine Bodin
HERMANCE (GB)

par ENRIQUE (GB)

: MATCH ONE (M18 PS) - Yolande Seydoux De Clausonne
Saillies
ANGEL'S MANOR

par ARCHANGE D'OR (IRE)

LAMADOUN

par SMADOUN

PRINCESSE DEJY

par SLEEPING CAR
2016
monte
2016
juments
saillies
22
naissances
déclarées
9
Naissances
CELTIC SPIRIT

par ROB ROY (USA)

: MAMBO SPIRIT (M17 PS) - James Baudouin
DIVINE POESIE

par ENRIQUE (GB)

: DIVINPOETE (M17 PS) - Christian Baudouin
IONIA (IRE)

par MONTJEU (IRE)

: MONTESCO (M17 PS) - James Baudouin
JUST ONE WISH (IRE)

par ARAAFA (IRE)

: MANDCHOURIA (F17 PS) - James Baudouin
KHANBALIGH

par PANIS (USA)

: MUCHO MACHO (M17 PS) - James Baudouin
NOVERINGS (GB)

par NOVERRE (USA)

: CAMBORINGS (F17 PS) - Christian Baudouin
SEKHMET

par SLEEPING CAR

: SEKCAMBO (M17 PS) - Christian Baudouin
SONNEVILLE

par SPADOUN

: HURIER DES LANDES (M18 PS) - Gerard Andre Bellenger
VESTA MARINE

par CARLOTAMIX

: MACHURINE (F17 PS) - Christian Baudouin
Saillies
2015
monte
2015
juments
saillies
0
naissances
déclarées
0
2014
monte
2014
juments
saillies
0
naissances
déclarées
0
Jumenterie France Sire
Etalons présents parmis les plans de monte et/ou produits des élevages suivants