MAWATHEEQ
2005 (USA)
DANZIG et SARAYIR par MR PROSPECTOR
Bai / 2005 / 1.66m / Haras 2011
Haras du Thenney / 2.000€ en 2017
Nouvelle recrue du Haras du Thenney depuis 2016 pour la discipline de l'obstacle, Mawatheeq est un gagnant de Gr.3 sur la distance classique. Issu de la dernière génération du chef de race Danzig, ce jeune étalon déjà père de plusieurs vainqueurs pour sa première génération née en 2012 est un neveu des excellents étalons Nashwan, Nayef, Unfuwain et un frère des pouliches classiques Ghanaati et Rumoush.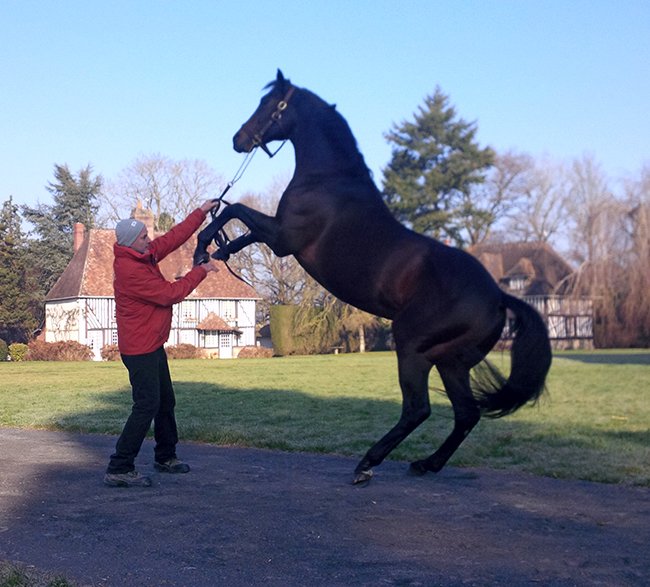 Aucune vidéo n'est disponible
Performances
Blessé alors qu'il était yearling, Mawatheeq a débuté à l'été de ses 3 ans par une 2ème place à Kempton suivie de deux victoires à Newmarket et Ascot. A 4 ans, il a gravi de nouveaux échelons en s'adjugeant le Gr.3 Cumberland Lodge Stakes sur les 2400m d'Ascot en battant Campanologist (2e) et Red Rocks (4e). Enfin, Mawatheeq s'est classé 2e des Champion Stakes (Gr.1) sur la ligne droite de Newmarket derrière Twice Over mais en battant les excellents Sariska, Pipedreamer, City Leader, Fame And Glory, Barshiba, Virtual, Never On Sunday et Alpine Rose.
Meilleures performances
1er

Grosvenor Casinos Cumberland Lodge Stakes (Gr 3) (Plat) 2400m


Ascot (GB) - 2009

1er

Robinsons Designer Fashion At Bawtry Handi... (Plat) 2100m


Doncaster (GB) - 2009

1er

DJP International Handicap (Plat) 1600m


Ascot (GB) - 2008

1er

University Of Cambridge Veterinary School ... (Plat) 1600m


Newmarket (GB) - 2008
Statistiques
| Courses | Victoires | Place | Gains | Indice Distance * |
| --- | --- | --- | --- | --- |
| 9 | 4 | 2 | 198 590 € | 1850 m |
| | 44.44% | 22.22% | | |
* Moyenne des distances des victoires et places de courses Gr.1, Gr.2, Gr.3 et Listed en plat (arrondie à la centaine)
Pédigrée
Northern Dancer

1941 (CAN)

Height of Fashion

1979 (FR)
Admirals Voyage

1959 (USA)
-

-
Lignée maternelle
Télécharger au format PDF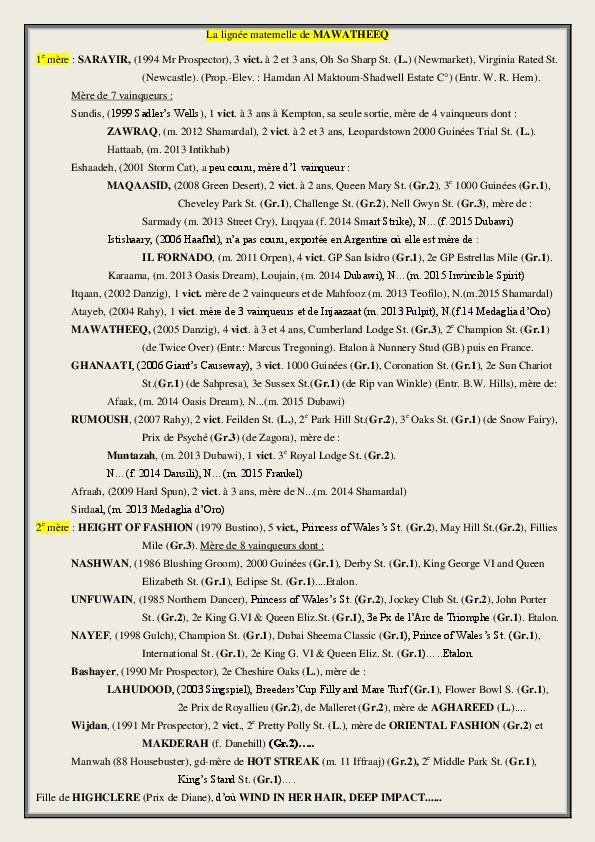 Générateur de pédigrée
Cet étalon n'a pas développé de formule de présentation complète (forfait premium).
Ventes & Shows
Retrouvez la liste des participations aux ventes et shows de l'étalon et de ses produits.
Vente de Mars Ascot le 23/03/2017
Lot
Nom
Pere
Mere
Issue
11
N (Tattercoats 2015) F15

Mawatheeq x Tattercoats

Mawatheeq
Tattercoats

600 €

Vente d'été Deauville du 29/06/2016 au 01/07/2016
Lot
Nom
Pere
Mere
Issue
283
Zaim M13

Mawatheeq x Turtle Point

Mawatheeq
Turtle Point

1 500 €

HENDRIKS Anneke
La Route des Etalons 2016 Normandie du 30/01/2016 au 31/01/2016
Lot
Nom
Pere
Mere
Issue
59
Mawatheeq M05

Danzig x Sarayir

Danzig
Sarayir
Vente de Yearlings La Teste du 15/09/2015 au 16/09/2015
Lot
Nom
Pere
Mere
Issue
137
Decale F14

Mawatheeq x Ligurian Sea

Mawatheeq
Ligurian Sea

9 000 €

BORGEL KEVEN
Vente de Yearlings d'Octobre Deauville du 20/10/2014 au 23/10/2014
Lot
Nom
Pere
Mere
Issue
244
Zaim M13

Mawatheeq x Turtle Point

Mawatheeq
Turtle Point

40 000 €

UMM QARN
Vente de yearlings Deauville du 21/10/2013 au 24/10/2013
Lot
Nom
Pere
Mere
Issue
366
Change of Gold H12

Mawatheeq x Bahia Gold

Mawatheeq
Bahia Gold

26 000 €

BRAMBILLA Arturo
Vente de yearlings V1 d'août. Deauville du 17/08/2013 au 19/08/2013
Lot
Nom
Pere
Mere
Issue
217
Nobeltheeq M12

Mawatheeq x Noble Ginger

Mawatheeq
Noble Ginger

15 000 €

DELAUNAY RENNES SARL
Production
Statistiques production en france
à jour le 18/04/2017
| Courses | Victoires | Place | Gains |
| --- | --- | --- | --- |
| 45 | 3 | 15 | 84 291 € |
| | 6.67% | 33.33% | |