Aller (re)chercher des femelles aux ventes en Irlande ?
06/06/2016 - Ventes élevages
Face au développement du marché des femelles d'obstacle achetées par les "british" en France, les grands organismes de ventes irlandais de Tattersalls et Goffs ne veulent pas être en reste. Ils gonflent donc leur offre féminine lors des 2 grandes venets de printemps, la Land Rover du 7 au 9 juin et la Derby Sale du 22 au 24 juin.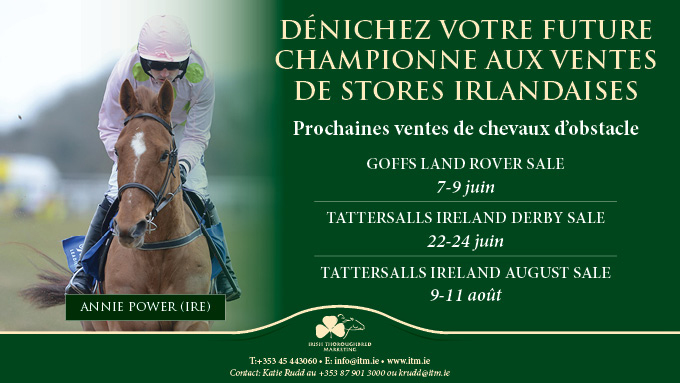 Après la vente de Doncaster du 17 mai au nord de l'Angleterre, l'Irlande met en scène ses 2 grandes sessions de ventes de stores de 3 ans à vocation obstacle, tout d'abord chez Goffs à Kill du 7 au 9 juin (Land Rover Sale), puis chez Tattersalls Ireland (Derby Sale) à Fairyhouse du 22 au 24 juin. Culturellement, ces ventes sont essentiellement consacrés aux hongres. Néanmoins, il ne faut pour autant en oublier les pouliches, sachant que ces deux agences ont une histoire avec les femelles, d'obstacle, et que le marché des femelles devient de plus en plus vogue.
La Land Rover a d'ailleurs commencé le mardi cette juin (voir les résultats en cours et le direct des ventes)
Voir aussi le catalogue de la Derby Sale
Les deux ventes proposent respectivement 80 et 120 pouliches dans leur catalogue, dont un bon nombre de souche française. Certaines d'entre elles ont été achetées plus jeunes dans l'hexagone, dont une Maresca Sorrento, une Policy Maker, une Blue Bresil et une Malinas à la Land Rover, et 6 'Fr" à la Derby Sale.

Pouliches de 3 ans "FR" à la Derby Sale 2016
30
Nalinka de La Mare (FR)
Martaline (GB)
Fidji de La Mare (FR)
78
Tout A Faire (FR)
Saint des Saints (FR)
Iris du Berlais (FR)
139
Princess Poutine (FR)
Martaline (GB)
Miss Poutine (FR)
156
Divamyra (FR)
Califet (FR)
Myragentry (FR)
204
Dynamic Allen (FR)
Network (GER)
Quouzeix (FR)
465
Alsa Mix (FR)
Al Namix (FR)
Lady Tsana (FR)
506
Dorette (FR)
Kingsalsa (USA)
Ombrelle (FR)

Mais le français n'étant pas du tout chauvin par nature, doivent s'intéresser aussi aux pouliches d'origine purement irlandaises, qui donnent des résultats et qui peuvent aussi devenir des mères. Ainsi, sortant de la Derby Sale, on trouve ces juments notables. Voici ce qu'indique les gens de Tattersalls Ireland : " The examples of good fillies recently are as follows : Polly Peachum, Little King Robin, Forge Meadow, Gemini Lucy, Function Dream, Blazing Tempo, White Oak, Oligarch Society ...Function Dream bred Captain Chris and he made €250k in the 2007 Derby Sale. Function Dream herself was in the 1996 Derby Sale but didn't sell. She made €165k as a broodmare in 2004.
Market Lass won a Gr.3 chase and came from the Derby Sale in 1996 for £8k and produced the midlands national winner Minella Four Star who also came from the derby Sale in 2006 for €38k.

Marello is another who cost 40k in 1995 and won 11 races inc. Long Walk Hurdle and produced a good few winners, Chuggs family. Native Bid (Won listed bumper) cost 20k in 1999 at the Derby Sale and is the dam of 3 black type see lot (304). Spirit Leader came from the August Sale in 1999 for 7,800 and is the dam of Folsom Blue and Prince of Scars who won a Gr.1 this year and cost €175k at the Derby Sale in 2013.
Glen Empress (winner) was not sold in Derby Sale in 1995 for 6200 is the dam of 5 black type (lot 46) inc Oligarch Society (38k Derby 2007) and Thunder and Roses (130k Derby in 2011) won the Irish National.
Papoose (only ptp winner) was 7k in Derby Sale in 1997 and is the dam of Ballabriggs (sold a foal at tatts Ire). Ash Baloo (winner) was 9k in 1999 Derby sale and is the dam of Oscar Whiskey who was sold as a yearling at Tatts Ire Nov Sale. Fiddling the facts (won Gr.1 Feltham) was a grad of the Derby Sale in 1995 for 7k and is the dam of Classic Fiddle who is small black type. Bobbing Back (2 poor runs) was a grad of Derby sale in 2000 and is the dam of Many Clouds and The Tullow Tank (who is a 21k grad of the Derby Sale in 2011) "
Ce catalogue Derby, d'où sortit la glorieuse Dawn Run à son époque, propose ces exemples de pouliches particulièrement bien nées :
Lot 46 A Flemensfirth sister to Thunder and Roses etc
Lot 70 An Oscar sister to Get Me Out Of Here.
Lot 78 A Saint des Saint sister to Iversse du Berlais (family of Bonito du Berlais)
Lot 119 An Oscar sister to Alfie Sherrin and Hawkes Point
Lot 130 A Getaway sister to Coney Island and family of Rhinstone Cowboy
Lot 89 A Presenting sister to Morning Run
Lot 247 A Gold Well sister to Bright New Dawn and Lyrical Theatre
Lot 258 A Beneficial sister to Price of Scars out of Spirit Leader (Fantastic family)
Lot 364 A Robin des Champs full sister to Duke des Champs (Family of Harbour Pilot)
Lot 375 A Yeats sister to Binocular
Lot 411 A Shirocco sister to Punjabi
Quant à la Land Rover, elle se targue d'avoir donné des mères de grands vainqueurs. Voir le tableau de résumé ci-dessous.
Chevaux issus de mères vendus à la LAND ROVER SALE (GOFFS IRELAND)
CHEVAL
VICT.
MERE
Vendeur
Acheteur
Prix (€)
Backspin
Gr.1
Oscars Princess
Derrygrath Stud
T E Hyde
24000
Beat That
Gr.1
Knotted Midge
Ballyhampshire Stud
Cash
18000
One Track Mind
Gr.1
Lady Petit
Grangeduff Stud
J Hanlon
20000
Identity Thief
Gr.1
Miss Arteea
Ballygarvan Stud
P Roche
34000
Lord Windermere
Gr.1
Satellite Dancer
Grangecam Stud
Cash
2300
Abbey Lane
Gr.2
Hazel Sylph
A P K Holdings
M Little
10000
Riverside City
Gr.2
Blazing Sky
Blackwater Stud
Cash
19000
Morning Assembly
Gr.2
Barrack Village
F W Doyle
J J Brennan
8200
Cue Card (GB)
Gr.2
Wicked Crack
Ralahine Stud
Emerald BS
7800
Minella Foru
Gr.3
Shannon Rose
Mr. Louis Vambeck
Cash
12000
Empire of Dirt
Gr.3
Rose of Inchiquin
Mooretown House
Cash
21000
Hennessy
Gr.3
Steel Grey Lady
Mr Patrick O'Brien
S Pardy
9200
Ballynacree
Gr.3
Noeleen's Choice
Coolnaleen House Stud
C Roche
12000
Charminster
L.
Monteleena
Slaney River Stud
P Roche
8200
Duke of Navan
L.
Greenfieldflyer
Mr. Keith Douglas
Cash
11000
Present View (GB)
L.
Carry Me
Modreeny Stud
Northern BS
5000
Guts For Garters
L.
Asklynn
Mr Michael G Conroy
Cash (P.S.)
4600
Sausalito Sunrise
L.
Villaflor
Ballymorran House
P McCreery
5200