Arqana présente : Un succès, des acteurs et The Grey Gatsby
02/06/2014 - Arqana Sucess
En partenariat avec FRANCE SIRE, ARQANA présente aujourd'hui le courtier Stephen Hillen. Il nous raconte la victoire de The Great Gatsby, qu'il a acheté yearling puis aux ventes breeze up, dans le Prix du Jockey-Club (Gr.1) dimanche 1er juin à Chantilly. LIRE L'INTERVIEW COMPLETE.
British bloodstock agent, Stephen Hillen works for his own since 2003 after a wealthy experience in training for Paul Cole during 10 years and Barry Hills. He is the buyer of The Grey Gatsby as a yearling and a two years-old. Explanations.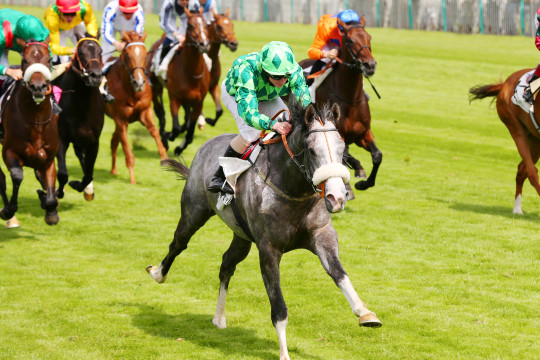 France Sire : What was your first reaction when The Grey Gatsby passed the post in front?
Stephen Hillen : "I watched the race with trainer Kevin Ryan, in the owners lounge "Salon des Propriétaires". This is the best place to see the race on TV. I was overjoyed when the horse landed the Prix du Jockey Club in style. It must have been one of the few Gr.1 races where the jockey did not have to hit the horse once with his whip to win. We were delighted with the way the colt succeeded in this French classic."
See the video of the 2014's Prix du Jockey-Club
FS : You purchased The Grey Gatsby as a yearling, what were his assets?
SH : "I saw him a few times before the sales. When I watched him walking around the ring outside, he really stood out. There were maybe a dozen of yearlings in the ring but this great walker really caught my eyes. He was a strong and powerful individual. I was very surprised to get him so cheap (ndlr : €24,000) !"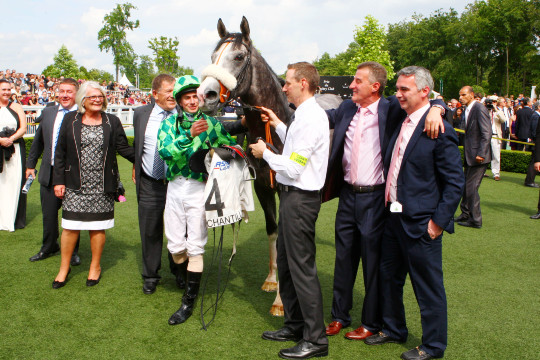 Stephen Hillen (right beside Kevin Ryan)
FS : Why did you chose to sell him and purchase him again at the breeze ups sales for another client?
SH : "Originally, I had a client for the horse so I purchased The Grey Gatsby as a yearling. It appeared that later on, this client decided not to buy the colt anymore so I sent the colt to Grove Stud to be prepared for the Breeze Up Sales. The owner of the studfarm Brendan Holland always liked him. He was doing great during the sales preparation. I found a new potential client for the colt on Brendan Holland's recommendations."
FS : What did the trainer thought of The Grey Gatsby as a juvenile?
SH : "Kevin Ryan thought a lot of the horse from day one. His daughter Amy, a jockey, is a great judge and she always believed in the horse. He was showing a lot at home. He is bred to go 1m2f (2000m) and at the breeze up sales, he faced 5f or 6f horses. He was still able to breeze in a very good time. He already showed he was special."
See the interview of Pierre Talvard from Haras du Cadran, who consigned The Grey Gatsby as a yearling

FS : What were your best horses purchased at Arqana?
SH : "I did not buy many there but my first purchase was the 12yo mare Pax Bella, dam of Kendargent. I paid €25,000 for her from Haras des Granges. She was a very nice looking mare, had a good pedigree, was sister to many black type horses and produced a Gr.1 placed sire. I bought her for a new client of mine: James Rowsell of Ashbrittle Stud. The Grey Gatsby is another exciting purchase from Arqana Sales. Breeze up sales have already been very lucky for me."
FS : Do you count on Mastercrasftman?
SH : "I really like the sire. I bought two yearlings by Mastercrafstman. I picked The Grey Gatsby as an individual initially. I really liked him, the horse comes first. Looks and physique are the first and main assets for me. Two former purchases Astaire (Middle Park Stakes – Gr.1) and Blaine (Gimcrack Stakes – Gr.2) show that physique really counts for me."
On en parle dans l'article