Osarus Breeze Up Sale at Pornichet : all videos, photos and results
2013/04/30 - Livestock sales
A review of all the action at Osarus 2nd edition 2yo breeze up sales at Pornichet on 30th April 2013. See all canters, ring action, full results and photos.
FULL RECORDING OF THE SALES

(watch all canters below)

SALES : lots 1 to 5

SALES : lots 5 to 50

SALES : lots 51 to 85

SALES : lots 85 to 88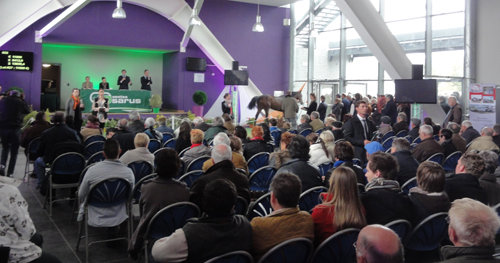 The main hall at Pornichet's racecourse turned into a sale ring.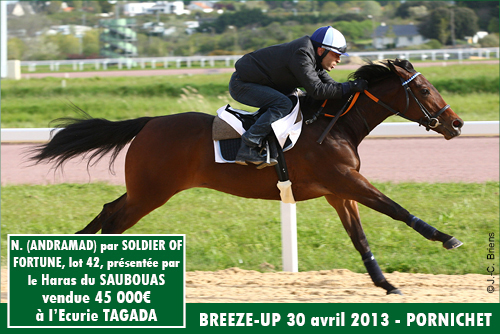 Joined top price : lot 42 is from Soldier of Fortune's first crop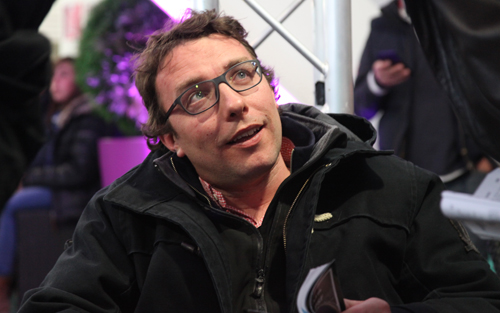 Vincent Lourmaillé, manager of Ecurie Tagada, purchased the joined top price for the new company Ecurie Tagadette, which gathers all spouses of the 15 Tagada's members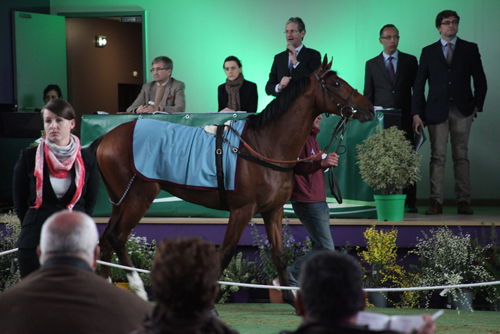 All Osarus team went on stage to witness Testostérone's brother by Turtle Bowl (lot 60) going through the ring.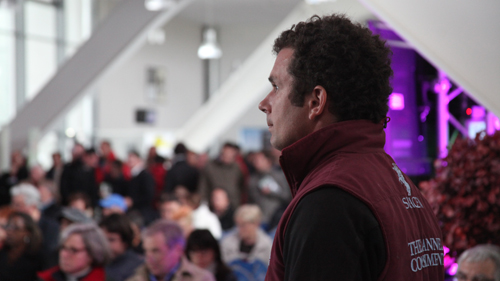 Alban Chevalier du Fau (The Channel Consignment) sold two of th three top prices.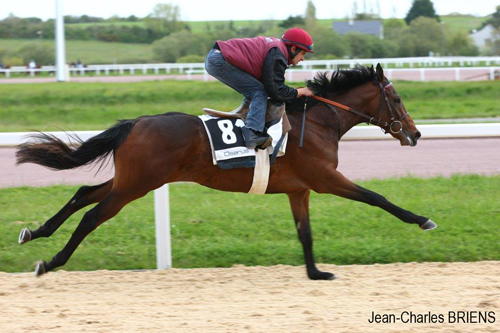 3rd top price of the day : lot 81 is by Whipper, popular french sire, out of a german Lando mare.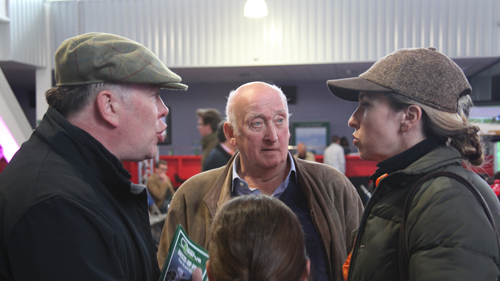 On the left, Richard Venn bought lot 81 for €43,000 for his british client Pat Betts (middle),who will keep the horse
in training in France.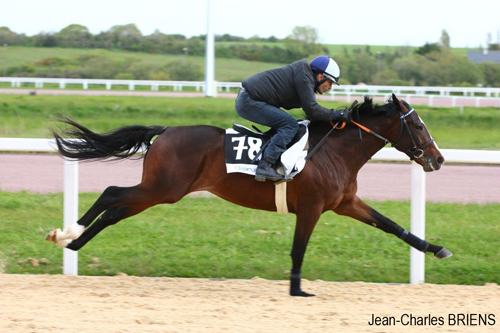 Lot 78, a nephew to Soave, is the picture of her young sire Naaqoos.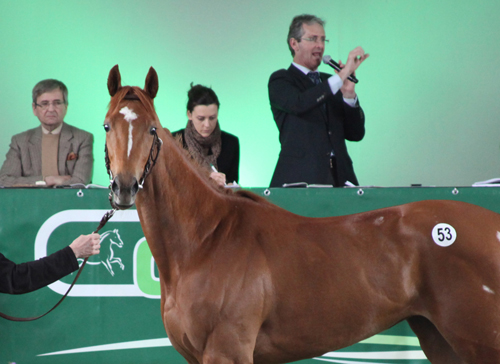 A sister to All Is Vanity by Green Tune
FULL RESULTS AND VIDEOS OF CANTERS

Lot
Horse
Video
Sex
Sire
Dam
Status
Bid
Purchaser
1
MENS SANA
F
Fairly Ransom
Magic Roses
Sold
7000
Brandt Pia
2
MANDORINE
F
Oratorio
Marcelia
Sold
10500
Boutin Cedric S.E.
3
MAMY WAY
F
Kentucky Dynamite
Mary Way
Not Sold
7000
4
N (MERMAIDS QUAY 2011)
F
Green Tune
Mermaids Quay
Not Sold
8000
5
INFINITY
ZEEMALE
M
Zafeen
Metal Chimes
Not Sold
20000
6
MISTI RIVER
F
Stormy River
Mist
Sold
12000
Napoli Jean-Claude
7
RINALDO
M
Le Havre
New Style
Not Sold
8000
7bis
GREAT NOA
F
Great Journey
Noa Sajani
Withdrawn
8
SIX COTES
M
Carlotamix
Oui Dire
Sold
32000
Durepaire Yan
9
CREPUSCULE
DESDIEUX
M
Honours List
Pousselea
Sold
26000
Mab Agency
10
BHAKTAPUR
F
Naaqoos
Queen Maeve
Sold
16000
Mab Agency
11
N (QUEEN OF POLAND 2011)
M
Notnowcato
Queen Of Poland
Not Sold
4000
12
N (REINE AMANDINE 2011)
M
Soldier Of Fortune
Reine Amandine
Private
10000
Pb Bloodstock Services
13
N (RIZIERELLA 2011)
M
Panis
Rizierella
Sold
20000
Mandore International Agency
14
N (SAKKARA STAR 2011)
M
Bushranger
Sakkara Star
Sold
13000
Boutin Cedric S.E.
15
NOVELADA
F
Literato
Serenella
Withdrawn
16
N (SHAGADELLIC 2011)
F
Orpen
Shagadellic
Not Sold
13000
17
SHAHSALSA
F
Kingsalsa
Shahrazad
Sold
8500
Fouilleul Ange
18
THE HARVEST
F
Le Havre
She Is The One
Withdrawn
19
N (SHIPPAWA 2011)
F
Stormy River
Shippawa
Sold
12000
Boisgontier Sarl
20
N (SHOCKING PINK 2011)
F
Soldier Of Fortune
Shocking Pink
Not Sold
11000
21
EMBARDEE
F
Kentucky Dynamite
Soierie
Sold
20000
Boisnard Anne
22
HEAL THE WORLD
M
Early March
Solitudine
Sold
16000
Mab Agency
23
AMERICAN MONEY
F
American Post
Street Money
Withdrawn
24
N (SYLFLORE 2011)
M
Green Tune
Sylflore
Not Sold
10000
25
GOLD OF THE GLADE
F
Artiste Royal
Tachibana
Not Sold
3000
26
FLYING BLOOD
F
Naaqoos
Take Blood
Sold
11000
Baudron Louis
27
TWENTY NINER
M
Sunday Break
Texalina
Sold
11000
Imperial Bloodstock
28
LAPO
M
Satri
Vassileva
Not Sold
22000
29
VESTA MARINE
F
Carlotamix
Vesolia
Private
5500
Paumard Nicole
30
SINGAPORE MIST
M
Sandwaki
Winter Delice
Sold
7000
Lemer Thierry
31
DU BOUT DES LEVRES
F
Early March
Yasmara
Not Sold
7500
32
BARAHONA
F
Turtle Bowl
Zakryss
Not Sold
7000
33
ZARAK TUNE
M
Green Tune
Zanakara
Withdrawn
34
ZADRAK
M
Dragon Dancer
Zanatiya
Sold
6500
Boutin Cedric S.E.
35
ZEMINENZA
F
Air Eminem
Zannkiya
Sold
16000
Meridian International
36
ZARNIA
F
Soldier Of Fortune
Zarnitza
Sold
12000
Pantall Henri-Alex
37
LUMIERE ETERNELLE
F
Desert Style
Affair
Not Sold
10000
38
N (ALASKAN WAY 2011)
F
Manduro
Alaskan Way
Not Sold
19000
39
N (ALL HEART 2011)
F
Dr Fong
All Heart
Sold
8000
Baudron Louis
40
ALICENORA
F
Astronomer Royal
Allmia
Not Sold
15000
41
N (ANCHORS AWAY 2011)
M
Chineur
Anchors Away
Sold
9000
Borgel Keven
42
N (ANDRAMAD 2011)
F
Soldier Of Fortune
Andramad
Sold
45000
Tagada Sarl Ecurie
43
CHEG
F
Kheleyf
Ansina
Not Sold
15000
44
ASSEKREM
M
Ad Valorem
Ashkiyra
Sold
16000
Mab Agency
45
WAKIGLOTE
F
Sandwaki
Aurabelle
Sold
5000
Fortineau Herve
46
N (BALLORA 2011)
F
Soldier Of Fortune
Ballora
Sold
15000
Sandor Mme Georges
47
PASSAGE MOLIERE
M
Linngari
Bella Giaconda
Sold
8500
Bergougnoux Eric
48
BLUES ORCHESTRA
F
Orpen
Blanc Sur Blanc
Not Sold
5500
49
PRINCE TEVA
M
Chineur
Blanquilla
Not Sold
8000
50
N (CALIFORNIA ANGEL 2011)
M
Refuse To Bend
California Angel
Sold
19000
Baudron Louis
51
ELLE DIT
F
Early March
Callipyge
Not Sold
6500
52
TIGERLAND
M
Hold That Tiger
Caparroso
Not Sold
10000
53
CASTLEBAY
F
Green Tune
Castilly
Sold
38000
Bertran De Balanda Nicolas
54
N (COBBLESTONE ROAD 2011)
F
Astronomer Royal
Cobblestone Road
Sold
25000
Mab Agency
55
N (DANSE QUATZ 2011)
M
Stormy River
Danse Quatz
Sold
12000
Ecurie Tagada Sas
56
DEKATMIE
F
Hurricane Run
Decouverte
Sold
16000
Mab Agency
57
N (DIETRICH 2011)
M
Panis
Dietrich
Sold
3000
Bergougnoux Eric
58
IKE BANA
F
Martaline
Draga
Not Sold
5000
59
DESOBEISSANTE
F
Early March
Elle Donne
Not Sold
8000
60
N (EPOPEE 2011)
M
Turtle Bowl
Epopee
Sold
45000
Mab Agency
61
N (EVENING SERENADE 2011)
F
Naaqoos
Evening Serenade
Sold
30000
Broadhurst Agency
62
N (FEBRERO 2011)
F
High Rock
Febrero
Withdrawn
63
MOON MUSIC
F
Astronomer Royal
Final Overture
Sold
3500
Imperial Bloodstock
64
HARRI BIZIA
F
Le Triton
Grioun
Withdrawn
65
ONE PEACE
M
Creachadoir
Halabaloo
Sold
15000
Boisnard Joel
66
BARASPYNEES ONE
M
Barastraight
Happynees
Not Sold
9000
67
N (HOUBLONNIERE 2011)
F
Falco
Houblonniere
Sold
16000
Mab Agency
68
BELLS DE GANE
F
Speedmaster
Intention
Not Sold
7000
69
SUNDAYSUN
F
Sunday Break
Island Lady
Not Sold
8000
70
HERLEVA
F
Oratorio
Jane Eria
Sold
16000
Leenders Etienne
71
JAZZ ET SALSA
M
Kingsalsa
Jazz Protegee
Withdrawn
72
KALYA FONG
F
Dr Fong
Kalyador
Not Sold
18000
73
KHORASAN HIGHWAY
M
Sageburg
Kangrina
Withdrawn
74
N (KANSAS 2011)
F
Lawman
Kansas
Sold
9000
Beres Jacques
75
BRAMBEL
F
Enrique
Kaprun
Sold
6000
Monfort Patrick
76
N (KARALKA 2011)
F
Green Tune
Karalka
Sold
12000
Hautieres Bloodstock
77
KARAKA
F
Soldier Of Fortune
Karnatika
Withdrawn
78
N (SUSANNE RHEINBERG 2011)
M
Naaqoos
Susanne Rheinberg
Sold
40000
Ecurie Tagada Sas
79
SAGEHOPE
M
Sageburg
Hucking Hope
Private
7000
Monfort Patrick
80
DRAKA
F
Dragon Dancer
Kutika
Not Sold
4000
81
N (LANCIANA 2011)
M
Whipper
Lanciana
Sold
43000
Venn Richard Bloodstock Ltd
82
LIZALIA
F
Panis
Leave Of Absence
Sold
19000
Venn Richard Bloodstock Ltd
83
SPADOUSH
F
American Post
Lisatine
Sold
17000
Meridian International
84
LORME
F
Librettist
Lovoceane
Not Sold
7000
85
MISSAGLIA
F
Slickly
L'ancolie
Not Sold
15000
86
N (LYSABELLE 2011)
M
Layman
Lysabelle
Sold
4500
Imperial Bloodstock
87
MAXIREPORTER
M
Nombre Premier
Freeze Frame
Sold
16000
Lemer Thierry
88
DREAMING OF YOU
F
Dream Well
Volupte
Sold
12000
Petit Guy
BONUS : STALLION GUIDE

At Stud
SIRE
Nber
2010
2011
2012
2013
Fee
Sire
Studfarm
2007
AD VALOREM
1
5.000 €
11.000
16.500
11.000
$
AUS
Danzig
Darley (Australia) (Ex Coolmore)
2009 FR
AIR EMINEM
1
3.000
3.000
3.000
exp. Iran mars 12
€
FR
Danehill
Lonray (Ex Japon)
2005
AMERICAN POST
2
5.000
5.000
5.000
5.000
€
FR
Bering
Etreham
2010
ARTISTE ROYAL
1
3.500
3.500
exp. URU juin 11
€
FR
Danehill
Etreham (exported to Uruguay)
2009
ASTRONOMER ROYAL
3
6.000
5.000
5.000
exp. AUS août 12
€
FR
Danzig
Ex La Reboursiere
2010
BARASTRAIGHT
1
1.700
1.500
1.700
1.200
€
FR
Barathea
Sablonnets
2010
BUSHRANGER
1
7.500
6.000
6.500
7.500
€
IRE
Danetime
Tally Ho Stud
2007
CARLOTAMIX
2
2.500
2.500
2.500
2.500
€
FR
Linamix
Ayguemorte
2006
CHINEUR
2
3.000
3.000
exporté en IRE
dcd oct. 2012
€
FR
Fasliyev
Tally Ho Stud (Ex Granges)
2010
CREACHADOIR
1
4.500
3.000
3.000
3.000
€
FR
King's Best
Le Logis (Darley)
2009 FR
DESERT STYLE
1
10.000
8.000
10.000
5.000
€
FR
Green Desert
Hoguenet
2010 FR
DR FONG
2
5.000
5.000