Cokoriko : a 100% NH sire at Haras de Cercy
He is from the family of 4 international national hunt leading sires. His maternal family is one the most prestigious at Auteuil. Listed winner late spring, Cokoriko was purchased by the new association in command of Haras de Cercy.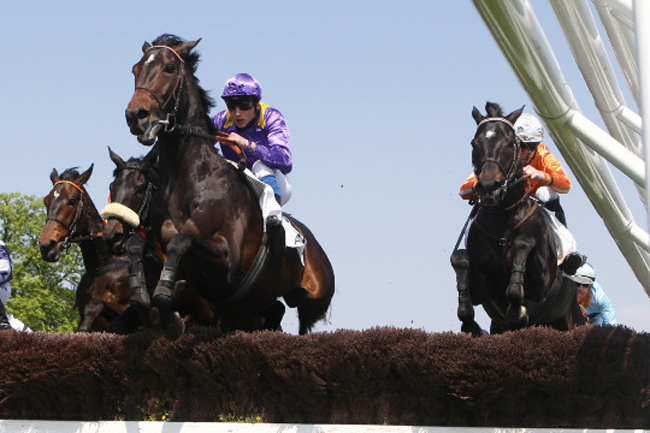 Cokoriko, purple silks, a powerful horse... (APRH photos)

" Robin des Champs, Nikos, Cardoudal and Carmarthen : here is what I call a nice list. It was enough to convinced us to buy the horse, beside his physique, his maternal pedigree and racing performances ". In the center of the most powerful french AQPS region, Haras de Cercy (Nièvre region) just purchased its first stallion since it has transfered to SCAECC, a local association breeders directed by Jacques Cyprès.
Standing Network from France Haras, after loosing Voix du Nord of a heart attack in the spring and after recruiting Coastal Path and Saddler Maker in 2013, the SCAEEC tries its best to get more than the heritage frm the National Studs. The Nievre region, along with Allier and Saone-et-Loire produced leading NH sires just like Verdi, Laniste, Quart de Vin, Pas de Quatre or Video Rock. Logically, and according to the exceptional success of future NH stallions at Auteuil (statistics should come out soon about amazing results for the last 15 years), the SCAECC showed an interest on Cokoriko, a brother to champion Ceasar's Palace by Robin des Champs, sensational sire at Haras de Saint-Voir before being exported to Ireland in 2008.

Member of the SCAEEC, Jean-Louis Berger is Jean-Paul Gallorini's father in law, breeder, owner and trainer of Cokoriko, just like his older brother Ceasar's Palace, triple Gr.3 winner who made a slashing comeback on the track recently, after his long break since 2012. Jean-Paul Gallorini bought his dam Cardounika (Nikos) in Normandy at Haras de Nonant-le-Pin from Olivier Corbière. She won at Cagnes/Mer and was placed in good condition races at Auetuil. She is from an old but worthy NH family. Cardounika is a sister to 4 winners including Carlinas and Calenzara. Her dam Cardoudalle, by Cadoudal, won three times at Auteuil for Xavier Guiguand with more than €100,000 prizemoney. As for the 4th dam, Easy Horse (Carmarthen), also successful at Auteuil, is a sister to champions Sweet Virginia, Funny Horse, Dazzling Horse and Busy Horse. In other words, Cokoriko has a pure french NH pedigree, tough, sturdy with consistent prizemoney over the generations.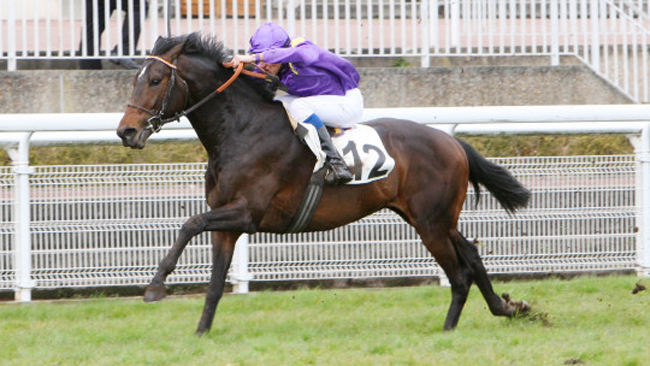 Cokoriko when winning on his April debuts under Julien Desmonts.

Cokoriko is not only a "brother to". On 10th April 2013, he received all the attention when winning easily on his debuts the Prix Claude Cohen over hurdles. 5th of the Prix Virelan and 6th of Prix Miror (Listed), he fired up in June when he succeeded in the listed event Prix Gérald de Rochefort, a good 4yo hurdle race defeating Un Temps Pour Tout, recent laureate of Prix de Maisons-Laffitte. Unfortunately, Cokoriko sustained an injury and Haras de Cercy did not waste much time to inquire about the horse and sign for the 16.2hh colt.

The horse is offered for syndication for SCAECC members at €4,000 a share, giving two nominations for 2014 and 2015, then one nomination a year, at a flat fee of €600 / year. In between Haras de Cercy and Haras du Lion, we can highlight that 2 of the 3 main farms taken over from former french national studs really get a second breath. Lets just wait and see what would happen to Haras du Pin, the last of the big fishes trasnfered to an association managed by Philippe Martin. He has the toughest task of all as in between GDE's file and competition of private studfarms around, he will have to match a NH stallion market standing between € 1,500 / € 2,500 €.
On en parle dans l'article