HARAS DU CHêNE VERT

Bernier Anne-Sophie
Haras du Chêne Vert
Champteusse sur Baconne
49220 CHENILLE CHAMPTEUSSE
Port. 06 12 87 36 24

Entirely built by Anne-Sophie and David Bernier in Anjou, the Haras du Chene Vert is multi-puposes, from breeding to training.
Further to a joint experience at the Haras de Mirande, under the charge of Guy Cherel then Isabelle Pacault, Anne-Sophie and David Bernier have started their own business in 1999 when purchasing their first stallion on Deauville's sales ring: Héllios. They created the Haras du Chene Vert while they were at it, arranging an old abandonned farm in Anjou. The farm is situated next door to Anne-Sophie's father, Jean-Charles Berdoll, himself a few kilometers away from the Lion d'Angers, the craddle of the Peltier family of which Anne-Sophie, cousin of Pulippe, is issued.



The stud farm includes 26 boxes and 86 acres, with 61 surrounding the farm. The young couple has always juggled multiple activities from stallion station to training through breeding. Coming to the West while being a jump jockey for Philippe Cottin and Etienne Leenders, David has passed his public license and manages the training part on a private run, with about fifteen horses. Anne-Sophie manages the breeding side of the operation, including the stallions. Further to Hellios, stallions have succeeded one another with Le Triton, Estèphe du Moulin, Myrakalu, River Majesty, Loxios, Madoun and Rochesson until the arrival of Califet in 2005 and of Protektor in 2007. Supported by Guy Cherel and Claude Ventrou, local relay, Califet has always covered a lot. He even reached 135 mares in 2009 and 141 in 2010 ! But in January 2014, victim of its succes, Califet was exported to Ireland. So, no stallions were at the stud in 2014. In 2015, Anne-Sophie and David Bernier recruited Boris de Deauville owned by famous american breeder and owner Magalen Bryant. In 2018, Conillon, a son of Acatenango, arrived.



The first student out of the Chene Vert, Lucky City, has won several races and was first retained amongst the mares of the private broodmare band. Anne-Sophie and David have also sparkled with Iliose, under the orange and black silks of Pierre Peltier, taken over by Anne-Sophie, his grand-daughter.



The training part is a little reduced during the breeding season. During the second semester, David manages the breakings. The veterinary follow-up is ensured on-site by the cabinet of Meslay-du-Maine. The Haras du Chene Vert boards mares during the covering season but few as permanent boarders. It ensures foalings for external mares.



Private breeding and public services
5 private broodmares
1 stallion

86 acres

26 boxes

1 run

1 walker

Foalings: €220 ex. VAT

Boarding for mare + foal (€13 ex. VAT/day), barren/maiden (€8 ex. VAT/day)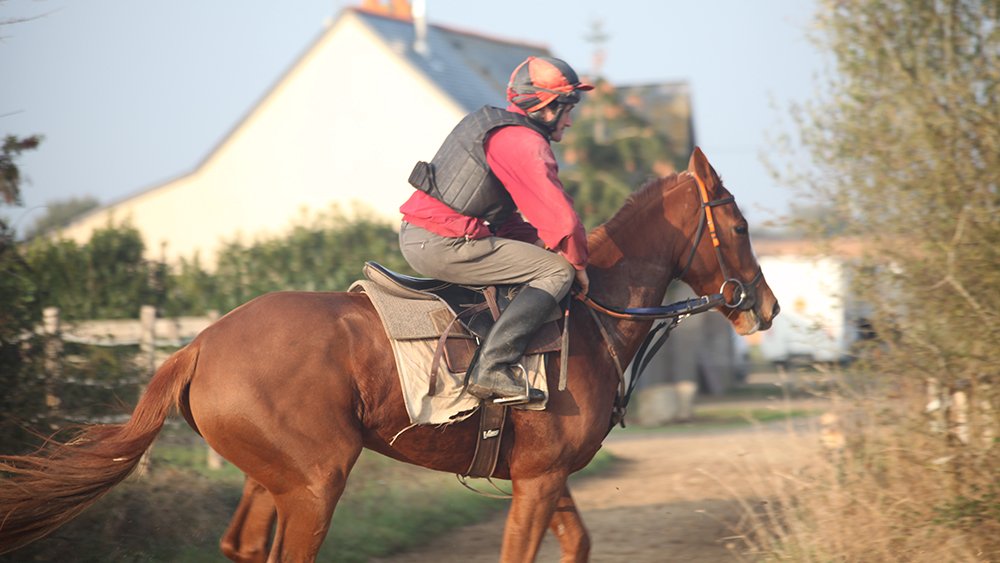 Aucune vidéo n'est disponible
Broodmare band
Winners
Août 2019
Avril 2019
2019/04/26 - Eros Du Quartier - Maisons-Laffitte (FR)

2019/04/07 - Eros Du Quartier - Senonnes-Pouance (FR)
Mars 2019
Février 2019
Novembre 2018
Avril 2018
Décembre 2017
Novembre 2017
Avril 2017
Mars 2017
Février 2017
Juin 2016
Avril 2016
Octobre 2015
Juillet 2015
2015/07/12 - Pipel Du Quartier - Molieres (FR)

2015/07/12 - Chao Des Landes - Molieres (FR)
Octobre 2014
Septembre 2014
2014/09/28 - Udiane - Landivisiau (FR)

2014/09/14 - Ulyciane - La-Roche-sur-Yon (FR)
Août 2014
Octobre 2013
2013/10/27 - Chao Des Landes - Saumur (FR)

2013/10/20 - Tiji Du Quartier - Segre (FR)
Septembre 2013
Juillet 2013
2013/07/28 - Pipel Du Quartier - Molieres (FR)

2013/07/21 - Udiane - La Gacilly (FR)
Novembre 2012
Octobre 2012
Juillet 2012
Juin 2012
Octobre 2011
Août 2011
Avril 2011
Mars 2011
Avril 2010
Février 2010
Novembre 2009
Novembre 2008
2008/11/30 - The Surf - Angers (FR)

2008/11/09 - Pipel Du Quartier - Durtal (FR)
Octobre 2008
Juillet 2008
Sales & shows
Retrouvez la liste des participations aux ventes et shows de cet établissement.
Salon des Etalons du Lion Le Lion d'Angers le 2018/01/13
Lot
Nom
Pere
Mere
Issue
69
Conillon M04

Acatenango x Castilla

Acatenango
Castilla
Classifieds
Il n'y aucune annonce pour cet établissement
Stallions
Il n'y aucun étalon référencé pour cet établissement