HERALD THE DAWN
2013 (IRE)
NEW APPROACH et HYMN OF THE DAWN par PHONE TRICK
Bai / 2013 / 1.66m / Haras 2018
4.000€ en 2019
Stationné à : Haras de Tiercé
Gagnant de Gr.2 à 2 ans au Curragh puis 2e de Gr.1, Herald The Dawn est arrivé au Haras de Tiercé en 2018 pour y débuter sa carrière d'étalon. Propre frère de l'étalon prometteur et champion Dawn Approach. Leur père est l'autre champion à 2 et 3 ans New Approach, père de 6 lauréats individuels de Gr.1.
40 juments saillies en 2018. 1ers foals en 2019.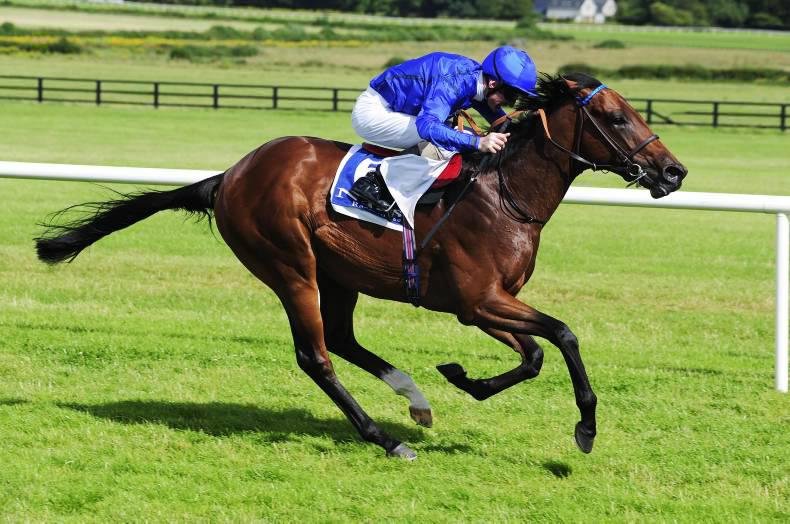 Performances
Entrainé par son éleveur Jim Bolger tout comme son frère Dawn Approach, Herald The Dawn a débuté par une 2e place puis a gagné son maiden dès sa deuxième sortie en août de ses 2 ans. Au même mois, il remporte les importants Futurity Stakes (Gr.2) au Curragh, course remportée par son père en 2007.
2e d'Air Force Blue dans le Gr.1 Vincent O'Brien National Stakes, Herald The Dawn a battu Birchwood.
Meilleures performances
1er

Galileo European Breeders Fund Futurity St... (Gr 2) (Plat) 1400m


Curragh (IRE) - 2015

2ème

Goffs Vincent O'Brien National Stakes (Gr 1) (Plat) 1400m


Curragh (IRE) - 2015

1er

Irish Stallion Farms European Breeders Fun... (Plat) 1400m


Naas (IRE) - 2015
Statistiques
| Courses | Victoires | Place | Gains | Indice Distance * |
| --- | --- | --- | --- | --- |
| | | | 0 € | 1400 m |
| | 0% | 0% | | |
* Moyenne des distances des victoires et places de courses Gr.1, Gr.2, Gr.3 et Listed en plat (arrondie à la centaine)
Pédigrée
Herald The Dawn

2013 (IRE)
Hymn Of The Dawn

1999 (USA)
Pleasant Colony

1978 (USA)
Northern Dancer

1961 (CAN)
Hopespringseternal

1971 (USA)
Lignée maternelle
Télécharger au format PDF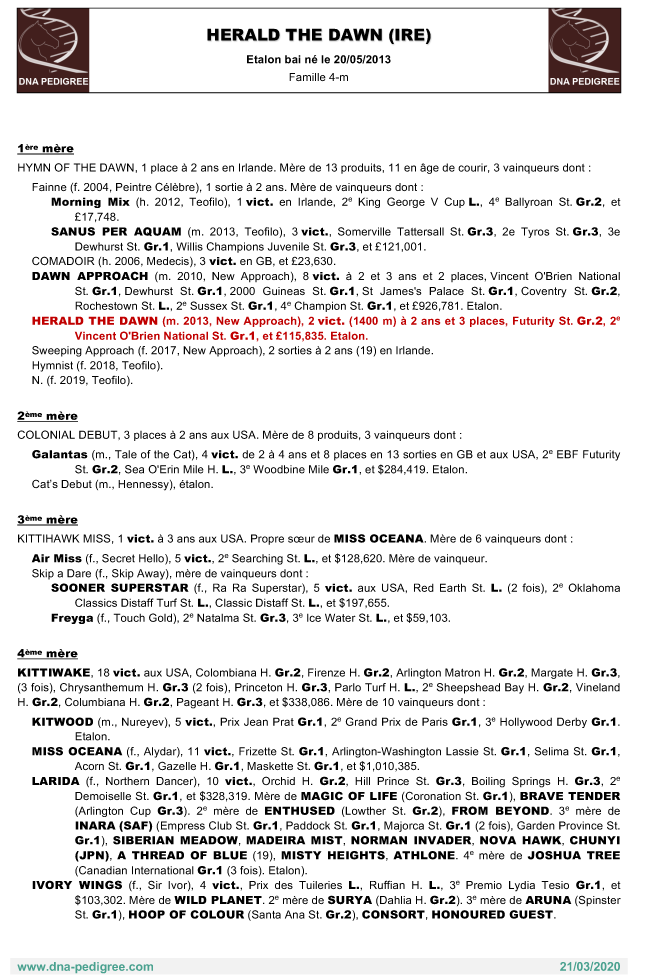 Générateur de pédigrée
Cet étalon n'a pas développé de formule de présentation complète (forfait premium).
Ventes & Shows
Retrouvez la liste des participations aux ventes et shows de l'étalon et de ses produits.
Production
Saillies & Naissances
Déclarées en France d'après les données gérées par le SIRE-POMPADOUR
2019
monte
2019
juments
saillies
54
naissances
déclarées
0
Saillies
AKAZIE (GER)

par TIGER HILL (IRE)

AKTIA (IRE)

par DANEHILL DANCER (IRE)

ALIX DE KERSER

par AL NAMIX

AMOUR D'ETE

par ROCK OF GIBRALTAR (IRE)

ARGOMILLA

par DANSILI (GB)

AXELLE DU SUD

par LORD DU SUD

BELLE DAME (GER)

par PILSUDSKI (IRE)

BELLE RIVE (GB)

par AUSSIE RULES (USA)

BORA BORA EMERY

par MISTER SACHA

BRUYANTE (USA)

par AWESOME AGAIN (CAN)

CHANELLE DAGROSTIS

par PIRATEER (IRE)

CHIC EMERY

par LITERATO

CONJUGALE

par DELLA FRANCESCA (USA)

CRINIERE DOREE

par VERTIGINEUX

CRISTAL GEM (GB)

par CADEAUX GENEREUX (GB)

DARK BLACK DIAMOND

par GREEN TUNE (USA)

DEAUFILS

par DIVINE LIGHT (JPN)

DIBA (GER)

par BIG SHUFFLE (USA)

DIDGE

par SOLON (GER)

DO I WORRY

par CHARGE D'AFFAIRES (GB)

DOVIGIRL

par MYBOYCHARLIE (IRE)

GRANDE HISTOIRE

par SLICKLY

GRANDE SYNTHE

par DUNKERQUE

JACAMAR

par MASTERCRAFTSMAN (IRE)

JAPANESE PRINCESS

par TIN HORSE (IRE)

KEL AWAY

par KELTOS

KICK BACK (GER)

par ROYAL DRAGON (USA)

KOYOTTE D'AGROSTIS

par MARESCA SORRENTO

L'ETOILE DU SOIR

par CARLOTAMIX

LA FIESTA

par COUNTRY REEL (USA)

LA GUINDILLA

par VALANOUR (IRE)

LA REGENCE

par SLICKLY

LAST STORM (GB)

par MARJU (IRE)

LEA ERIA

par LESOTHO (USA)

LUCKY NUMBER

par NUMEROUS (USA)

MAHENDRANAGAR

par RAIL LINK (GB)

MONTAGNE LOINTAINE (IRE)

par NUMEROUS (USA)

MONTGARRI

par JOHANN QUATZ

MORNY'S PLACE (IRE)

par CLODOVIL (IRE)

MUMGALA

par SAMUM (GER)

MYSTICAL POWER

par TOMORROWS CAT (USA)

NANA DEL REY

par DRAGON DANCER (GB)

NEARLY NOT MINE (GB)

par PASTORAL PURSUITS (GB)

NIMOHE

par EXCELLENT ART (GB)

PARK ACCLAIM (IRE)

par CLODOVIL (IRE)

SABARYE (IRE)

par CATCHER IN THE RYE (IRE)

SAGA DU SOUVESTRE

par SAGAMIX

SARONSLA BELLE

par CARDOUN

SCALA EMERY

par SPANISH MOON (USA)

SHAMALIYAH

par MAJORIEN (GB)

SILENCIA (GB)

par SIYOUNI

SOLEIMANA

par VERTIGINEUX

TAKE EMERY

par TAKE RISKS

TURBIE

par TURGEON (USA)
2018
monte
2018
juments
saillies
40
naissances
déclarées
17
Naissances
AFFICHE (USA)

par NORTHERN AFLEET (USA)

: MEGANIX TIB (F19 PS)
AXELLE DU SUD

par LORD DU SUD

: AVILA EMERY (F19 PS) - S.a.r.l. Ecurie Nicolas Taudon
BLUE BERE

par HOLD THAT TIGER (USA)

: RIALTO EMERY (M19 PS) - S.a.r.l. Ecurie Nicolas Taudon
BREIZH TOUCH

par COUNTRY REEL (USA)

: HAPPY CREECK (F19 PS) - S.c.e.a. Haras Des Evees
BRISE OCEANNE

par KENDOR

: ILES HEBRIDES (F19 PS) - Genevieve Neveux
DARK BLACK DIAMOND

par GREEN TUNE (USA)

: YAQUI EMERY (M19 PS) - S.a.r.l. Ecurie Nicolas Taudon
DEAUFILS

par DIVINE LIGHT (JPN)

: NASCA EMERY (F19 PS) - S.a.r.l. Ecurie Nicolas Taudon
DO I WORRY

par CHARGE D'AFFAIRES (GB)

: MALTA EMERY (F19 PS) - S.a.r.l. Ecurie Nicolas Taudon
FILLYA

par VERGLAS (IRE)

: CLIME (F19 PS) - Michel Rallu
L'ETOILE DU SOIR

par CARLOTAMIX

: MILENIO EMERY (M19 PS) - S.a.r.l. Ecurie Nicolas Taudon
LA BUENA (IRE)

par BIG SHUFFLE (USA)

: THE DAWN (M19 PS) - S.c.e.a. Elevage De La Croix De Place
LUMINA

par EXIT TO NOWHERE (USA)

: LUMI LOL (F19 PS) - Olivier Triboire
MAHENDRANAGAR

par RAIL LINK (GB)

: OCALA EMERY (F19 PS) - S.a.r.l. Ecurie Nicolas Taudon
NEARLY NOT MINE (GB)

par PASTORAL PURSUITS (GB)

: GLOW OF DAWN (M19 PS) - Haras De Tierce
SABARYE (IRE)

par CATCHER IN THE RYE (IRE)

: AMALYA EMERY (F19 PS) - S.a.r.l. Ecurie Nicolas Taudon
TAKE EMERY

par TAKE RISKS

: RHODES EMERY (F19 PS) - S.a.r.l. Ecurie Nicolas Taudon
VOYANTE

par CORONER (IRE)

: VOYAGEUSE DU MATIN (F19 PS) - Yves Fremiot
Saillies
2017
monte
2017
juments
saillies
0
naissances
déclarées
0
2016
monte
2016
juments
saillies
0
naissances
déclarées
0
2015
monte
2015
juments
saillies
0
naissances
déclarées
0
2014
monte
2014
juments
saillies
0
naissances
déclarées
0
2013
monte
2013
juments
saillies
0
naissances
déclarées
0
Jumenterie France Sire
Etalons présents parmis les plans de monte et/ou produits des élevages suivants