BORN TO SEA
2009 (IRE)
INVINCIBLE SPIRIT et URBAN SEA par MISWAKI
Bai / 2009 / 1.65m / Haras 2013
4.000€ en 2019
Stationné à : Haras des Faunes
Frère des champions étalons Galileo et Sea The Stars. Par Invincible Spirit, étalon vecteur de vitesse et de précocité, très prisé en Europe. Born To Sea est par ailleurs gagnant de Listed à 2 ans, puis classique à 3 ans, où il a été le dauphin de Camelot dans l'Irish Derby (Gr.1) 2012.
Père de la gagnante de Gr.3 Sea Of Grace, 2e de la Poule d'Essai des Pouliches (Gr.1) de Naval Warfare (Listed en Australie 2019), et de 8 autres black-type dont Capitol (2e Prix Delahante Listed). Nouveau en France au Haras des Faunes en 2019.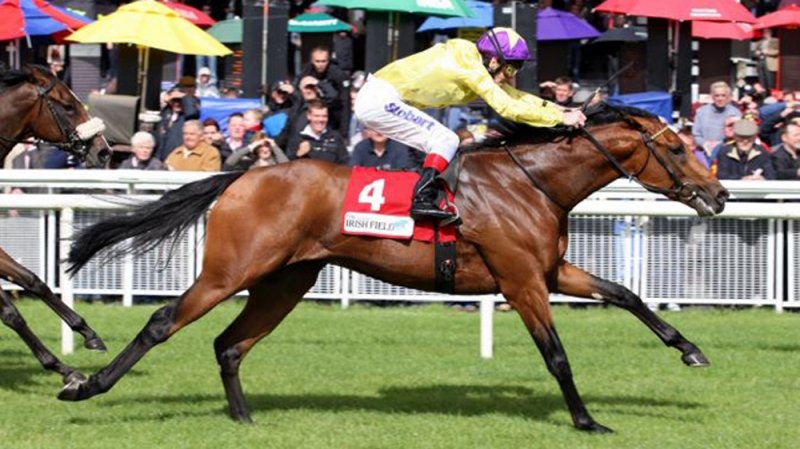 Performances
Entrainé par John Oxx, Born To Sea a répondu aux attentes de son entourage. A 2 ans, il gagne une Listed, les Bleinheim Stakes en débutant et conclu 2ème de Gr.3 dans les Killavulan Stakes. A 3 ans, il se classe deuxième de Famous Name dans les Royal Whip Stakes (Gr.2) mais surtout est le dauphin de Camelot dans l'Irish Derby (Gr.1).
Meilleures performances
1er

Blenheim Stakes (L) (Plat) 1200m


Curragh (IRE) - 2011

2ème

Irish Derby Stakes (Gr 1) (Plat) 2400m


Curragh (IRE) - 2012

2ème

Royal Whip Stakes (Gr 2) (Plat) 2000m


Curragh (IRE) - 2012

2ème

Killavullan Stakes (Gr 3) (Plat) 1400m


Leopardstown (IRE) - 2011
Statistiques
| Courses | Victoires | Place | Gains | Indice Distance * |
| --- | --- | --- | --- | --- |
| | | | 0 € | 2000 m |
| | 0% | 0% | | |
* Moyenne des distances des victoires et places de courses Gr.1, Gr.2, Gr.3 et Listed en plat (arrondie à la centaine)
Pédigrée
Invincible Spirit

1997 (IRE)
Foreign Courier

1979 (USA)

Hopespringseternal

1971 (USA)
Northern Dancer

1961 (CAN)
Admirals Voyage

1959 (USA)

Stylish Partner

1961 (USA)

Prince Chevalier

1943 (FR)
Lignée maternelle
Télécharger au format PDF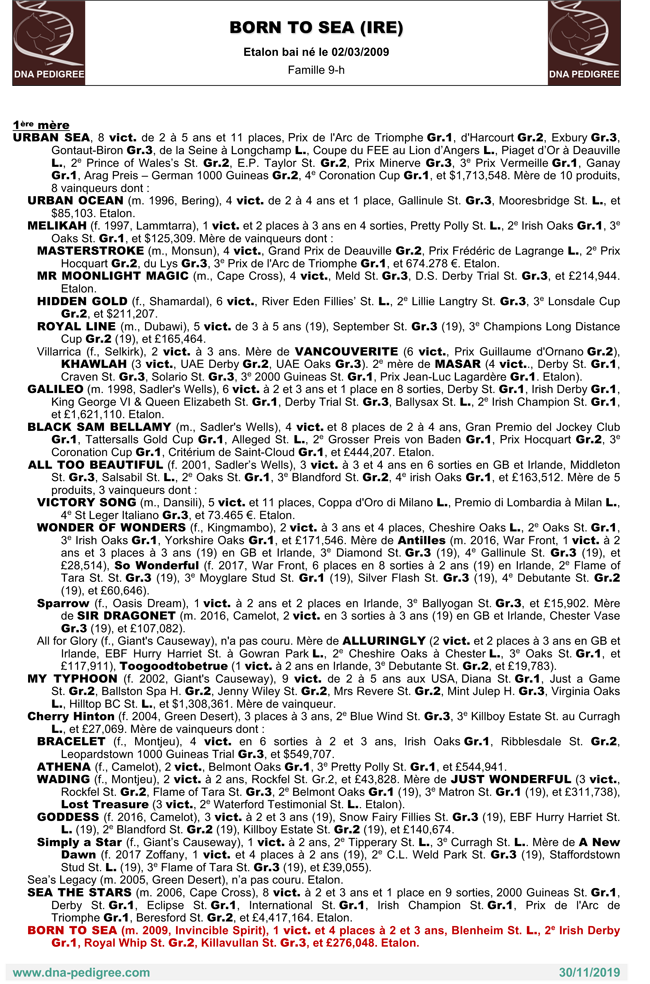 Générateur de pédigrée
Cet étalon n'a pas développé de formule de présentation complète (forfait premium).
Ventes & Shows
Retrouvez la liste des participations aux ventes et shows de l'étalon et de ses produits.
Production
Récents vainqueurs
Meilleurs produits
28/08/2016 - SEA OF GRACE (2a) - 1er Flame of Tara European Breeders Fund Stakes 2yo (Gr 3) - Curragh - IRE (Plat) - 1600m
01/01/2019 - NAVAL WARFARE (5a) - 1er New Year's Day Cup (L) - Randwick - Kensington - AUS (Plat) - 2400m
17/02/2018 - SEA KING (4a) - 1er South India St Leger (L) - Chennai - IND (Plat) - 2800m
12/08/2017 - SEA OF GRACE (3a) - 1er Betfred TV/EBF Stallions Dick Hern Stakes (Listed Race) (Fillies & Mares) (L) - Haydock - GB (Plat) - 1600m
13/05/2017 - Sea Of Grace (3a) - 2ème Abu Dhabi Poule d'Essai des Pouliches (Gr 1) - Deauville (Plat) - 1600m
28/05/2017 - Perfect To Play (3a) - 2ème Bet With Paddock Bookmakers On Course Maiden Stakes (Gr 3) - Curragh - IRE (Plat) - 1600m
02/03/2019 - Naval Warfare (6a) - 2ème 3aw Roy Higgins Qlty (L) - Flemington - AUS (Plat) - 2600m
15/02/2019 - Naval Warfare (6a) - 2ème Crown Resorts Torney Night Cup (L) - Moonee Valley - AUS (Plat) - 2500m
28/01/2019 - Naval Warfare (5a) - 2ème Australia Day Cup (L) - Warwick Farm - AUS (Plat) - 2400m
11/11/2018 - Capitole (2a) - 2ème Prix Delahante (L) - Marseille Borely (Plat) - 2000m
26/05/2018 - Naval Warfare (4a) - 2ème McKell Cup (L) - Randwick - AUS (Plat) - 2400m
18/08/2017 - Born To Be Alive (3a) - 2ème Prix Ecole Blondeau - Prix Pelleas (L) - Clairefontaine (Plat) - 1800m
27/09/2016 - Born To Be (2a) - 2ème Blenheim Stakes (Listed) (2yo) (L) - Fairyhouse - IRE (Plat) - 1200m
03/09/2016 - Star Of Rory (2a) - 2ème 32Red Casino Stakes (Registered As The Ascendant Stakes) (Listed Race) (Class 1) (2yo) (L) - Haydock - GB (Plat) - 1600m
11/03/2019 - Naval Warfare (6a) - 3ème Tab Adelaide Cup (Gr 2) - Morphettville Parks - AUS (Plat) - 3200m
18/02/2019 - Francis Bacon (3a) - 3ème The Alcock Arabian Million (Gr.3) Term Races / 3 Year Olds Only (Gr 3) - Hyderabad - IND (Plat) - 1400m
11/08/2018 - Alberone (4a) - 3ème Scandinavian Open Championship (Gr 3) - Copenhagen - DEN (Plat) - 2400m
04/08/2018 - Endspiel (2a) - 3ème Criterium Varesino-Memorial Virginio Curti (L) - Varese - ITY (Plat) - 1500m
27/09/2017 - Born To Be Alive (6a) - 3ème EBF Stallions Foundation Stakes (Listed Race) (L) - Goodwood - GB (Plat) - 1800m
27/09/2017 - Born To Be Alive (6a) - 3ème EBF Stallions Foundation Stakes (Listed Race) (L) - Goodwood - GB (Plat) - 1800m
28/06/2017 - Aurora Butterfly (3a) - 3ème ebfstallions.com "Eternal" Stakes (Listed Race) (Fillies) (Class 1) (3yo) (L) - Carlisle - GB (Plat) - 1400m
17/06/2019 - Seaborn (5a) - Windsor - GB (Plat) - 2300m
15/06/2019 - Gunslinger (3a) - Monmouth Park - USA (Plat) - 1700m
14/06/2019 - Swelltime (3a) - Fairyhouse - IRE (Plat) - 2400m
14/06/2019 - Shawaamekh (5a) - York - GB (Plat) - 1400m
13/06/2019 - Cnoc An Oir (3a) - Leopardstown - IRE (Plat) - 1600m
11/06/2019 - Geometria (3a) - Napoli - ITY (Plat) - 1800m
09/06/2019 - Rustikal (3a) - Most - CZE (Plat) - 1800m
04/06/2019 - Verimli (3a) - Nantes (Plat) - 2400m
02/06/2019 - Beat Of The Sea (5a) - Kilbeggan - IRE (Haies) - 3660m
31/05/2019 - A Wave Of The Sea (3a) - Down Royal - IRE (Plat) - 2060m
29/05/2019 - Perfect To Play (6a) - Happy Valley - HK (Plat) - 1650m
26/05/2019 - Jewel Of The Sea (3a) - Dusseldorf - GER (Plat) - 1600m
24/05/2019 - Gunslinger (3a) - Pimlico - USA (Plat) - 1600m
19/05/2019 - Lady Vivian (5a) - Munchen - GER (Plat) - 1600m
18/05/2019 - Sea The Night (3a) - Praha - CZE (Plat) - 1800m
17/05/2019 - Siege (3a) - Chantilly (Plat) - 2400m
13/05/2019 - Verimli (3a) - Saint-Cloud (Plat) - 2100m
11/05/2019 - Lady Gavoi (2a) - Chilivani - ITY (Plat) - 1000m
04/05/2019 - Kimifive (4a) - Goodwood - GB (Plat) - 1400m
30/04/2019 - Seaborn (5a) - Brighton - GB (Plat) - 1980m
27/04/2019 - Sea The Night (3a) - Karlovy Vary - CZE (Plat) - 1600m
20/04/2019 - Lady Gavoi (2a) - Chilivani - ITY (Plat) - 1000m
20/04/2019 - Malangen (4a) - Bangor-on-Dee - GB (Haies) - 3920m
13/04/2019 - Malangen (4a) - Bangor-on-Dee - GB (Haies) - 3920m
29/03/2019 - Siege (3a) - Fontainebleau (Plat) - 2600m
24/03/2019 - Malangen (4a) - Exeter - GB (Haies) - 3360m
20/03/2019 - Perfect To Play (6a) - Happy Valley - HK (Plat) - 1650m
10/03/2019 - Star Of Rory (5a) - Warwick - GB (Haies) - 3200m
10/03/2019 - Jewel Of The Sea (3a) - Dortmund - GER (Plat) - 1800m
01/03/2019 - Broughtons Admiral (5a) - Doncaster - GB (Haies) - 3880m
19/02/2019 - I Wish Your Love (3a) - Napoli - ITY (Plat) - 1400m
12/02/2019 - Geometria (3a) - Napoli - ITY (Plat) - 1700m
05/02/2019 - Sei Tu (3a) - Napoli - ITY (Plat) - 1800m
30/01/2019 - Go Fast (5a) - Cagnes-sur-Mer (Plat) - 2500m
19/01/2019 - I Wish Your Love (3a) - Napoli - ITY (Plat) - 1400m
14/01/2019 - Capitole (3a) - Cagnes-sur-Mer (Plat) - 2150m
22/12/2018 - Naval Warfare (5a) - Warwick Farm - AUS (Plat) - 2110m
05/12/2018 - Wilson (3a) - Lingfield - GB (Plat) - 1400m
29/10/2018 - Capitole (2a) - Marseille Borely (Plat) - 1800m
24/10/2018 - Man Of The Sea (2a) - Navan - IRE (Plat) - 1000m
24/10/2018 - Rainbow Heart (2a) - Newmarket - GB (Plat) - 1400m
12/10/2018 - Cnoc An Oir (2a) - Dundalk - IRE (Plat) - 1400m
06/10/2018 - See The Sea (4a) - Redcar - GB (Plat) - 2000m
03/10/2018 - Born To Hold (2a) - Toulouse (Plat) - 1600m
27/09/2018 - Even Keel (2a) - Newmarket - GB (Plat) - 1600m
22/09/2018 - Shawaamekh (4a) - Catterick - GB (Plat) - 1400m
20/09/2018 - Uber Cool (4a) - Yarmouth - GB (Plat) - 2200m
06/09/2018 - Snookered (4a) - Carlisle - GB (Plat) - 2200m
03/09/2018 - Flicker Flame (4a) - Roscommon - IRE (Plat) - 2400m
01/09/2018 - Dark Pearl (4a) - Sandown - GB (Plat) - 1800m
28/08/2018 - Urban Spirit (4a) - Ripon - GB (Plat) - 3200m
24/08/2018 - Pepper Street (3a) - Ffos Las - GB (Plat) - 2800m
17/08/2018 - Born To Spend (3a) - Nottingham - GB (Plat) - 2000m
07/08/2018 - Even Keel (2a) - Newbury - GB (Plat) - 1400m
01/08/2018 - Malangen (3a) - Leicester - GB (Plat) - 0m
24/07/2018 - Seaborough (3a) - Nottingham - GB (Plat) - 1660m
02/07/2018 - Star The First (4a) - Sablé-sur-Sarthe (Haies) - 3700m
25/06/2018 - Kimifive (3a) - Windsor - GB (Plat) - 1220m
25/06/2018 - Kimifive (3a) - Windsor - GB (Plat) - 1200m
18/06/2018 - Shadow Warrior (4a) - Windsor - GB (Plat) - 1600m
01/06/2018 - Torcello (78a) - Tramore - IRE (Plat) - 2000m
30/05/2018 - Time To Sea (4a) - Nottingham - GB () - 1900m
25/05/2018 - Magnetic North (3a) - Leopardstown - IRE (Plat) - 1600m
25/05/2018 - Uber Cool (4a) - Goodwood - GB () - 3200m
12/05/2018 - Uber Cool (4a) - Haydock - GB () - 2200m
01/05/2018 - Oceanus (4a) - Yarmouth - GB (Plat) - 2000m
11/03/2018 - Black Dream (4a) - Saint-Cloud (Plat) - 1600m
11/02/2018 - Go Fast (4a) - Cagnes-sur-Mer (Plat) - 2400m
23/01/2018 - Go Fast (4a) - Cagnes-sur-Mer (Plat) - 2150m
31/12/2017 - Shadow Warrior (3a) - Lingfield - GB (Plat) - 1600m
21/11/2017 - Born To Be Alive (6a) - Neuss - GER (Plat) - 1500m
21/10/2017 - Born To Reason (3a) - Wolverhampton - GB (Plat) - 1900m
09/10/2017 - Poseidon (3a) - Salisbury - GB (Plat) - 2000m
07/10/2017 - Born To Reason (3a) - Wolverhampton - GB (Plat) - 1900m
29/09/2017 - Uber Cool (3a) - Haydock - GB () - 2200m
28/09/2017 - Torcello (77a) - Newmarket - GB (Plat) - 2000m
21/09/2017 - Arcadian Sea (3a) - Chelmsford - GB (Plat) - 2000m
18/09/2017 - Oceanus (3a) - Brighton - GB (Plat) - 2000m
08/09/2017 - Magic Sea (2a) - Down Royal - IRE (Plat) - 1400m
03/09/2017 - Wilson (2a) - Brighton - GB (Plat) - 1400m
31/08/2017 - Eesha Beauty (2a) - Wolverhampton - GB (Plat) - 1400m
28/08/2017 - Giorni Felice (3a) - Roscommon - IRE (Plat) - 2000m
27/08/2017 - Star The First (3a) - Pompadour (Plat) - 2300m
25/08/2017 - Isaac Wonder (2a) - Killarney - IRE (Plat) - 1600m
25/08/2017 - Torcello (77a) - Newmarket - GB (Plat) - 1800m
23/08/2017 - Born To Boom (3a) - Carlisle - GB (Plat) - 1600m
13/08/2017 - Muirin (2a) - Curragh - IRE (Plat) - 1400m
12/08/2017 - Naval Warfare (3a) - Newmarket - GB (Plat) - 1600m
10/08/2017 - Santorini Sun (2a) - Sandown - GB (Plat) - 1000m
09/08/2017 - See The Sea (3a) - Pontefract - GB (Plat) - 1900m
05/08/2017 - Uber Cool (3a) - Thirsk - GB (Plat) - 2000m
02/08/2017 - Jet Streaming (3a) - Galway - IRE (Plat) - 1700m
29/07/2017 - Torcello (77a) - Salisbury - GB (Plat) - 1800m
26/07/2017 - See The Sea (3a) - Bath - GB (Plat) - 1900m
24/07/2017 - Snookered (3a) - Beverley - GB (Plat) - 2000m
18/07/2017 - Aquadabra (2a) - Bath - GB (Plat) - 1000m
12/07/2017 - Uber Cool (3a) - Catterick - GB () - 2000m
01/07/2017 - Pando (3a) - Deauville (Plat) - 2000m
26/06/2017 - Dark Pearl (3a) - Chepstow - GB (Plat) - 2000m
24/06/2017 - Chiavari (3a) - Compiegne (Plat) - 2000m
22/06/2017 - Jet Streaming (3a) - Leopardstown - IRE (Plat) - 1600m
11/06/2017 - Born To Be Alive (6a) - Mannheim - GER (Plat) - 1900m
09/06/2017 - Pando (3a) - Compiegne (Plat) - 2000m
05/06/2017 - Born To Be Alive (6a) - Ayr - GB (Plat) - 1600m
05/06/2017 - Shadow Warrior (3a) - Windsor - GB (Plat) - 2000m
18/05/2017 - Pando (3a) - Fontainebleau (Plat) - 2000m
17/05/2017 - Wawes (3a) - Bath - GB (Plat) - 1600m
09/05/2017 - Naval Warfare (3a) - Leicester - GB (Plat) - 1600m
08/05/2017 - Black Dream (3a) - Saint-Cloud (Plat) - 1600m
04/05/2017 - Aurora Butterfly (3a) - Clonmel - IRE (Plat) - 1650m
09/02/2017 - Seaborn (3a) - Chelmsford - GB (Plat) - 1900m
18/11/2016 - Go Fast (2a) - Saint-Cloud (Plat) - 2000m
01/11/2016 - Sea Spectre (2a) - Amiens (Plat) - 1650m
11/10/2016 - Snookered (2a) - Leicester - GB (Plat) - 1600m
16/09/2016 - Naval Warfare (2a) - Ayr - GB (Plat) - 1400m
05/09/2016 - Perle De La Mer (2a) - Galway - IRE (Plat) - 1400m
16/07/2016 - Star Of Rory (2a) - Haydock - GB (Plat) - 1300m
30/10/2014 - Born To Be Alive (3a) - Amiens (Plat) - 2900m
08/05/2014 - Santorini Sun (-1a) - Charles Town - USA (Plat) - 1700m
16/04/2014 - Santorini Sun (-1a) - Turf Paradise - USA (Plat) - 1200m
01/02/2014 - Santorini Sun (-1a) - Calder Race Course - USA (Plat) - 1200m
02/11/2013 - Santorini Sun (-2a) - Calder Race Course - USA (Plat) - 1300m
17/06/2019 - Seaborn (5a) - Windsor - GB (Plat) - 2300m
15/06/2019 - Gunslinger (3a) - Monmouth Park - USA (Plat) - 1700m
14/06/2019 - Swelltime (3a) - Fairyhouse - IRE (Plat) - 2400m
14/06/2019 - Shawaamekh (5a) - York - GB (Plat) - 1400m
13/06/2019 - Cnoc An Oir (3a) - Leopardstown - IRE (Plat) - 1600m
11/06/2019 - Geometria (3a) - Napoli - ITY (Plat) - 1800m
09/06/2019 - Rustikal (3a) - Most - CZE (Plat) - 1800m
04/06/2019 - Verimli (3a) - Nantes (Plat) - 2400m
02/06/2019 - Beat Of The Sea (5a) - Kilbeggan - IRE (Haies) - 3660m
31/05/2019 - A Wave Of The Sea (3a) - Down Royal - IRE (Plat) - 2060m
29/05/2019 - Perfect To Play (6a) - Happy Valley - HK (Plat) - 1650m
26/05/2019 - Jewel Of The Sea (3a) - Dusseldorf - GER (Plat) - 1600m
24/05/2019 - Gunslinger (3a) - Pimlico - USA (Plat) - 1600m
19/05/2019 - Lady Vivian (5a) - Munchen - GER (Plat) - 1600m
18/05/2019 - Sea The Night (3a) - Praha - CZE (Plat) - 1800m
17/05/2019 - Siege (3a) - Chantilly (Plat) - 2400m
13/05/2019 - Verimli (3a) - Saint-Cloud (Plat) - 2100m
11/05/2019 - Lady Gavoi (2a) - Chilivani - ITY (Plat) - 1000m
04/05/2019 - Kimifive (4a) - Goodwood - GB (Plat) - 1400m
30/04/2019 - Seaborn (5a) - Brighton - GB (Plat) - 1980m
27/04/2019 - Sea The Night (3a) - Karlovy Vary - CZE (Plat) - 1600m
20/04/2019 - Lady Gavoi (2a) - Chilivani - ITY (Plat) - 1000m
20/04/2019 - Malangen (4a) - Bangor-on-Dee - GB (Haies) - 3920m
13/04/2019 - Malangen (4a) - Bangor-on-Dee - GB (Haies) - 3920m
29/03/2019 - Siege (3a) - Fontainebleau (Plat) - 2600m
24/03/2019 - Malangen (4a) - Exeter - GB (Haies) - 3360m
20/03/2019 - Perfect To Play (6a) - Happy Valley - HK (Plat) - 1650m
11/03/2019 - Naval Warfare (6a) - 3ème Tab Adelaide Cup (Gr 2) - Morphettville Parks - AUS (Plat) - 3200m
10/03/2019 - Star Of Rory (5a) - Warwick - GB (Haies) - 3200m
10/03/2019 - Jewel Of The Sea (3a) - Dortmund - GER (Plat) - 1800m
02/03/2019 - Naval Warfare (6a) - 2ème 3aw Roy Higgins Qlty (L) - Flemington - AUS (Plat) - 2600m
01/03/2019 - Broughtons Admiral (5a) - Doncaster - GB (Haies) - 3880m
19/02/2019 - I Wish Your Love (3a) - Napoli - ITY (Plat) - 1400m
18/02/2019 - Francis Bacon (3a) - 3ème The Alcock Arabian Million (Gr.3) Term Races / 3 Year Olds Only (Gr 3) - Hyderabad - IND (Plat) - 1400m
15/02/2019 - Naval Warfare (6a) - 2ème Crown Resorts Torney Night Cup (L) - Moonee Valley - AUS (Plat) - 2500m
12/02/2019 - Geometria (3a) - Napoli - ITY (Plat) - 1700m
05/02/2019 - Sei Tu (3a) - Napoli - ITY (Plat) - 1800m
30/01/2019 - Go Fast (5a) - Cagnes-sur-Mer (Plat) - 2500m
28/01/2019 - Naval Warfare (5a) - 2ème Australia Day Cup (L) - Warwick Farm - AUS (Plat) - 2400m
19/01/2019 - I Wish Your Love (3a) - Napoli - ITY (Plat) - 1400m
14/01/2019 - Capitole (3a) - Cagnes-sur-Mer (Plat) - 2150m
01/01/2019 - NAVAL WARFARE (5a) - 1er New Year's Day Cup (L) - Randwick - Kensington - AUS (Plat) - 2400m
22/12/2018 - Naval Warfare (5a) - Warwick Farm - AUS (Plat) - 2110m
05/12/2018 - Wilson (3a) - Lingfield - GB (Plat) - 1400m
11/11/2018 - Capitole (2a) - 2ème Prix Delahante (L) - Marseille Borely (Plat) - 2000m
29/10/2018 - Capitole (2a) - Marseille Borely (Plat) - 1800m
24/10/2018 - Man Of The Sea (2a) - Navan - IRE (Plat) - 1000m
24/10/2018 - Rainbow Heart (2a) - Newmarket - GB (Plat) - 1400m
12/10/2018 - Cnoc An Oir (2a) - Dundalk - IRE (Plat) - 1400m
06/10/2018 - See The Sea (4a) - Redcar - GB (Plat) - 2000m
03/10/2018 - Born To Hold (2a) - Toulouse (Plat) - 1600m
27/09/2018 - Even Keel (2a) - Newmarket - GB (Plat) - 1600m
22/09/2018 - Shawaamekh (4a) - Catterick - GB (Plat) - 1400m
20/09/2018 - Uber Cool (4a) - Yarmouth - GB (Plat) - 2200m
06/09/2018 - Snookered (4a) - Carlisle - GB (Plat) - 2200m
03/09/2018 - Flicker Flame (4a) - Roscommon - IRE (Plat) - 2400m
01/09/2018 - Dark Pearl (4a) - Sandown - GB (Plat) - 1800m
28/08/2018 - Urban Spirit (4a) - Ripon - GB (Plat) - 3200m
24/08/2018 - Pepper Street (3a) - Ffos Las - GB (Plat) - 2800m
17/08/2018 - Born To Spend (3a) - Nottingham - GB (Plat) - 2000m
11/08/2018 - Alberone (4a) - 3ème Scandinavian Open Championship (Gr 3) - Copenhagen - DEN (Plat) - 2400m
07/08/2018 - Even Keel (2a) - Newbury - GB (Plat) - 1400m
04/08/2018 - Endspiel (2a) - 3ème Criterium Varesino-Memorial Virginio Curti (L) - Varese - ITY (Plat) - 1500m
01/08/2018 - Malangen (3a) - Leicester - GB (Plat) - 0m
24/07/2018 - Seaborough (3a) - Nottingham - GB (Plat) - 1660m
02/07/2018 - Star The First (4a) - Sablé-sur-Sarthe (Haies) - 3700m
25/06/2018 - Kimifive (3a) - Windsor - GB (Plat) - 1220m
25/06/2018 - Kimifive (3a) - Windsor - GB (Plat) - 1200m
18/06/2018 - Shadow Warrior (4a) - Windsor - GB (Plat) - 1600m
01/06/2018 - Torcello (78a) - Tramore - IRE (Plat) - 2000m
30/05/2018 - Time To Sea (4a) - Nottingham - GB () - 1900m
26/05/2018 - Naval Warfare (4a) - 2ème McKell Cup (L) - Randwick - AUS (Plat) - 2400m
25/05/2018 - Magnetic North (3a) - Leopardstown - IRE (Plat) - 1600m
25/05/2018 - Uber Cool (4a) - Goodwood - GB () - 3200m
12/05/2018 - Uber Cool (4a) - Haydock - GB () - 2200m
01/05/2018 - Oceanus (4a) - Yarmouth - GB (Plat) - 2000m
11/03/2018 - Black Dream (4a) - Saint-Cloud (Plat) - 1600m
17/02/2018 - SEA KING (4a) - 1er South India St Leger (L) - Chennai - IND (Plat) - 2800m
11/02/2018 - Go Fast (4a) - Cagnes-sur-Mer (Plat) - 2400m
23/01/2018 - Go Fast (4a) - Cagnes-sur-Mer (Plat) - 2150m
31/12/2017 - Shadow Warrior (3a) - Lingfield - GB (Plat) - 1600m
21/11/2017 - Born To Be Alive (6a) - Neuss - GER (Plat) - 1500m
21/10/2017 - Born To Reason (3a) - Wolverhampton - GB (Plat) - 1900m
09/10/2017 - Poseidon (3a) - Salisbury - GB (Plat) - 2000m
07/10/2017 - Born To Reason (3a) - Wolverhampton - GB (Plat) - 1900m
29/09/2017 - Uber Cool (3a) - Haydock - GB () - 2200m
28/09/2017 - Torcello (77a) - Newmarket - GB (Plat) - 2000m
27/09/2017 - Born To Be Alive (6a) - 3ème EBF Stallions Foundation Stakes (Listed Race) (L) - Goodwood - GB (Plat) - 1800m
27/09/2017 - Born To Be Alive (6a) - 3ème EBF Stallions Foundation Stakes (Listed Race) (L) - Goodwood - GB (Plat) - 1800m
21/09/2017 - Arcadian Sea (3a) - Chelmsford - GB (Plat) - 2000m
18/09/2017 - Oceanus (3a) - Brighton - GB (Plat) - 2000m
08/09/2017 - Magic Sea (2a) - Down Royal - IRE (Plat) - 1400m
03/09/2017 - Wilson (2a) - Brighton - GB (Plat) - 1400m
31/08/2017 - Eesha Beauty (2a) - Wolverhampton - GB (Plat) - 1400m
28/08/2017 - Giorni Felice (3a) - Roscommon - IRE (Plat) - 2000m
27/08/2017 - Star The First (3a) - Pompadour (Plat) - 2300m
25/08/2017 - Isaac Wonder (2a) - Killarney - IRE (Plat) - 1600m
25/08/2017 - Torcello (77a) - Newmarket - GB (Plat) - 1800m
23/08/2017 - Born To Boom (3a) - Carlisle - GB (Plat) - 1600m
18/08/2017 - Born To Be Alive (3a) - 2ème Prix Ecole Blondeau - Prix Pelleas (L) - Clairefontaine (Plat) - 1800m
13/08/2017 - Muirin (2a) - Curragh - IRE (Plat) - 1400m
12/08/2017 - SEA OF GRACE (3a) - 1er Betfred TV/EBF Stallions Dick Hern Stakes (Listed Race) (Fillies & Mares) (L) - Haydock - GB (Plat) - 1600m
12/08/2017 - Naval Warfare (3a) - Newmarket - GB (Plat) - 1600m
10/08/2017 - Santorini Sun (2a) - Sandown - GB (Plat) - 1000m
09/08/2017 - See The Sea (3a) - Pontefract - GB (Plat) - 1900m
05/08/2017 - Uber Cool (3a) - Thirsk - GB (Plat) - 2000m
02/08/2017 - Jet Streaming (3a) - Galway - IRE (Plat) - 1700m
29/07/2017 - Torcello (77a) - Salisbury - GB (Plat) - 1800m
26/07/2017 - See The Sea (3a) - Bath - GB (Plat) - 1900m
24/07/2017 - Snookered (3a) - Beverley - GB (Plat) - 2000m
18/07/2017 - Aquadabra (2a) - Bath - GB (Plat) - 1000m
12/07/2017 - Uber Cool (3a) - Catterick - GB () - 2000m
01/07/2017 - Pando (3a) - Deauville (Plat) - 2000m
28/06/2017 - Aurora Butterfly (3a) - 3ème ebfstallions.com "Eternal" Stakes (Listed Race) (Fillies) (Class 1) (3yo) (L) - Carlisle - GB (Plat) - 1400m
26/06/2017 - Dark Pearl (3a) - Chepstow - GB (Plat) - 2000m
24/06/2017 - Chiavari (3a) - Compiegne (Plat) - 2000m
22/06/2017 - Jet Streaming (3a) - Leopardstown - IRE (Plat) - 1600m
11/06/2017 - Born To Be Alive (6a) - Mannheim - GER (Plat) - 1900m
09/06/2017 - Pando (3a) - Compiegne (Plat) - 2000m
05/06/2017 - Born To Be Alive (6a) - Ayr - GB (Plat) - 1600m
05/06/2017 - Shadow Warrior (3a) - Windsor - GB (Plat) - 2000m
28/05/2017 - Perfect To Play (3a) - 2ème Bet With Paddock Bookmakers On Course Maiden Stakes (Gr 3) - Curragh - IRE (Plat) - 1600m
18/05/2017 - Pando (3a) - Fontainebleau (Plat) - 2000m
17/05/2017 - Wawes (3a) - Bath - GB (Plat) - 1600m
13/05/2017 - Sea Of Grace (3a) - 2ème Abu Dhabi Poule d'Essai des Pouliches (Gr 1) - Deauville (Plat) - 1600m
09/05/2017 - Naval Warfare (3a) - Leicester - GB (Plat) - 1600m
08/05/2017 - Black Dream (3a) - Saint-Cloud (Plat) - 1600m
04/05/2017 - Aurora Butterfly (3a) - Clonmel - IRE (Plat) - 1650m
09/02/2017 - Seaborn (3a) - Chelmsford - GB (Plat) - 1900m
18/11/2016 - Go Fast (2a) - Saint-Cloud (Plat) - 2000m
01/11/2016 - Sea Spectre (2a) - Amiens (Plat) - 1650m
11/10/2016 - Snookered (2a) - Leicester - GB (Plat) - 1600m
27/09/2016 - Born To Be (2a) - 2ème Blenheim Stakes (Listed) (2yo) (L) - Fairyhouse - IRE (Plat) - 1200m
16/09/2016 - Naval Warfare (2a) - Ayr - GB (Plat) - 1400m
05/09/2016 - Perle De La Mer (2a) - Galway - IRE (Plat) - 1400m
03/09/2016 - Star Of Rory (2a) - 2ème 32Red Casino Stakes (Registered As The Ascendant Stakes) (Listed Race) (Class 1) (2yo) (L) - Haydock - GB (Plat) - 1600m
28/08/2016 - SEA OF GRACE (2a) - 1er Flame of Tara European Breeders Fund Stakes 2yo (Gr 3) - Curragh - IRE (Plat) - 1600m
16/07/2016 - Star Of Rory (2a) - Haydock - GB (Plat) - 1300m
30/10/2014 - Born To Be Alive (3a) - Amiens (Plat) - 2900m
08/05/2014 - Santorini Sun (-1a) - Charles Town - USA (Plat) - 1700m
16/04/2014 - Santorini Sun (-1a) - Turf Paradise - USA (Plat) - 1200m
01/02/2014 - Santorini Sun (-1a) - Calder Race Course - USA (Plat) - 1200m
02/11/2013 - Santorini Sun (-2a) - Calder Race Course - USA (Plat) - 1300m
Saillies & Naissances
Déclarées en France d'après les données gérées par le SIRE-POMPADOUR
2018
monte
2018
juments
saillies
3
naissances
déclarées
3
Naissances
BAHIA SAN

par JOSS INVEST DERBY

: JACOPO DI CIONE (M19 OC) - S.c. His Highness The Aga Khan's Studs Sc
SPEED SONG (GB)

par FASLIYEV (USA)

: N. (F19 PS)
STAR MON AMIE (IRE)

par MONSUN (GER)

: N. (F19 PS)
2017
monte
2017
juments
saillies
1
naissances
déclarées
1
Naissances
RAVAGE (GB)

par VERGLAS (IRE)

: AGGAGIO (M18 PS) - S.c.e.a. Ecurie Michel Sardou
2016
monte
2016
juments
saillies
3
naissances
déclarées
3
2015
monte
2015
juments
saillies
7
naissances
déclarées
7
2014
monte
2014
juments
saillies
0
naissances
déclarées
0
2013
monte
2013
juments
saillies
2
naissances
déclarées
2
2012
monte
2012
juments
saillies
0
naissances
déclarées
0
Jumenterie France Sire
Etalons présents parmis les plans de monte et/ou produits des élevages suivants