KAMSIN
2005 (GER)
SAMUM et KAPITOL par WINGED LOVE
Bai / 2005 / 1.64m / Haras 2010
Haras d' Etreham / 6.000€ en 2017
Champion 3 ans en Allemagne, triple lauréat de Gr.1 dont le Derby puis contre ses ainés dans le Grand-Prix de Baden Baden, Kamsin descend d'une exceptionnelle lignée mâle Samum - Monsun - Königsstuhl. Ses deux premières génération nées en 2011 et 2012 sont gagnantes de Listed en plat en 2014.
En obstacle, il est le père de On The Go, lauréat du Prix Stanley (Listed) et 2ème du Prix Aguado (Gr.3) à Auteuil en 2016. Une excellente statistique de pourcentage de vainqueurs par partants! Tout comme le crack étalon Network, on retrouve Surumu et Reliance dans le pedigree maternel de Kamsin. Disponible en 2017 au Haras d'Etreham pour sa première saison française.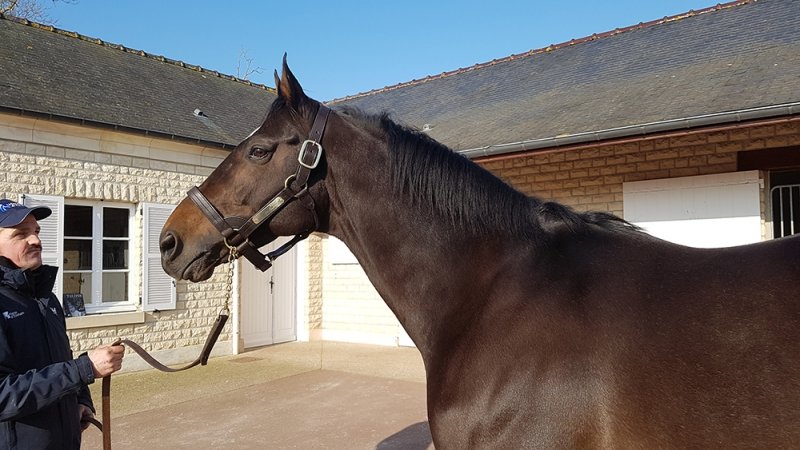 Performances
Après avoir très vite gravi les échelons, Kamsin remporte son premier Gr.3 préparatoire au Derby Allemand en mai de ses 3 ans suivi d'une éblouissante victoire dans le Derby 2008 en laissant le plus proche de ses adversaires à 3 longueurs. N'ayant plus rien à prouver contre ses contemporains, Kamsin affronte ses ainés et les bat dans les deux Gr.1 Rheinland Pokal et Grand-Prix de Baden course dans laquelle il met KO Adlerflug, 2ème (lauréat du Derby Allemand un an auparavant) et It's Gino 3ème (un 3ème du Prix de l'Arc de Triomphe derrière Zarkava). A 4 ans, Kamsin remporte encore un Gr.2 et se place de Gr.1.
Meilleures performances
1er

Rheinland-Pokal der Sparkasse Kolnbonn (Gr 1) (Plat) 2400m


Cologne (GER) - 2008

1er

BMW 139th Deutsches Derby (Gr 1) (Plat) 2400m


Hambourg (GER) - 2008

1er

Gerling - Preis (Gr 2) (Plat) 2400m


Cologne (GER) - 2009

1er

Preis des Extra-Tipp Krefeld (Plat) 1700m


Krefeld (GER) - 2008
Statistiques
| Courses | Victoires | Place | Gains | Indice Distance * |
| --- | --- | --- | --- | --- |
| 13 | 6 | 6 | 663 900 € | 2300 m |
| | 46.15% | 46.15% | | |
* Moyenne des distances des victoires et places de courses Gr.1, Gr.2, Gr.3 et Listed en plat (arrondie à la centaine)
Pédigrée
J'Ai Deux Amours

1986 (FR)
Northern Dancer

1941 (CAN)

Northern Dancer

1941 (CAN)

Henry the Seventh

1958 (GB)
Lignée maternelle
Télécharger au format PDF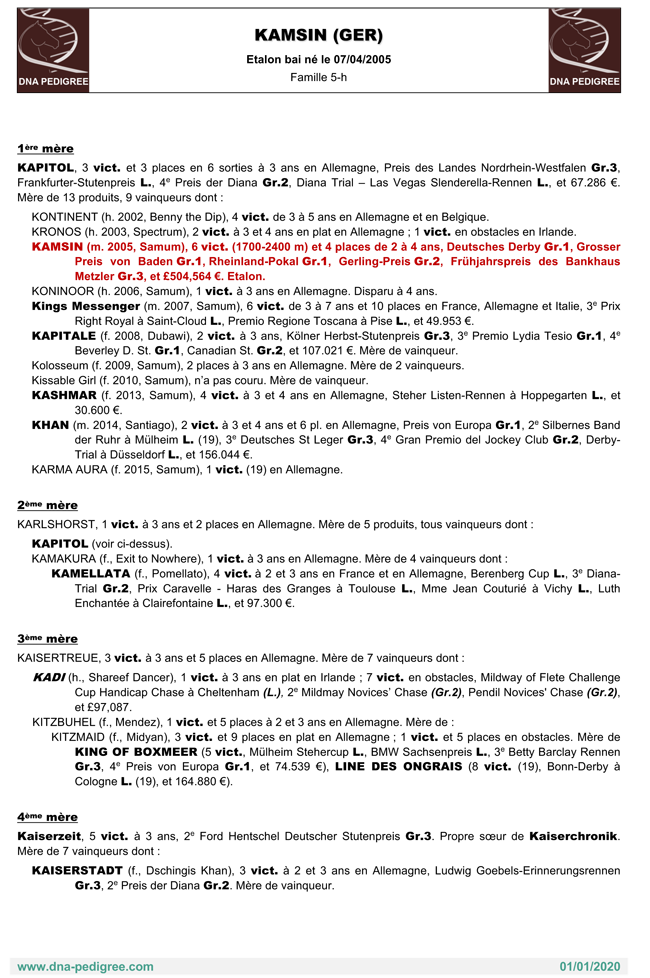 Générateur de pédigrée
Cet étalon n'a pas développé de formule de présentation complète (forfait premium).
Ventes & Shows
Retrouvez la liste des participations aux ventes et shows de l'étalon et de ses produits.
National de l'Obstacle Le Pin le 26/07/2017
Lot
Nom
Pere
Mere
Issue
86
N (VIA CAROLINA 2017) F17

Kamsin x Via Carolina

Kamsin
Via Carolina
3ème
Vente d'Eté Deauville du 05/07/2017 au 06/07/2017
Lot
Nom
Pere
Mere
Issue
124
AGENT O'CONNOR H15

Kamsin x A Winning Dream

Kamsin
A Winning Dream

25 000€

HIGHFLYER BLOODSTOCK
Chaser Day Paray-le-Monial le 16/06/2017
Lot
Nom
Pere
Mere
Issue
66
Honey Moon F17

Kamsin x Summernight Love

Kamsin
Summernight Love
1er
Vente Mixte de Février Deauville le 14/02/2017
Lot
Nom
Pere
Mere
Issue
18
Dunia F15

Kamsin x Dun Eoghanachta

Kamsin
Dun Eoghanachta
Absent
Vente d'élevage de décembre Deauville du 03/12/2016 au 06/12/2016
Lot
Nom
Pere
Mere
Issue
910
Waramin F13

Kamsin x Well American

Kamsin
Well American
Racheté

34 000€

Ventes d'Automne Deauville du 14/11/2016 au 16/11/2016
Lot
Nom
Pere
Mere
Issue
45
Draconis H13

Kamsin x Daphne

Kamsin
Daphne

5 000€

JH BLOODSTOCK LTD
55
Sapatone F13

Kamsin x New Fantasy

Kamsin
New Fantasy

4 000€

PARIZE Jess
419
Anhor M15

Kamsin x ALAKHANIA

Kamsin
ALAKHANIA
Racheté

9 000€

422
Adjali M15

Kamsin x Anabasis

Kamsin
Anabasis

20 000€

SARL GUILLAUME MACAIRE
439
Cosmic Magic F15

Kamsin x Cosmic Collisions

Kamsin
Cosmic Collisions

5 000€

CHRIS RICHNER BLOODSTOCK
Vente d'été Deauville du 29/06/2016 au 01/07/2016
Lot
Nom
Pere
Mere
Issue
113
Moonlight Camp H14

Kamsin x MOONLIGHT SYMPHONY

Kamsin
MOONLIGHT SYMPHONY
Racheté

32 000€

191
Phantasie F13

Kamsin x La Parabol

Kamsin
La Parabol

5 000€

B&R CONSULTING
Breeze up Deauville le 14/05/2016
Lot
Nom
Pere
Mere
Issue
72
Rue Daru F14

Kamsin x Rue Ravignan

Kamsin
Rue Ravignan

45 000€

CHANTILLY BLOODSTOCK AGENCY
Vente Mixte de Fevrier Deauville le 08/02/2016
Lot
Nom
Pere
Mere
Issue
327
N (Vega Dance 2015) M15

Kamsin x Vega Dance

Kamsin
Vega Dance

6 000€

COCHEESE BLOODSTOCK
Vente d'Automne Deauville du 16/11/2015 au 18/11/2015
Lot
Nom
Pere
Mere
Issue
114
Amazonit H11

Kamsin x Arpista

Kamsin
Arpista
Racheté

17 000€

612
Rue Daru F14

Kamsin x Rue Ravignan

Kamsin
Rue Ravignan

4 000€

THOMAS DEMEAULTE Xavier
Vente d'Élevage de Décembre Deauville du 06/12/2014 au 09/12/2014
Lot
Nom
Pere
Mere
Issue
850
Rue Daru F14

Kamsin x Rue Ravignan

Kamsin
Rue Ravignan

4 000€

FRESNAY AGRICOLE S.A.S
Vente de Yearlings Le Lion d'Angers le 05/11/2014
Lot
Nom
Pere
Mere
Issue
118
Sapatone F13

Kamsin x New Fantasy

Kamsin
New Fantasy

3 000€

ECURIE VILLEBADIN
Chaser Day Paray-le-Monial le 20/06/2014
Lot
Nom
Pere
Mere
Issue
85
El Gringo H14

Kamsin x Cinecitta

Kamsin
Cinecitta
4ème
Vente de yearlings Deauville du 21/10/2013 au 24/10/2013
Lot
Nom
Pere
Mere
Issue
385
Rock of Herin H12

Kamsin x Brass Damask

Kamsin
Brass Damask
Absent
Production
Récents vainqueurs
Meilleurs produits
28/09/2014 - SAKAMIRA (2a) - 1er Premio Coolmore (L) - San Siro - ITY (Plat) - 1500m
02/09/2017 - Be Famous (5a) - 2ème Baden Racing Steher Cup (L) - Baden Baden - GER (Plat) - 2800m
10/09/2017 - Aurelio (3a) - Dusseldorf - GER (Plat) - 2200m
30/07/2017 - Lacrimosa (4a) - Bad Harzburg - GER (Plat) - 2400m
24/07/2017 - Sternkrone (4a) - Mulheim - GER (Plat) - 2000m
11/06/2017 - Sternkranz (3a) - Koln - GER (Plat) - 2200m
22/12/2016 - What Goes Around (3a) - Neuss - GER (Plat) - 2300m
23/10/2016 - Be Famous (4a) - Baden Baden - GER (Plat) - 2200m
08/11/2015 - Golden Gate Bridge (3a) - Ffos Las - GB (Plat) - 2800m
13/09/2015 - Amazonit (4a) - Hannover - GER (Plat) - 1750m
15/06/2015 - Twilight (3a) - Hoppegarten - GER (Plat) - 2400m
07/06/2015 - Amazonit (4a) - Leipzig - GER (Plat) - 2000m
14/05/2015 - Twilight (3a) - Hoppegarten - GER (Plat) - 1800m
17/08/2014 - Alberto (2a) - Budapest - HUN (Plat) - 1600m
10/09/2017 - Aurelio (3a) - Dusseldorf - GER (Plat) - 2200m
02/09/2017 - Be Famous (5a) - 2ème Baden Racing Steher Cup (L) - Baden Baden - GER (Plat) - 2800m
30/07/2017 - Lacrimosa (4a) - Bad Harzburg - GER (Plat) - 2400m
24/07/2017 - Sternkrone (4a) - Mulheim - GER (Plat) - 2000m
11/06/2017 - Sternkranz (3a) - Koln - GER (Plat) - 2200m
22/12/2016 - What Goes Around (3a) - Neuss - GER (Plat) - 2300m
23/10/2016 - Be Famous (4a) - Baden Baden - GER (Plat) - 2200m
08/11/2015 - Golden Gate Bridge (3a) - Ffos Las - GB (Plat) - 2800m
13/09/2015 - Amazonit (4a) - Hannover - GER (Plat) - 1750m
15/06/2015 - Twilight (3a) - Hoppegarten - GER (Plat) - 2400m
07/06/2015 - Amazonit (4a) - Leipzig - GER (Plat) - 2000m
14/05/2015 - Twilight (3a) - Hoppegarten - GER (Plat) - 1800m
28/09/2014 - SAKAMIRA (2a) - 1er Premio Coolmore (L) - San Siro - ITY (Plat) - 1500m
17/08/2014 - Alberto (2a) - Budapest - HUN (Plat) - 1600m
Statistiques production en france
à jour le 18/04/2017
| Courses | Victoires | Place | Gains |
| --- | --- | --- | --- |
| 121 | 17 | 46 | 483 130 € |
| | 14.05% | 38.02% | |
Saillies & Naissances
Déclarées en France d'après les données gérées par le SIRE-POMPADOUR
2017
monte
2017
juments
saillies
31
naissances
déclarées
0
2016
monte
2016
juments
saillies
0
naissances
déclarées
0
2015
monte
2015
juments
saillies
3
naissances
déclarées
3
Naissances
ACTIVA (GER)

par SENDAWAR (IRE)

: ANGEL OF SUNDAY (F16 PS) - Sheila Audoersch
MAKE SECOND (GER)

par SECOND SET (IRE)

: N. (F16 PS) - Bernard Riedinger
TURFLIEBE (GER)

par DASHING BLADE (GB)

: TURFZAUBER (F16 PS) - Joerg Audoersch
2014
monte
2014
juments
saillies
4
naissances
déclarées
4
2013
monte
2013
juments
saillies
5
naissances
déclarées
5
Naissances
ACTIVA (GER)

par SENDAWAR (IRE)

: A SUNDAY DREAM (F14 PS) - Sheila Audoersch
BAKUFU (IRE)

par KING'S BEST (USA)

: BAKARI (M14 PS)
CINECITTA (USA)

par DIESIS (GB)

: EL GRINGO (M14 PS) - Alain Aupetit
RUE RAVIGNAN (IRE)

par BAHRI (USA)

: RIVER PLATE (F14 PS) - Jacques Beres
TURFLIEBE (GER)

par DASHING BLADE (GB)

: TURFRUBIN (H14 PS) - Joerg Audoersch
2012
monte
2012
juments
saillies
5
naissances
déclarées
5
2011
monte
2011
juments
saillies
4
naissances
déclarées
3
Naissances
BAGANA (GER)

par ACATENANGO (GER)

: BOYS GIRL (F12 PS) - Christophe Jacquot
BRASS DAMASK (USA)

par LEMON DROP KID (USA)

: ROCK OF HERIN (H12 PS) - Erick Bec De La Motte
RESACA (GER)

par TOUCH DOWN (GER)

: RIGHT IN THE NIGHT (F12 PS)
Saillies
ACTIVA (GER)

par SENDAWAR (IRE)
Jumenterie France Sire
Etalons présents parmis les plans de monte et/ou produits des élevages suivants