ALEX THE WINNER
2007 (USA)
STORM CAT et SHE'S A WINNER par A.P. INDY
Bai Brun / 2007 / 1.63m / Haras 2011
3.000€ en 2018

Né dans la pourpre, Alex The Winner est issu du croisement Storm Cat / AP Indy. Frère de 5 chevaux de Stakes dont l'étalon Bluegrass Cat, cousin de Super Saver (Kentucky Derby Gr.1), Imagining (Gr.1), Callback (Gr.1), Got Lucky (Gr.1) et neveu de Girolamo (Gr.1), Alex The Winner est entré étalon tout en restant inédit. Il est d'ores et déjà le père de gagnants en plat et sur les obstacles malgré une production plutôt limitée.
En 2017, père de la 2 ans Zonza, lauréate du Prix du Bois (Gr.3) ou encore de la 3 ans Peace Alexia, gagnante du Prix du Défilé à Auteuil. Nouveau au Haras du Mont Goubert en 2018.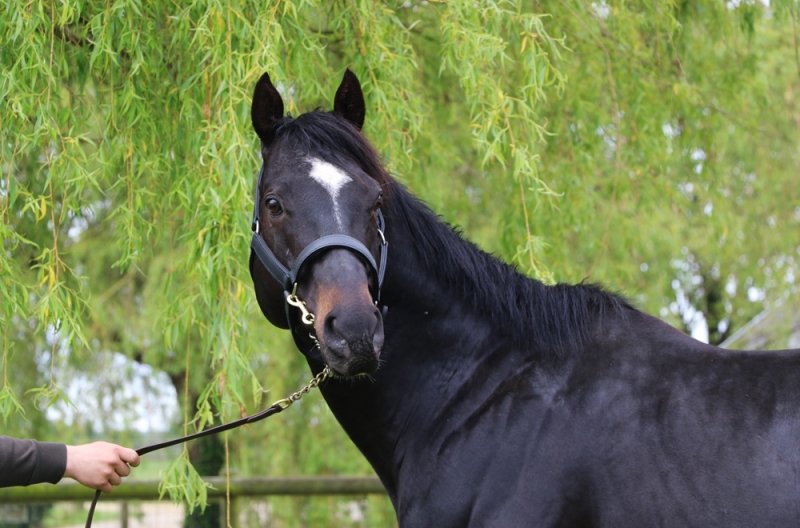 Performances
Acheté yearling $ 600.000 mais blessé à l'entrainement en France, Alex The Winner est resté inédit.
Meilleures performances
Statistiques
| Courses | Victoires | Place | Gains | Indice Distance * |
| --- | --- | --- | --- | --- |
| | | | 0 € | 0 m |
| | 0% | 0% | | |
* Moyenne des distances des victoires et places de courses Gr.1, Gr.2, Gr.3 et Listed en plat (arrondie à la centaine)
Pédigrée
Alex The Winner

2007 (USA)
Northern Dancer

1961 (CAN)

Weekend Surprise

1980 (USA)
Northern Dancer

1961 (CAN)

Numbered Account

1969 (USA)
Lignée maternelle
Télécharger au format PDF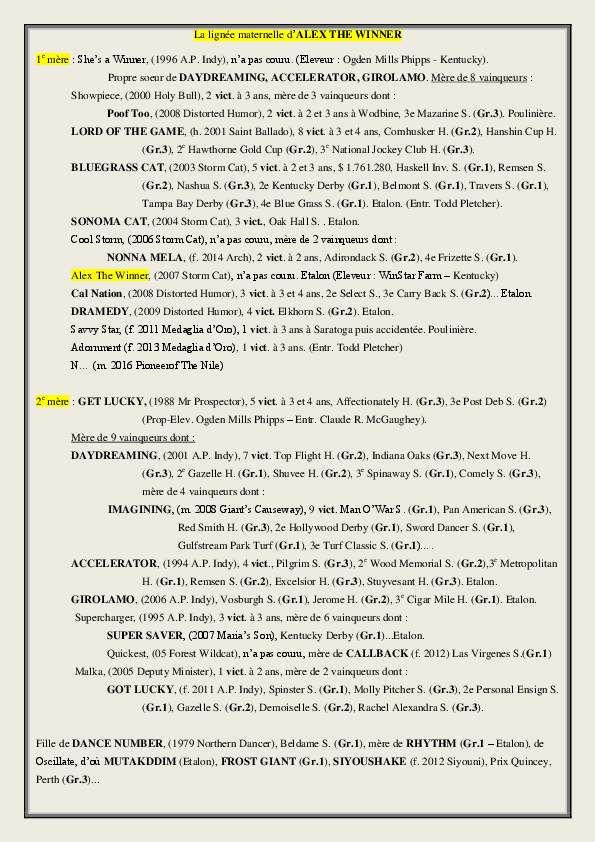 Générateur de pédigrée
Cet étalon n'a pas développé de formule de présentation complète (forfait premium).
Ventes & Shows
Retrouvez la liste des participations aux ventes et shows de l'étalon et de ses produits.
Vente d'Elevage Deauville du 07/12/2019 au 10/12/2019
Lot
Nom
Pere
Mere
Issue
1018
Peace Alexia F14

Alex The Winner x Peace Lina

Alex The Winner
Peace Lina
December Mare Sale Newmarket du 02/12/2019 au 05/12/2019
Lot
Nom
Pere
Mere
Issue
1799
Zonza F15

Alex The Winner x Zanyeva

Alex The Winner
Zanyeva

340 000Gns

Katsumi Yoshida
Vente d'Elevage Deauville du 08/12/2018 au 11/12/2018
Lot
Nom
Pere
Mere
Issue
822
Moon Of Alex

Alex The Winner x Moonavvara

Alex The Winner
Moonavvara

10 000€

PEILLEY BESSET Dominique
937
Peace Alexia F14

Alex The Winner x Peace Lina

Alex The Winner
Peace Lina

41 000€

HIGH VALLEY EQUINE LTD
Vente de Yearlings d'Octobre Deauville du 23/10/2018 au 26/10/2018
Lot
Nom
Pere
Mere
Issue
29
Rosy Moon F17

Alex The Winner x Red Love Moon

Alex The Winner
Red Love Moon
Absent
Le National de l'Obstacle Le Pin au Haras le 18/07/2018
Lot
Nom
Pere
Mere
Issue
28
Heart Of Giant M17

Alex The Winner x Pampera

Alex The Winner
Pampera
Non classé
Vente Mixte de Fevrier Deauville le 08/02/2016
Lot
Nom
Pere
Mere
Issue
100
Winning Bilberry F15

Alex The Winner x Gaelic Dream

Alex The Winner
Gaelic Dream

2 500€

LARDOT José
Ventes de Stores & CAE Le Lion d'Angers le 06/11/2015
Lot
Nom
Pere
Mere
Issue
126
Lanca Perfume M13

Alex The Winner x Caesars Tigress

Alex The Winner
Caesars Tigress
Racheté

1 000€

Vente mixte du Lion d'Angers Le Lion d'Angers le 07/11/2013
Lot
Nom
Pere
Mere
Issue
219
Patton Place Mal

Alex The Winner x Princess Palm

Alex The Winner
Princess Palm
Racheté

1 000€
Production
Récents vainqueurs
Meilleurs produits
01/07/2017 - ZONZA (2a) - 1er Prix du Bois (Gr 3) - Deauville (Plat) - 1000m
09/04/2018 - Zonza (3a) - 2ème Prix Imprudence (Gr 3) - Deauville (Plat) - 1400m
06/07/2018 - Zonza (3a) - 2ème Prix Amandine (L) - Maisons-Laffitte (Plat) - 1400m
18/11/2019 - Tender Winner (4a) - Marseille Pont de Vivaux (Plat) - 3100m
10/11/2019 - Candalex (5a) - Mont-de-Marsan (Steeple) - 3800m
27/10/2019 - Candalex (5a) - Argentan (Steeple) - 4250m
13/10/2019 - Alexreve (4a) - Hyeres (Plat) - 1850m
13/10/2019 - Catch Dream (7a) - Tarbes (Plat) - 3000m
05/08/2019 - Catch Dream (7a) - Clairefontaine (Plat) - 2400m
23/07/2019 - Catch Dream (7a) - Mont-de-Marsan (Plat) - 2200m
30/06/2019 - Tender Winner (4a) - Morlaix (Plat) - 2600m
29/06/2019 - Rosy Moon (2a) - La Zarzuela - SPA (Plat) - 1200m
19/05/2019 - Rosy Moon (2a) - La Zarzuela - SPA (Plat) - 1000m
10/05/2019 - Catch Dream (7a) - Tarbes (Plat) - 2300m
03/03/2019 - Alexreve (4a) - Hyeres (Haies) - 3500m
17/02/2019 - Candalex (5a) - Pisa - ITY (Plat) - 4000m
25/12/2018 - Candalex (4a) - Pau (Haies) - 3500m
18/10/2018 - Candalex (4a) - Toulouse (Haies) - 3500m
14/08/2018 - Enjoy Bilberry (3a) - Clairefontaine (Plat) - 1400m
24/06/2018 - Equerre (4a) - Gemozac (Steeple) - 3900m
21/06/2018 - Tender Winner (3a) - Auteuil (Haies) - 3500m
26/05/2018 - Lakeba (3a) - Moulins (Haies) - 3400m
04/02/2018 - Catch Dream (6a) - Pau (Plat) - 1950m
07/12/2017 - Alexreve (2a) - Lyon la Soie (Plat) - 1800m
24/11/2017 - Candalex (3a) - Compiegne (Haies) - 3400m
05/10/2017 - Kisstomorrowgoodby (5a) - Jagersro - SWE (Plat) - 1200m
17/09/2017 - Candalex (3a) - Strasbourg (Haies) - 3500m
10/09/2017 - Alexania (3a) - Nimes (Steeple) - 3400m
02/09/2017 - Candalex (3a) - Le Touquet (Haies) - 3500m
23/08/2017 - Catch Dream (5a) - Vichy (Plat) - 2000m
06/08/2017 - Catch Dream (5a) - Vittel (Plat) - 2100m
11/07/2017 - Catch Dream (5a) - Dieppe (Plat) - 1800m
01/07/2017 - Alexania (3a) - Aix-Les-Bains (Haies) - 3400m
27/06/2017 - Peace Alexia (3a) - Auteuil (Haies) - 3500m
23/06/2017 - Alex Des Fosses (4a) - Chantilly (Plat) - 2100m
04/06/2017 - Peace Alexia (3a) - Dax (Haies) - 3500m
31/05/2017 - Alex Des Fosses (4a) - Chantilly (Plat) - 1900m
17/05/2017 - Zonza (2a) - Maisons-Laffitte (Plat) - 1100m
15/04/2017 - Zonza (2a) - Bordeaux le Bouscat (Plat) - 1000m
10/11/2016 - Alexis Des Fosses (2a) - Pornichet (Plat) - 1700m
04/11/2016 - Milady Alex (3a) - Lyon Parilly (Haies) - 3400m
23/10/2016 - Alex Des Fosses (3a) - Orleans (Plat) - 2200m
23/09/2016 - Alexis Des Fosses (2a) - Fontainebleau (Plat) - 1800m
10/09/2016 - Do No Complain (3a) - Nimes (Steeple) - 3400m
21/04/2016 - Do No Complain (3a) - Lyon Parilly (Haies) - 3150m
03/04/2016 - Son Of Alex (4a) - Lyon Parilly (Steeple) - 3400m
21/02/2016 - Myster Alex (4a) - Nimes (Steeple) - 3400m
11/11/2015 - Myster Alex (3a) - Nimes (Steeple) - 3400m
28/06/2015 - Catch Dream (3a) - Saint-Cloud (Plat) - 1600m
29/04/2015 - Catch Dream (3a) - Longchamp (Plat) - 1600m
20/03/2015 - Myster Alex (3a) - Lyon Parilly (Haies) - 3000m
10/01/2015 - Catch Dream (3a) - Deauville (Plat) - 1900m
18/11/2019 - Tender Winner (4a) - Marseille Pont de Vivaux (Plat) - 3100m
10/11/2019 - Candalex (5a) - Mont-de-Marsan (Steeple) - 3800m
27/10/2019 - Candalex (5a) - Argentan (Steeple) - 4250m
13/10/2019 - Alexreve (4a) - Hyeres (Plat) - 1850m
13/10/2019 - Catch Dream (7a) - Tarbes (Plat) - 3000m
05/08/2019 - Catch Dream (7a) - Clairefontaine (Plat) - 2400m
23/07/2019 - Catch Dream (7a) - Mont-de-Marsan (Plat) - 2200m
30/06/2019 - Tender Winner (4a) - Morlaix (Plat) - 2600m
29/06/2019 - Rosy Moon (2a) - La Zarzuela - SPA (Plat) - 1200m
19/05/2019 - Rosy Moon (2a) - La Zarzuela - SPA (Plat) - 1000m
10/05/2019 - Catch Dream (7a) - Tarbes (Plat) - 2300m
03/03/2019 - Alexreve (4a) - Hyeres (Haies) - 3500m
17/02/2019 - Candalex (5a) - Pisa - ITY (Plat) - 4000m
25/12/2018 - Candalex (4a) - Pau (Haies) - 3500m
18/10/2018 - Candalex (4a) - Toulouse (Haies) - 3500m
14/08/2018 - Enjoy Bilberry (3a) - Clairefontaine (Plat) - 1400m
06/07/2018 - Zonza (3a) - 2ème Prix Amandine (L) - Maisons-Laffitte (Plat) - 1400m
24/06/2018 - Equerre (4a) - Gemozac (Steeple) - 3900m
21/06/2018 - Tender Winner (3a) - Auteuil (Haies) - 3500m
26/05/2018 - Lakeba (3a) - Moulins (Haies) - 3400m
09/04/2018 - Zonza (3a) - 2ème Prix Imprudence (Gr 3) - Deauville (Plat) - 1400m
04/02/2018 - Catch Dream (6a) - Pau (Plat) - 1950m
07/12/2017 - Alexreve (2a) - Lyon la Soie (Plat) - 1800m
24/11/2017 - Candalex (3a) - Compiegne (Haies) - 3400m
05/10/2017 - Kisstomorrowgoodby (5a) - Jagersro - SWE (Plat) - 1200m
17/09/2017 - Candalex (3a) - Strasbourg (Haies) - 3500m
10/09/2017 - Alexania (3a) - Nimes (Steeple) - 3400m
02/09/2017 - Candalex (3a) - Le Touquet (Haies) - 3500m
23/08/2017 - Catch Dream (5a) - Vichy (Plat) - 2000m
06/08/2017 - Catch Dream (5a) - Vittel (Plat) - 2100m
11/07/2017 - Catch Dream (5a) - Dieppe (Plat) - 1800m
01/07/2017 - ZONZA (2a) - 1er Prix du Bois (Gr 3) - Deauville (Plat) - 1000m
01/07/2017 - Alexania (3a) - Aix-Les-Bains (Haies) - 3400m
27/06/2017 - Peace Alexia (3a) - Auteuil (Haies) - 3500m
23/06/2017 - Alex Des Fosses (4a) - Chantilly (Plat) - 2100m
04/06/2017 - Peace Alexia (3a) - Dax (Haies) - 3500m
31/05/2017 - Alex Des Fosses (4a) - Chantilly (Plat) - 1900m
17/05/2017 - Zonza (2a) - Maisons-Laffitte (Plat) - 1100m
15/04/2017 - Zonza (2a) - Bordeaux le Bouscat (Plat) - 1000m
10/11/2016 - Alexis Des Fosses (2a) - Pornichet (Plat) - 1700m
04/11/2016 - Milady Alex (3a) - Lyon Parilly (Haies) - 3400m
23/10/2016 - Alex Des Fosses (3a) - Orleans (Plat) - 2200m
23/09/2016 - Alexis Des Fosses (2a) - Fontainebleau (Plat) - 1800m
10/09/2016 - Do No Complain (3a) - Nimes (Steeple) - 3400m
21/04/2016 - Do No Complain (3a) - Lyon Parilly (Haies) - 3150m
03/04/2016 - Son Of Alex (4a) - Lyon Parilly (Steeple) - 3400m
21/02/2016 - Myster Alex (4a) - Nimes (Steeple) - 3400m
11/11/2015 - Myster Alex (3a) - Nimes (Steeple) - 3400m
28/06/2015 - Catch Dream (3a) - Saint-Cloud (Plat) - 1600m
29/04/2015 - Catch Dream (3a) - Longchamp (Plat) - 1600m
20/03/2015 - Myster Alex (3a) - Lyon Parilly (Haies) - 3000m
10/01/2015 - Catch Dream (3a) - Deauville (Plat) - 1900m
Saillies & Naissances
Déclarées en France d'après les données gérées par le SIRE-POMPADOUR
2019
monte
2019
juments
saillies
7
naissances
déclarées
0
Saillies
AFFOLANTE (USA)

par WHYWHYWHY (USA)

AVOLA

par GALILEO (IRE)

CANDIE

par KENDARGENT

PEACE MINE (CAN)

par MINESHAFT (USA)

PEACE OF OASIS

par OASIS DREAM (GB)

SALSA ARDECHOISE

par CHICHI CREASY

SEVERINA (GB)

par DARSHAAN (GB)
2018
monte
2018
juments
saillies
23
naissances
déclarées
12
Naissances
FIRST FLEET (USA)

par WOODMAN (USA)

: N. (F19 PS) - Eric Puerari
IQUEST

par FALCO (USA)

: POLCA DE SARTUQUE (F19 PS) - Xavier Cazenave
KITTY HAWK (GB)

par DANEHILL DANCER (IRE)

: JUKE BOX DESBOIS (M19 PS) - E.a.r.l. Guittet Desbois
MAIA DANCER

par DANEHILL DANCER (IRE)

: N. (M19 PS) - Jean-Philippe Dubois
MAIA ROYALE

par MUHTATHIR (GB)

: N. (M19 PS) - Jean-Philippe Dubois
MARIE DE BANSHA (IRE)

par SADLER'S WELLS (USA)

: REVEALED (F19 PS) - Jan Romel
MEDALHA MILAGROSA (USA)

par MINER'S MARK (USA)

: N. (F19 PS) - S.a.s. Elevage Du Haras De Bourgeauville
PERSIAN QUEEN

par PERSIAN COMBAT (USA)

: JACOB DE CERISY (M19 PS) - Patricia Renaud
PYJAMA DAY (GB)

par ROYAL APPLAUSE (GB)

: COMMITMENT (F19 PS) - Jan Romel
RARA DES BOIS

par LOST WORLD (IRE)

: FAXI BLUE (M19 PS) - Bernard Stoffel
SIGOVIE

par IRON MASK (USA)

: GO NATIVE (M19 PS) - S.a. Jbs Invest Nv
TENDER NIGHT (USA)

par ELUSIVE QUALITY (USA)

: N. (M19 PS) - Jean-Philippe Dubois
Saillies
FLEUR DE PRINTEMPS (GB)

par SILVER FROST (IRE)

FULL PASSION

par POLIGLOTE (GB)

GOLCONDE MINE (IRE)

par ALAMO BAY (USA)

MER FLEURIE

par MASTERCRAFTSMAN (IRE)

MEROULA

par VISION D'ETAT

ORO JULIA

par ANABAA (USA)

QASIMA

par DIABLENEYEV (USA)

ROCHEPAILLE

par ROCHESSON

SPARKLE JACK

par CAT JUNIOR (USA)

STARSHINE (GB)

par DANEHILL DANCER (IRE)

TACHIBANA (USA)

par TALE OF THE CAT (USA)
2017
monte
2017
juments
saillies
8
naissances
déclarées
4
Naissances
MADERIENNE

par KING'S BEST (USA)

: CITIUS DE CLISOU (M18 PS) - Zaccaria Legrenzi
PRINCESS DANCER

par LE BALAFRE

: ILLICO D'ELIPE (F18 PS) - Elisabeth Peaud
ROUGE AMOUR

par CADOUDAL

: RED ALEX (H18 PS)
SOLAR WELLS

par GALLO'S WELLS (IRE)

: N. (F18 PS) - Horse And Feed
Saillies
DECEMBER SKY (GB)

par DR FONG (USA)

FLOW CHART (UAE)

par JADE ROBBERY (USA)

KAKIRA

par CADOUDAL

POLACA

par POLSKI BOY (USA)
2016
monte
2016
juments
saillies
14
naissances
déclarées
7
Naissances
LITTLE ROYALE

par POLIGLOTE (GB)

: LITTLE WINNER (F17 PS) - Hubert Langot
MARQUISE DU PIN

par POLICY MAKER (IRE)

: ALEX DU PIN (M17 PS) - Hubert Langot
PAINTED GIRL

par MONSUN (GER)

: N. (M17 PS)
PAMPERA (IRE)

par ALHAARTH (IRE)

: HEART OF GIANT (M17 PS) - Pierre-Antoine Thinet
RED LOVE MOON

par MONSUN (GER)

: N. (F17 PS)
ROUGE AMOUR

par CADOUDAL

: ARDECHOISE (F17 PS)
SANS TUNE

par GREEN TUNE (USA)

: STORMICAYA (F17 PS) - Laura-Lisa Lemiere
Saillies
FIRMINI

par MANSONNIEN

FLOW CHART (UAE)

par JADE ROBBERY (USA)

MARYLEO (IRE)

par GALILEO (IRE)

POUNTILLA

par GENEROUS (IRE)

REINE DES VALOIS

par KAPGARDE

STELLA MATINE

par KAID POUS

VEREVA (IRE)

par KAHYASI (IRE)
2015
monte
2015
juments
saillies
8
naissances
déclarées
5
Naissances
FIRMINI

par MANSONNIEN

: N. (F16 PS)
LILA SHEBA

par LINAMIX

: LAMIX D'ESCAUT (M16 PS) - Patrick Cuvelier
LOULOU OF CAM

par MOOD FOR LOVE (USA)

: MARQUIS BOY (M16 PS) - Valerie Camera
QUARLINE DE L'ECU

par LAVIRCO (GER)

: GAMINE DE L'ECU AA (F16 ) - Eugene Luce
SAINTE BRETONNE

par SAINT DES SAINTS

: BREIZH WINNER (M16 PS) - Didier Guyot
Saillies
CHIPPIE OF CAM

par PRINCE DE LA NUIT

SMALOU

par LOST WORLD (IRE)

VEREVA (IRE)

par KAHYASI (IRE)
2014
monte
2014
juments
saillies
54
naissances
déclarées
30
Naissances
ALTERNANCE (IRE)

par HAWK WING (USA)

: DOUBIDJOKO (M15 PS) - Christian Doublet
BARINCHI (IRE)

par INCHINOR (GB)

: INCHI CREASY (F15 PS)
CLEVILLE

par COCKNEY REBEL (IRE)

: DOUBANNE MYSTIC (F15 PS) - Christian Doublet
CUBANA (GB)

par LINAMIX

: SPLASHER GAME (M15 PS)
DORA DU DESERT

par TURGEON (USA)

: ALEX DU DESERT (M15 PS)
FIRST LEGEND

par MONTJEU (IRE)

: FIRST WINNER (H15 PS) - Jean-Philippe Dubois
FORTUNE DU DESERT (IRE)

par KING'S THEATRE (IRE)

: WINNER DU DESERT (M15 PS)
FULLY MOON

par GALLERY OF ZURICH (IRE)

: LEA WILLIAMS (F15 PS) - Bruno Gaudet
GAELIC DREAM

par SHINING STEEL (GB)

: WINNING BILBERRY (F15 PS) - Jean-Charles Thibaut
IWANTYOUBACK

par ANTARCTIQUE (IRE)

: MOONLIGHT NIGHT (F15 PS) - Jean Baudron
L'HOMMEE

par VOIX DU NORD

: ALTESSE DES FOSSES (F15 PS) - Anita Louboutin
LILA SHEBA

par LINAMIX

: LAKEBA (F15 PS)
MADERIENNE

par KING'S BEST (USA)

: MADI D'ESCAUT (M15 PS) - Patrick Cuvelier
MARYLEO (IRE)

par GALILEO (IRE)

: ALEXREVE (H15 PS)
MATSOT

par MARESCA SORRENTO

: WIN VIC (M15 PS) - David Uzzan
PASHADENA

par TAKE RISKS

: CHOURASKAIA OF CAM (F16 PS) - Valerie Camera
PATIA D'ESCAUT

par NIKOS (GB)

: GOD SAVE THE KING (M15 PS) - Zacharie Legrenzi
ROMARE

par VICTORY NOTE (USA)

: MARBLE ARCH (M15 PS) - Susan Batsford
ROYALE REQUETE

par URGENT REQUEST (IRE)

: ROYALE BANK (M15 PS) - Bertille Hamerel
SAMANIX

par SAGAMIX

: FAMIX WINNER JO (F15 PS) - Joel Guillemin
SAMARTA

par MARTALINE (GB)

: ENJOY BILBERRY (M15 PS) - Jean-Charles Thibaut
STORMING HONOR (SPA)

par STORMING HOME (GB)

: FAIT MOI VOLER (F15 PS) - Luis Alberto Urbano Grajales
SUPER LINA

par LINAMIX

: SUPER ALEX (H15 PS) - Dream With Me Stable Inc.
TENDER NIGHT (USA)

par ELUSIVE QUALITY (USA)

: TENDER WINNER (H15 PS) - Jean-Philippe Dubois
UCCELLINA

par GREAT JOURNEY (JPN)

: MADE OF DREAM (F15 PS) - Jean Baudron
URGENT LADY

par URGENT REQUEST (IRE)

: LADY MILLENIUM (F15 PS) - Bertille Hamerel
VERONE (USA)

par DIXIE UNION (USA)

: CASTEL VECCHIO (M15 PS) - Aleyrion Bloodstock Ltd
WYSIWYG LUCKY

par ULTIMATELY LUCKY (IRE)

: LUCKY WARRIOR (M15 PS) - S.c.e.a. Societe D'entrainement Louis Baudron
ZAGORKA

par ANTARCTIQUE (IRE)

: ZANISKA D'ESCAUT (F15 PS) - Patrick Cuvelier
ZANYEVA (IRE)

par OASIS DREAM (GB)

: ZONZA (F15 PS) - Hugues Rousseau
Saillies
BELLAMIRA

par GREEN TUNE (USA)

ENDURING FREEDOM (GB)

par IN THE WINGS (GB)

FUJI BEAUTY

par DALIAPOUR (IRE)

GLADYS DES BOIS

par ORPEN (USA)

GREAT CARE (USA)

par EL GRAN SENOR (USA)

JADOU

par MARTALINE (GB)

JAKALINE

par KADROU

LA BEAUTE (GER)

par ALI ROYAL (IRE)

LATITUDE (USA)

par DANZIG CONNECTION (USA)

LOI MARTIALE

par HOMME DE LOI (IRE)

LUCIA SANTA

par MOLLICONE JUNIOR

MAKALDOUN

par KALDOUNEVEES

MY LITTLE PRINCESS

par VANGELIS (USA)

OLYMPIC CANDLE (GB)

par CATRAIL (USA)

PEACE LINA

par LINAMIX

PERLIS BEAUTY

par DALIAPOUR (IRE)

RIQUET MON AMI

par TIMBOROA (GB)

RIVIERA FRANCAISE

par DOLPOUR (IRE)

SHIRVANA

par INDIAN DANEHILL (IRE)

SUMMEROSA (USA)

par WOODMAN (USA)

SUN GOLD SUN

par LAYMAN (USA)

TAKELISH

par TAKE RISKS

TOISON DES BRIERES

par SKI CHIEF (USA)

VALENCIENNES (IRE)

par DANSILI (GB)
2013
monte
2013
juments
saillies
16
naissances
déclarées
11
Naissances
CANDINIE (USA)

par BERNARDINI (USA)

: CANDALEX (H14 PS) - Dream With Me Stable Inc.
CEDAR SPRINGS (IRE)

par SADLER'S WELLS (USA)

: N. (M15 PS) - Francoise Laroche
FIDELE RAMIC

par PANORAMIC (GB)

: FIDELE ALEXIA (F14 PS) - S.c.i. De La Viguerie
GALAXIE SALSA

par KINGSALSA (USA)

: GOOD MOOD TODAY (H14 PS) - Marie Ortolan
L'HOMMEE

par VOIX DU NORD

: ALEXIS DES FOSSES (H14 PS) - Anita Louboutin
MARYLEO (IRE)

par GALILEO (IRE)

: ALEXANIA (F14 PS)
MIYAKE (IRE)

par NAMID (GB)

: LE SOL (M14 PS) - S.c.e.a. Haras De La Vega
NUITCALINE

par AJDAYT (USA)

: EQUERRE (F14 PS) - Jean Duvaldestin
PEACE LINA

par LINAMIX

: PEACE ALEXIA (F14 PS) - S.a.r.l. Scuderia Bolgheri S.r.l.
SANS TUNE

par GREEN TUNE (USA)

: STARACAYA (F14 PS) - Laura-Lisa Lemiere
TARBELLA

par ANTARCTIQUE (IRE)

: ESPERIANCE (F17 OC) - Jean-Pierre Lacour
Saillies
QUALICIENNE

par MICHEL GEORGES (GB)

SUERTEZ (USA)

par SHAMARDAL (USA)

SUPER LINA

par LINAMIX

SUPER PIE (USA)

par PIVOTAL (GB)

TAKELISH

par TAKE RISKS
Jumenterie France Sire
Etalons présents parmis les plans de monte et/ou produits des élevages suivants