A new black type for Carlotamix.
Gémix is definitely Carlotamix's flag bearer (whom first crop is 5yo) by giving him the most black type results. He wins for the 2nd consecutive time and scores in the Prix Léon Rambaud at Auteuil. Poliglote is 3rd.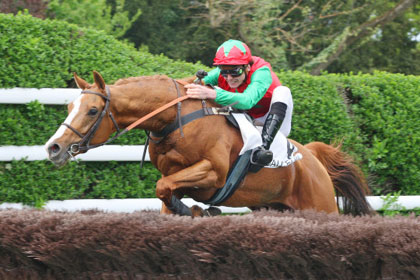 Gemix, by Carlotamix, wins a Gr.2 over hurdles at Auteuil

Great servant of Haras de Fresnay le Buffard, Dream Well (4 winners this week), takes the Prix Amadou, another Gr.2 ran over Auteuil's hurdles, thanks to Le Grand Luce for Ecurie Zingaro. Poliglote gets once again an accessit and finishes 2nd.
Martaline gets a shot of two with places in the Gr .3 Prix Jean Stern won by Antarctique, a son Sadler's Wells based in the Orne region, a sire who gets many mentions these days.
5 winners this week for Redoute's Choice and Muhtathir.
Semaine des étalons du 2013/04/22 au 2013/04/28
Père
Cheval
Sexe
Age
Lieu
Discipline
Place
Al Namix
Almix Prail (AQPS)
H
10
Compiegne
Haies
1er
Arakan
Trumpet Major
H
11
Sandown
Plat
1er G2
Balko
Zalko
H
11
Hyeres
Haies
1er
Gentlewave
Silverado
H
10
Nort-sur-Erdre
Plat
1er
Great Pretender
Ptit Zig
H
11
Sandown
Haies
1er
Great Pretender
Kigreat De La Pree
F
12
Nort-sur-Erdre
Steeple
1er
Kapgarde
Princesse Kap
F
12
Auteuil
Steeple
3ème Listed
Kapgarde
All In De Sivola
F
10
Auteuil
Haies
1er
Kapgarde
Ubak (AQPS)
H
12
Punchestown
Haies
2ème G1
Kapgarde
Henok
H
14
Towcester
Steeple
1er
Kapgarde
Milord Thomas
H
11
Auteuil
Haies
2ème Listed
Kingsalsa
Don Salsa
M
14
Longchamp
Plat
1er
Kingsalsa
King'S World
H
13
Bordeaux le Bouscat
Plat
1er
Manduro
Guising
M
11
Windsor
Plat
1er
Meshaheer
Mi Vida
M
9
Angers
Plat
1er
Moss Vale
Available
M
11
Doncaster
Plat
1er
Moss Vale
Bang Tidy
H
11
Doncaster
Plat
1er
Moss Vale
Bogsnog
H
10
Newcastle
Plat
1er
Motivator
Love Happens
F
11
Koln
Plat
1er
Motivator
Sky Hunter
H
10
Longchamp
Plat
1er
Motivator
Ssafa
F
12
Wolverhampton
Plat
1er
Motivator
Daytona Bay
F
10
Hannover
Plat
1er
Muhtathir
Zamaam
H
10
Bordeaux le Bouscat
Plat
1er
Muhtathir
Falcognana
F
11
Milano
Plat
1er
Muhtathir
Attirante
F
10
Lyon Parilly
Plat
1er
Muhtathir
Twinlight
H
13
Punchestown
Steeple
1er
Muhtathir
Zack Hall
H
13
Toulouse
Plat
2ème Listed
My Risk
Sire De Grugy (AQPS)
H
14
Sandown
Steeple
1er
Panis
Tomtit
H
12
Hyeres
Haies
1er
Panis
Tiberio
H
10
Longchamp
Plat
1er
Panis
Myasun
H
13
Maisons-Laffitte
Plat
3ème Listed
Rail Link
Destruct
M
10
Fontainebleau
Plat
1er
Rail Link
Last Train
M
11
Longchamp
Plat
1er G3
Slickly
Lugano
H
11
Enghien-Soisy
Haies
1er
Slickly
Santa Ponsa
F
10
Toulouse
Plat
1er Listed
Slickly
Purple Sensation
F
14
Morlaix
Plat
1er
Slickly
Dartagnan D'Azur
M
11
Longchamp
Plat
1er
Ungaro
Reglis Brunel (AQPS)
H
15
Auteuil
Steeple
1er Listed
Vatori
Passior
H
11
Fontainebleau
Plat
1er
Vatori
Louvain
H
11
Longchamp
Plat
1er