GOKEN
2012 (FR)
KENDARGENT et GOOSELEY CHOPE par INDIAN ROCKET
Bai / 2012 / 1.60m / Haras 2017
3.000€ en 2019
Elevé par : Haras de Colleville
Stationné à : Haras de Colleville
Précocité et longévité. Gagnant de Gr.3 sur le sprint à 2 et 3 ans, Goken s'est placé 3ème du Gr.1 King's Stand Stakes pendant le meeting de Royal Ascot. Il est le premier fils étalon du top Kendargent. Ayant débuté au Haras de la Huderie en 2017, il a été soutenu par de nombreux éleveurs dont son propriétaire Guy Pariente dès la 1e année. Goken a été installé au Haras de Colleville à partir de 2018. 154 saillies juments en 2017 et 2018. Des premiers foals vendus jusqu'à 12.000€ en décembre 2018.
Performances
2ème du Prix du Début à Saint-Cloud sur 900m en mars de ses 2 ans, Goken a aligné 3 victoires de rang à l'âge de 2 ans dont le premier Gr.3 réservé à la jeune génération, le Prix du Bois. Placé des Prix Robert Papin (Gr.2), Morny (Gr.1) et Critérium de Maisons-Laffitte (Gr.2), Goken a également remporté à 3 ans le Prix Texanita (Gr.3), les Golden Rose St. (Listed). A 4 ans en 2016, il s'est surtout placé 3ème des King's Stand St. (Gr.1) de Profitable à Royal Ascot.
Meilleures performances
3ème

King's Stand Stakes (Gr 1) (Plat) 1000m


Ascot (GB) - 2016
Statistiques
| Courses | Victoires | Place | Gains | Indice Distance * |
| --- | --- | --- | --- | --- |
| 22 | 5 | 7 | 400 963 € | 1200 m |
| | 22.73% | 31.82% | | |
* Moyenne des distances des victoires et places de courses Gr.1, Gr.2, Gr.3 et Listed en plat (arrondie à la centaine)
Pédigrée
Belle of Ireland

1964 (GB)

Fair Maid of Kent

1990 (USA)
Belle of the Ball

1958 (GB)

Money For Nothing

1962 (GB)

Northern Dancer

1961 (CAN)
Lignée maternelle
Télécharger au format PDF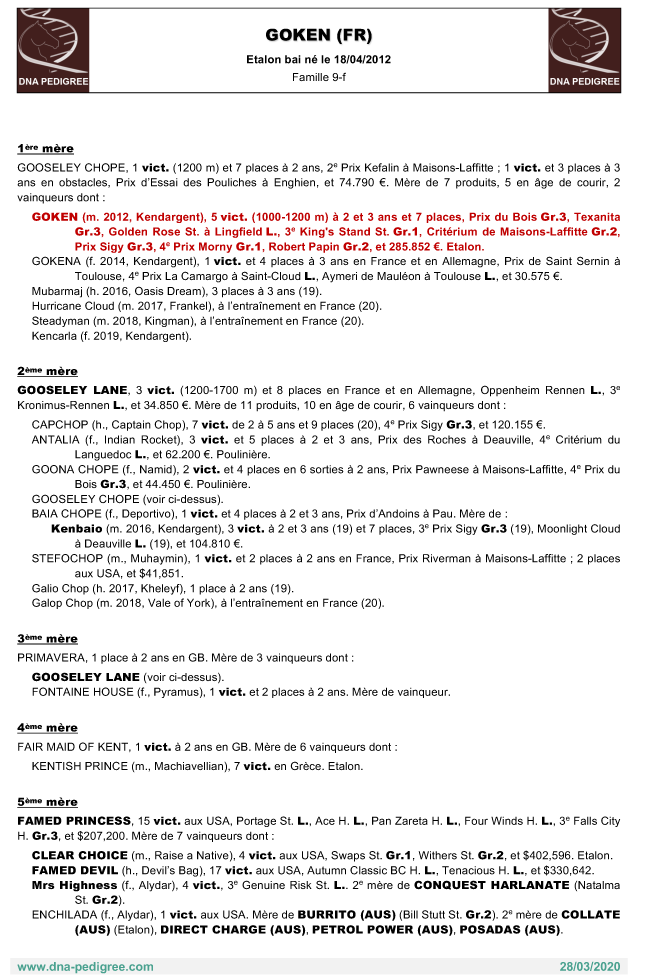 Générateur de pédigrée
Cet étalon n'a pas développé de formule de présentation complète (forfait premium).
Ventes & Shows
Retrouvez la liste des participations aux ventes et shows de l'étalon et de ses produits.
Salon des Etalons du Lion 2019 Le Lion d'Angers le 12/01/2019
Lot
Nom
Pere
Mere
Issue
43
Goken M12

Kendargent x Gooseley Chope

Kendargent
Gooseley Chope
Vente d'Elevage Deauville du 08/12/2018 au 11/12/2018
Lot
Nom
Pere
Mere
Issue
521
N (MISS STORMA 2018) F18

Goken x Miss Storma

Goken
Miss Storma
Racheté

7 000€

589
SINGAPORE TRIP M18

Goken x Singapore Treat

Goken
Singapore Treat

3 000€

ECURIE LM
591
N (SOFTLANDING 2018) F18

Goken x Softlanding

Goken
Softlanding

3 000€

Fresnay Agricole SAS
612
EUTHYDIKOS M18

Goken x Teth

Goken
Teth
Absent
625
THE WHITE FACE M18

Goken x Unepetitehistoire

Goken
Unepetitehistoire
Racheté

1 500€

674
FIRST BIRST F18

Goken x Borynga

Goken
Borynga
Racheté

6 000€

684
N (CALL ME UP 2018) M18

Goken x Call Me Up

Goken
Call Me Up

6 500€

Fresnay Agricole SAS
800
GLADIOLUS M18

Goken x Makisarde

Goken
Makisarde

12 000€

PETIT Guy
812
N (MEMORIES TSARINES 2018) F18

Goken x Memories Tsarines

Goken
Memories Tsarines

1 500€

NATAF Paul
Sales & Racing Festival Baden-Baden du 19/10/2018 au 20/10/2018
Lot
Nom
Pere
Mere
Issue
172
N (Singaporette 2018) M18

Goken x Singaporette

Goken
Singaporette

1 500€

HFTB Racing Agency für Chr. Holschbach
Le National de l'Obstacle Le Pin au Haras le 18/07/2018
Lot
Nom
Pere
Mere
Issue
97
YESNOMAYBE M18

Goken x talna

Goken
talna
Non classé
Route des Etalons Normandie du 21/01/2017 au 22/01/2017
Lot
Nom
Pere
Mere
Issue
11
Goken M12

Kendargent x Gooseley Chope

Kendargent
Gooseley Chope
Non classé
Production
Saillies & Naissances
Déclarées en France d'après les données gérées par le SIRE-POMPADOUR
2018
monte
2018
juments
saillies
61
naissances
déclarées
0
Saillies
ABOUSINDRA

par SINNDAR (IRE)

ADVENTUROUS LADY

par PEINTRE CELEBRE (USA)

APPLE KIMBI

par BEAUCHAMP KING (GB)

BAKOURA

par KOUROUN

BIGOUNE

par ORPEN (USA)

BONNE GARGOTTE

par POLIGLOTE (GB)

BYE BYE FUJI (USA)

par ELUSIVE QUALITY (USA)

CHI MAI (GB)

par SHIROCCO (GER)

COSACHOPE

par SOAVE (GER)

COURSEULLES

par MONSUN (GER)

DAMDAM FREEZE

par INDIAN ROCKET (GB)

DIVA AGGRESSIVA (GB)

par TOBOUGG (IRE)

DIVA DIVINA (CAN)

par TOUCH GOLD (USA)

DON'T LOOK BACK

par SLICKLY

EBA CHOPE

par DEPORTIVO (GB)

EVABIENCHOPE

par CAPTAIN CHOP

FAUSTINE

par POWER (GB)

FRISSONANTE (GB)

par SRI PEKAN (USA)

FUN VERGLAS

par VERGLAS (IRE)

FUN VICTOIRE

par VICTORY NOTE (USA)

HUKBA (IRE)

par ANABAA (USA)

I STAND CORRECTED (GB)

par EXCEED AND EXCEL (AUS)

ICE LOVE

par THREE VALLEYS (USA)

JADE COLOUR (IRE)

par PEINTRE CELEBRE (USA)

KARBAYOUNA

par KOUROUN

LA ROGERAIS

par VERGLAS (IRE)

LADY ANGELE

par SKI CHIEF (USA)

LANA (GER)

par MONTJEU (IRE)

LINK TO THE MOON

par RAIL LINK (GB)

LIPS ON SKIN (GB)

par AUTHORIZED (IRE)

LOUIS' LOVER

par ANABAA (USA)

LOVE KNOT (IRE)

par LOMITAS (GB)

MARCELA HOWARD (IRE)

par FASLIYEV (USA)

MATWAN

par INDIAN ROCKET (GB)

MAYA MARE (GB)

par MARJU (IRE)

MAYBE (GER)

par DASHING BLADE (GB)

MIDNIGHT MIRACLE (IRE)

par DANEHILL DANCER (IRE)

MISS VINGA

par HIGH ROCK (IRE)

MISSOURI BELLE (GB)

par INVINCIBLE SPIRIT (IRE)

NORWEGIAN LADY

par HOLD THAT TIGER (USA)

ORANOR

par STARBOROUGH (GB)

PAGERA

par GENTLEWAVE (IRE)

PONTE BAWI (IRE)

par DUBAWI (IRE)

PRINCESSE POLIA

par CREACHADOIR (IRE)

PURPLE SENSATION

par SLICKLY

REASON TRAOU LAND

par SECRET SINGER

ROODEE QUEEN (GB)

par KYLLACHY (GB)

SABADORA

par ANABAA (USA)

SECRET MARKS

par ECHO OF LIGHT (GB)

SHOW GORB (SPA)

par CARADAK (IRE)

SISTAH (IRE)

par INTELLO (GER)

STATE OF MIND

par PRIOLO (USA)

STORMYRA

par STORMY RIVER

STRANDS OF SILK (IRE)

par KODIAC (GB)

SUNILA

par MOTIVATOR (GB)

TEMSIA

par DELFOS (IRE)

TOP WAVE

par MEDAALY (GB)

TORECILLAS

par AZAMOUR (IRE)

TREBECCA STAR

par ORATORIO (IRE)

VAILLANTE (IRE)

par ZILZAL (USA)

VALYEVA

par ANABAA BLUE (GB)
2017
monte
2017
juments
saillies
93
naissances
déclarées
53
Naissances
ALBICOCCA

par NAAQOOS (GB)

: N. (M18 PS) - Myriam Bollack Badel
ANTE PORTAS (GER)

par AMERICAN POST (GB)

: N. (F18 PS) - E.a.r.l. Haras De L'hotellerie
AOLIDA

par ANABAA (USA)

: FLAMIX ARDENT (M18 PS) - Roxane Haubin
BAIE DES FLEURS

par CHELSEA MANOR (GB)

: N. (F18 PS) - Henri Soler
BELLE DE FRANCE

par MUHTATHIR (GB)

: CELEBORN (M18 PS) - E.a.r.l. Haras De Saint-Vincent
BHAYLANA (USA)

par DONERAILE COURT (USA)

: N. (M18 PS) - Marie-Laure Collet
BOCCA BIANCA (GER)

par SADDEX (GB)

: THANAELLE (F18 PS) - Elza Petit
BORYNGA

par LAYMAN (USA)

: FIRST BIRST (F18 PS) - Frederic Martineau
BRIGHT SMILE

par ELUSIVE CITY (USA)

: N. (M18 PS) - Annie Delarue
BUTTE MONTMARTRE

par MONTMARTRE

: N. (F18 PS)
BYBURG

par SAGEBURG (IRE)

: GO ATHLETICO (M18 PS) - Camille Vitse
CALL ME UP

par LAYMAN (USA)

: N. (M18 PS) - Sonia Thomas
DALAWYSA

par DALAKHANI (IRE)

: GOLD SHIVA (M18 PS) - Guy Pariente Holding Sprl
DANSE REVEE (IRE)

par MANDURO (GER)

: TROBREIZH (M18 PS) - S.c.e.a. Haras Des Evees
DOVIMA (IRE)

par DREAM WELL

: N. (M18 PS) - Haras De Sainte Gauburge
FA UL CUNCERT (GB)

par POET'S VOICE (GB)

: GOYAVA (F18 PS) - Guy Pariente Holding Sprl
FAMILY STORY

par GOLD AWAY (IRE)

: FETE (F18 PS) - Guillaume Lefebvre
FIRST CHOPE

par INDIAN ROCKET (GB)

: GO VAL CHOP (M18 PS)
FUN VERGLAS

par VERGLAS (IRE)

: GOFUN (M18 PS) - Guy Pariente Holding Sprl
GIPSYS PRIDE

par ELUSIVE QUALITY (USA)

: N. (F18 PS) - Rashit Shaykhutdinov-Viraz
GOODBYE MARYLOU (USA)

par DIXIELAND BAND (USA)

: MELROSA (F18 PS) - Genevieve Neveux
HELENIADE

par ENTREPRENEUR (GB)

: N. (F18 PS) - Gerard Ferron
INCURSION

par CACIQUE (IRE)

: GO AND GOOD LUCK (M18 PS) - Frederic Aimez
JABBERWOCKY (GB)

par CATCHER IN THE RYE (IRE)

: JOJOGO (F18 PS)
KEY SUCCESS (IRE)

par KODIAC (GB)

: AXDAVALI (M18 PS) - Camille Vitse
KIANGA (GB)

par CADEAUX GENEREUX (GB)

: LAGOKEN (F18 PS) - Xavier Richard
LADY CALAS

par NUMEROUS (USA)

: ROI DE CALAS (M18 PS)
LAIA CHOPE

par SOAVE (GER)

: LIVACHOPE (F18 PS)
MAGICAL FLOWER (GB)

par OASIS DREAM (GB)

: N. (F18 PS) - Simon Holt
MAKISARDE

par XAAR (GB)

: GLADIOLUS (M18 PS) - Josseline Hulin
MAPIYA (GB)

par GREEN TUNE (USA)

: N. (M18 PS) - S.c.e.a. Haras De La Perelle
MEMORIES TSARINES

par KING'S BEST (USA)

: N. (F18 PS) - Emadadein Alhtoush
MISS STORMA

par AIR CHIEF MARSHAL (IRE)

: N. (F18 PS) - E.a.r.l. La Motteraye
MY PRINCESS

par SOAVE (GER)

: SWEEPER CHOP (M18 PS)
NERA DIVINE

par DIVINE LIGHT (JPN)

: SITI BINTI (F18 PS)
NORDICAN QUEEN

par CHINEUR

: IRIS D'ARGENT (F18 PS) - Norbert Doisneau
NORWEGIAN LADY

par HOLD THAT TIGER (USA)

: GAMINO (M18 PS) - Guy Pariente Holding Sprl
ORANOR

par STARBOROUGH (GB)

: KENOR (M18 PS) - Guy Pariente Holding Sprl
PEARLRED

par REDBACK (GB)

: MISS LOUNA (F18 PS) - Xavier Richard
PEPPERROSE (GER)

par BIG SHUFFLE (USA)

: N. (F18 PS) - Larissa Kneip
QUEEN OF WANDS (GB)

par SAKHEE (USA)

: N. (F18 PS) - Charles Barel
SEE YOUR DREAM (GB)

par SIYOUNI

: N. (F18 PS) - Julie Morgan
SHOW GORB (SPA)

par CARADAK (IRE)

: GOLIA (F18 PS) - Guy Pariente Holding Sprl
SINGAPORE TREAT

par SAGACITY

: SINGAPORE TRIP (M18 PS) - S.a.s. Haras De La Huderie
SOFTLANDING (IRE)

par NASHWAN (USA)

: N. (F18 PS) - S.a.s. Haras De La Huderie
SUNILA

par MOTIVATOR (GB)

: SWING IN DEAUVILLE (F18 PS) - Delphine Delacroix
TALNA

par DYHIM DIAMOND (IRE)

: YESNOMAYBE (M18 PS) - Sabrina Czyz
TETH (GB)

par DANSILI (GB)

: EUTHYDIKOS (M18 PS) - Jacques Herold
TOUT UNE HISTOIRE

par LOPE DE VEGA (IRE)

: N. (F18 PS)
TRANSCENDANTE

par TREMPOLINO (USA)

: KIMINA (F18 PS) - Eric Lemaitre
UNEPETITEHISTOIRE

par SAGACITY

: THE WHITE FACE (M18 PS) - Beranger Bussy
UNION SACREE

par NAAQOOS (GB)

: N. (M18 PS) - Mathieu Daguzan-Garros
VESLY

par LE HAVRE (IRE)

: ISLEY GALESTE (M18 PS) - Evelyne Poitevin
Saillies
APRILANA

par TURTLE BOWL (IRE)

ASQUE (GB)

par DANSILI (GB)

BECQUASPEED

par COUNTRY REEL (USA)

BELLE DE L'OUEST

par QUAI VOLTAIRE (USA)

BERING NOTE

par BERING (GB)

BEYOND THE DREAM (USA)

par FUSAICHI PEGASUS (USA)

CELESTIA (GB)

par ANABAA (USA)

CHEAM KSAH (IRE)

par HURRICANE RUN (IRE)

CHRISIIDA (GER)

par WINGED LOVE (IRE)

DAMDAM FREEZE

par INDIAN ROCKET (GB)

DICARA (GER)

par ROYAL APPLAUSE (GB)

DIKTA MELODY

par DIKTAT (GB)

DIYANA

par NAAQOOS (GB)

EGERY

par TAKE RISKS

FAIRY DRESS (USA)

par FASLIYEV (USA)

GHADA AMER

par ANABAA (USA)

KATKAR

par ASTRONOMER ROYAL (USA)

KERVELLANE AVENUE

par DIKTAT (GB)

KINDLY DISMISS

par EXCELLENT ART (GB)

LENI RIEFENSTAHL (IRE)

par MULL OF KINTYRE (USA)

LIBERTY IN LOVE

par STATUE OF LIBERTY (USA)

LINGREVILLE

par LE HAVRE (IRE)

LITTLE STONE

par ONE COOL CAT (USA)

MANIXA

par MANNINAMIX (GB)

MATWAN

par INDIAN ROCKET (GB)

MISS BRIDGET

par ZAMINDAR (USA)

NOOR FOREVER

par HIGHEST HONOR

NORWEGIAN PRINCESS (IRE)

par FAIRY KING (USA)

PRINCESS ROSEBURG (USA)

par JOHANNESBURG (USA)

PSYCHE

par AMERICAN POST (GB)

RETHRA (IRE)

par ELUSIVE CITY (USA)

SABADORA

par ANABAA (USA)

SINGAPORETTE

par SAGACITY

SNOW JASMINE (IRE)

par EXCEED AND EXCEL (AUS)

SONG OF HOPE (GER)

par MONSUN (GER)

SUGARLEGS (IRE)

par BERTOLINI (USA)

TES YEUX BLEU

par KENTUCKY DYNAMITE (USA)

TISHKARA

par XAAR (GB)

WINTERLIEBE (GER)

par BIG SHUFFLE (USA)

ZILLIONE

par ANABAA BLUE (GB)
2016
monte
2016
juments
saillies
0
naissances
déclarées
0
2015
monte
2015
juments
saillies
0
naissances
déclarées
0
2014
monte
2014
juments
saillies
0
naissances
déclarées
0
2013
monte
2013
juments
saillies
0
naissances
déclarées
0
2012
monte
2012
juments
saillies
0
naissances
déclarées
0
Jumenterie France Sire
Etalons présents parmis les plans de monte et/ou produits des élevages suivants