THE GREY GATSBY
2011 (IRE)
MASTERCRAFTSMAN et MARIE VISON par ENTREPRENEUR
Gris / 2011 / 1.62m / Haras 2018
7.000€ en 2019
Stationné à : Haras du Petit Tellier
Un gagnant du Prix du Jockey-Club en temps record est arrivé au Haras du Petit Tellier en 2018, The Grey Gatsby débute sa carrière d'étalon après une très riche carrière sportive sur les pistes. Premier fils de Mastercraftsman à faire la monte dans l'Hexagone, descendant de Maximova, de la famille de Malibu Moon, The Grey Gatsby a battu deux vainqueurs de Derby dont Australia dans les Irish Champion Stakes à 3 ans.
1ers foals en 2019.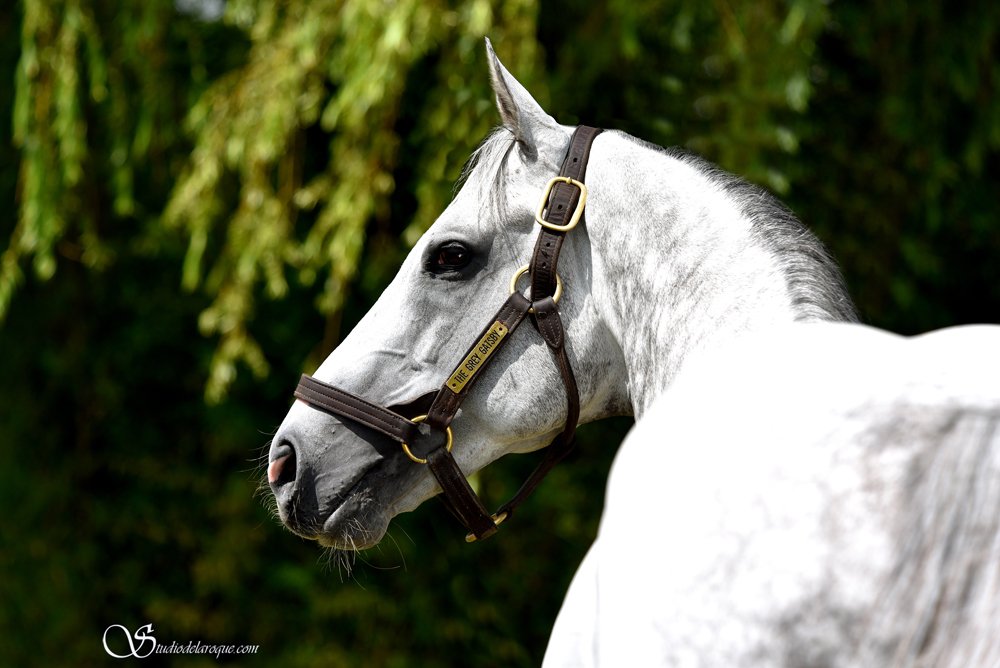 Performances
Meilleur 3 ans au monde en 2014 (classement Racing Post) avec Australia et Kingman, The Grey Gatsby est gagnant dès sa première sortie en juillet de ses 2 ans puis placé de Gr.3 et Gr.2. A 3 ans, il est 2e des Craven St. (Gr.3 préparatoire aux 2000 Guineas) devant Postponed puis fait sien les Dante St. (Gr.2 préparatoire au Derby). The Grey Gatsby laisse Epsom et privilégie Chantilly pour le Prix du Jockey-Club qu'il gagne avec facilité.
Dauphin d'Australia dans les Juddmonte International St. (Gr.1) à York, il prend sa revanche quelques jours plus tard en battant le "Derby winner" dans les Irish Champion Stakes mais aussi le gagnant de l'Irish Derby Trading Leather dans les Irish Champion Stakes dont il détient le record pour un mâle.
A 4 ans, The Grey Gatsby est excellent 2e de Solow dans la Dubaï Turf (Gr.1) et se place dans les meilleurs Gr.1 réservés aux chevaux de distances intermédiaires comme dans les Prince Of Wales's St. (2e de Free Eagle), Eclipe St. (2e de Golden Horn) ou encore Juddmonte International St. (3e d'Arabian Queen et Golden Horn). Encore placé de Gr.1, Gr.2 et Gr.3 à 5 et 6 ans.
Meilleures performances
2ème

Princess of Wales's Arqana Racing Club Sta... (Gr 2) (Plat) 2400m


Newmarket (GB) - 2016

2ème

Pinsent Masons LLP Acomb Stakes (Gr 3) (Plat) 1400m


York (GB) - 2013

1er

John Smith's Median Auction Maiden Stakes (Plat) 1200m


York (GB) - 2013
Statistiques
| Courses | Victoires | Place | Gains | Indice Distance * |
| --- | --- | --- | --- | --- |
| 28 | 4 | 15 | 3 374 659 € | 2000 m |
| | 14.29% | 53.57% | | |
* Moyenne des distances des victoires et places de courses Gr.1, Gr.2, Gr.3 et Listed en plat (arrondie à la centaine)
Pédigrée
The Grey Gatsby

2011 (IRE)
Mastercraftsman

2006 (IRE)
Danehill Dancer

1993 (IRE)

Starlight Dreams

1995 (USA)
Black Tie Affair

1986 (IRE)

Exclusive Order

1979 (USA)
Northern Dancer

1961 (CAN)

Exclusive Native

1965 (USA)
Northern Dancer

1961 (CAN)

Hopespringseternal

1971 (USA)

Desperate Action

1971 (USA)

Northern Dancer

1961 (CAN)
Lignée maternelle
Télécharger au format PDF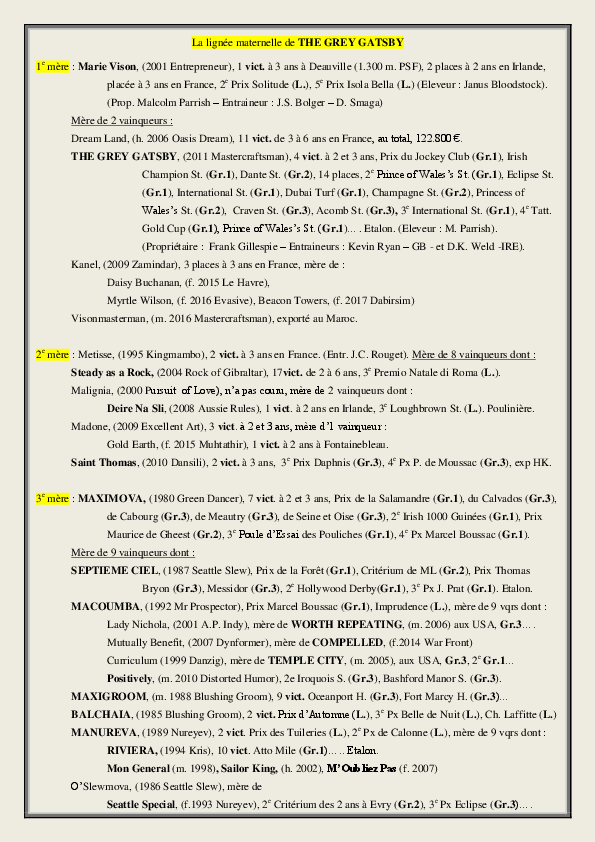 Générateur de pédigrée
Cet étalon n'a pas développé de formule de présentation complète (forfait premium).
Ventes & Shows
Retrouvez la liste des participations aux ventes et shows de l'étalon et de ses produits.
Arqana Awards Deauville le 08/02/2015
Lot
Nom
Pere
Mere
Issue
11
The Grey Gatsby M11

Mastercraftsman x Marie Vison

Mastercraftsman
Marie Vison
1er
Breeze Up St Cloud le 11/05/2013
Lot
Nom
Pere
Mere
Issue
5
The Grey Gatsby M11

Mastercraftsman x Marie Vison

Mastercraftsman
Marie Vison

120 000€

STEPHEN HILLEN BLOODSTOCK
Vente de Yearlings Deauville du 22/10/2012 au 24/10/2012
Lot
Nom
Pere
Mere
Issue
19
The Grey Gatsby M11

Mastercraftsman x Marie Vison

Mastercraftsman
Marie Vison

24 000€

HILLEN Stephen
Production
Saillies & Naissances
Déclarées en France d'après les données gérées par le SIRE-POMPADOUR
2018
monte
2018
juments
saillies
99
naissances
déclarées
0
Saillies
A MA YA

par SLICKLY

ACOLA

par ACATENANGO (GER)

ADOLFINA (GER)

par SHOLOKHOV (IRE)

AGENT ERROR (IRE)

par IFFRAAJ (GB)

AL KHATEYA (GB)

par ACCLAMATION (GB)

ALIYESKA (IRE)

par FASLIYEV (USA)

ALPEN GLEN (GB)

par HALLING (USA)

ALWINA (GER)

par AREION (GER)

AMOUAGE (GER)

par TIGER HILL (IRE)

AQUA ALTA

par ANGE GABRIEL

ASTER NOX (USA)

par ELUSIVE QUALITY (USA)

AUTO ROUGE (IRE)

par TESTA ROSSA (AUS)

BAILEYS APPLAUSE (GB)

par ROYAL APPLAUSE (GB)

BAKI

par TURTLE BOWL (IRE)

BARACOA (SWI)

par LLANDAFF (USA)

BREIZH UP (IRE)

par DYLAN THOMAS (IRE)

BRITNEY

par KHELEYF (USA)

CAZORLA (IRE)

par ENTREPRENEUR (GB)

CORNUCOPIA

par KALDOUNEVEES

DORIANA

par KENDOR

DREAMTIC

par HERNANDO

DROLE DE DAME (IRE)

par ANABAA (USA)

DUBAI EMPRESS (IRE)

par DUBAWI (IRE)

EVIDENCE

par EXCELLENT ART (GB)

EXETER

par KABOOL (GB)

FIRST SHOW

par REDOUTE'S CHOICE (AUS)

FLOWERS FOR AYESHA

par CHOISIR (AUS)

FROM THIS DAY ON (USA)

par EL PRADO (IRE)

GENTLE TAP (GB)

par BEAT HOLLOW (GB)

GOLDTARA

par GOLD AWAY (IRE)

GOLDY HONOR

par HIGHEST HONOR

GRIBATUNE

par GREEN TUNE (USA)

HALI LAYALI (GB)

par GREEN DESERT (USA)

HAMIDA (USA)

par JOHANNESBURG (USA)

HIGH LIMITS (IRE)

par HIGH CHAPARRAL (IRE)

HIJAZIYAH (GB)

par TESTA ROSSA (AUS)

HIORT (IRE)

par RIP VAN WINKLE (IRE)

INDIAN CAT (IRE)

par ONE COOL CAT (USA)

INFAMIA (POL)

par TEMPELWAECHTER (GER)

INTELLINGENCIA

par SLICKLY

INTIGRIS (GER)

par ADLERFLUG (GER)

IT'S MY HORSE

par ENRIQUE (GB)

JUSQUIAME NOIRE (IRE)

par HOLY ROMAN EMPEROR (IRE)

KAMELLATA

par POMELLATO (GER)

KEROSENE NOIRE

par REDBACK (GB)

KIKINDA

par DALIAPOUR (IRE)

LA BERLIOZ

par KENTUCKY DYNAMITE (USA)

LA HAYE (GB)

par ACCLAMATION (GB)

LADY CALIDO (USA)

par EL PRADO (IRE)

LADY TOP

par AL NAMIX

LEGGY LIZZY

par LE HAVRE (IRE)

LIGHT SABER

par KENDOR

LIGHT SHINE (GB)

par DANSILI (GB)

LILY PARAMOUNT

par HURRICANE CAT (USA)

LITTERATURE

par ALEXANDROS (GB)

MA PREFERENCE

par AMERICAN POST (GB)

MACINA (IRE)

par PLATINI (GER)

MAKE UP (GB)

par KYLLACHY (GB)

MAKWETI (GB)

par MAKFI (GB)

MAMITADOR (GB)

par ANABAA (USA)

MARIE LOVE

par LE HAVRE (IRE)

MARY'S PRECEDENT

par STORMING HOME (GB)

MASAKO (IRE)

par HIGH CHAPARRAL (IRE)

MINORIS

par DABIRSIM

MONTEAMIATA (IRE)

par DREAM AHEAD (USA)

MOON GIANT (USA)

par GIANT'S CAUSEWAY (USA)

MOONEE VALLEY

par AQLAAM (GB)

NANTY (IRE)

par NASHWAN (USA)

ON POINT (USA)

par PULPIT (USA)

PARADISE SEARCH (IRE)

par RAINBOW QUEST (USA)

PELDRINE

par PELDER (IRE)

PERMAISURI (IRE)

par SEA THE STARS (IRE)

PRETTY LADY (GER)

par SILVANO (GER)

QUEEN TO BE (IRE)

par KING'S BEST (USA)

QUINDIANA

par LINNGARI (IRE)

RAFALE BERE

par VERGLAS (IRE)

RIYNAAZ (IRE)

par CAPE CROSS (IRE)

ROCKY MIXA

par ROCK OF GIBRALTAR (IRE)

RONDA (GB)

par BLUEBIRD (USA)

ROSE THE ONE

par MESHAHEER (USA)

SCARLET SONNET (IRE)

par INVINCIBLE SPIRIT (IRE)

SECRET (GER)

par SOLDIER HOLLOW (GB)

SHANAKILLA

par LORD SHANAKILL (USA)

SHAPE THE SKY

par LE HAVRE (IRE)

SHAZANA (IRE)

par MANDURO (GER)

SHILLY SHALLY (GB)

par PIVOTAL (GB)

SILENT NIGHT

par WAY OF LIGHT (USA)

SLITANA

par DANSILI (GB)

SNOW VALLEY

par CHOISIR (AUS)

SOMA BAY

par BAHRI (USA)

TARAWA

par GREEN TUNE (USA)

TEMPERA NOIRE

par MIESQUE'S SON (USA)

TUCUPITA (USA)

par ZENSATIONAL (USA)

UMAIMAH (USA)

par SPEIGHTSTOWN (USA)

UTOPIA JEM

par OKAWANGO (USA)

VALLEY GIRL

par MOTIVATOR (GB)

VILLA MOLITOR

par MUHTATHIR (GB)

WINOGRAFA (GB)

par TEOFILO (IRE)

YMLAEN (IRE)

par DESERT PRINCE (IRE)
2017
monte
2017
juments
saillies
0
naissances
déclarées
0
2016
monte
2016
juments
saillies
0
naissances
déclarées
0
2015
monte
2015
juments
saillies
0
naissances
déclarées
0
2014
monte
2014
juments
saillies
0
naissances
déclarées
0
2013
monte
2013
juments
saillies
0
naissances
déclarées
0
2012
monte
2012
juments
saillies
0
naissances
déclarées
0
Jumenterie France Sire
Etalons présents parmis les plans de monte et/ou produits des élevages suivants