ON EST BIEN
2006 (IRE)
ENRIQUE et DOUCELISA par CARDOUN
Bai / 2006 / 1.65m / Haras 2011
1.200€ en 2020
Stationné à : Haras de Vains
Unique fils d'Enrique en France, gagnant en débutant à 2 ans en juin puis lauréat du Prix La Force (Gr.3) à 3 ans, On Est Bien a obtenu des résultats extraordinaires avec ses 3 premières générations malgré le très peu de juments saillies. . Il a fait sa 1e saison dans l'ouest en 2017, d'où la naissance de foals très remarqués. Sa production compte de bons éléments comme Apollo Creed et Chuck Bass, et de bonnes statistiques.
Nouveau au Haras de Vains dans la Manche en 2020, à 1200 € HT/PV.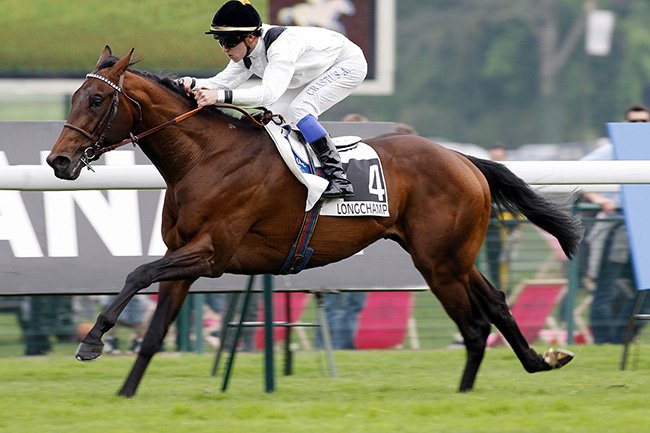 Performances
Précoce, vainqueur en débutant en juin de ses 2 ans sur 1200 m à Chantilly, il a remporté de façon impressionnante le Prix La Force (Gr.3) après avoir battu Fuissé et Cavalryman dans le Prix François Mathet (Listed). Spécialiste des distances intermédiaires.
Meilleures performances
1er

Prix de la force (Gr 3) (Plat) 2000m


Longchamp - 2009

2ème

Prix François Mathet (L) (Plat) 2000m


Saint-Cloud - 2009

1er

Prix Youth (Plat) 2000m


St Cloud - 2009

1er

Prix du soleil de Bretagne (Plat) 1200m


Chantilly - 2008
Statistiques
| Courses | Victoires | Place | Gains | Indice Distance * |
| --- | --- | --- | --- | --- |
| 6 | 3 | 2 | 88 100 € | 2000 m |
| | 50% | 33.33% | | |
* Moyenne des distances des victoires et places de courses Gr.1, Gr.2, Gr.3 et Listed en plat (arrondie à la centaine)
Généalogie
Northern Dancer

1961 (CAN)

Spring Sunshine

1966 (USA)

Fabulous Dancer

1976 (USA)
-

-

Northern Dancer

1961 (CAN)

Last Of The Line

1967 (USA)

Northern Dancer

1961 (CAN)

Charlottesville

1957 (IRE)
Les références de Enrique 1996 GB par DNA Pedigree
ENRIQUE (GB)
, bai, né en 1996, par
Barathea
et
Gwydion
par
Raise A Cup
Mère gagnante de Gr.3 et placée de Gr.1 (3e July Cup et King's Stand St.), et issue d'une sœur utérine de Armistice (Grand Prix de Paris Gr.1) et Twice Worthy (Monmouth Inv'l Gr.1, Suburban H. Gr.1).
8 courses à 2 et 3 ans, 3 vict. (1400 m), 5 places, Greenham St. (Gr.3), Somerville Tattersall St. (L.), 2e 2000 Guineas St. (Gr.1), Irish 2000 Guineas St. (Gr.1), Jersey St. (Gr.3), et 244.644 €.
Entré au haras en 2001
(Disparu en 2015).
Production sur Plat
Production en Obstacle
OBRIGADO
(Funambule), San Luis Obispo H.
Gr.2
, 2e Hollywood Derby
Gr.1
, Hollywood Turf Cup
Gr.1
ON EST BIEN
(Cardoun), Prix La Force
Gr.3
BABY FIRST
(Alleged)
FETAN JOA
(Grape Tree Road), Prix Saraca
L.
FONTCIA
(Homme de Loi)
TROQUE
(Double Bed)…
BINOCULAR
(Pistolet Bleu), Christmas Hurdle
(Gr.1)
, Aintree Anniv. 4yo Hurdle
(Gr.1)
BLOOD COTIL
(Northern Crystal), Juvenile Hurdle
(Gr.2)
, Prix de Longchamp
(Gr.3)
, 2e Punchestown Champion 4yo Hurdle
(Gr.1)
SAXO SOL
(Mansonnien), Gran Premio Steeplechase d'Italia
(Gr.2)
(18)
AVENUE MARCEAU
(Saint Estèphe), Prix de Maisons-Laffitte
(Gr.3)
BLINGLESS
(Sicyos), Prix de Pépinvast
(Gr.3)
, 2e Prix Cambacérès
(Gr.1)
, 3e Prix Alain du Breil
(Gr.1)
SLIM PEARL
(Saumarez), Prix Bournosienne
(Gr.3)
EXTREME SUD
(Kaldoun)
FRACA DE THAIX
(Ragmar) (18)
KADA RIQUE
(Kadalko)
LE CHATEAU
(Poliglote)
SEABREEZE D'HO
(Valanour)
TROQUE
(Double Bed)
URANO
(Cyborg)...
Générateur de pédigrée
Cet étalon n'a pas développé de formule de présentation complète (forfait premium).
Ventes & Shows
Retrouvez la liste des participations aux ventes et shows de l'étalon et de ses produits.
Breeze Up Online en direct La Teste le 27/05/2020
Lot
Nom
Pere
Mere
Issue
32
SACRE PIERRE M18

On Est Bien x Goldance

On Est Bien
Goldance

8 000€

MCCAIN DONALD
Salon des Etalons du Lion Lion d'Angers le 11/01/2020
Lot
Nom
Pere
Mere
Issue
42
On Est Bien M06

Enrique x Doucelisa

Enrique
Doucelisa
Spring Store Sale Doncaster le 21/05/2019
Lot
Nom
Pere
Mere
Issue
20
Rainbow Storm H16

On Est Bien x Rainbow Oceane

On Est Bien
Rainbow Oceane

4 000£

Highflyer Bloodstock
Breeze-Up La Teste du 10/04/2019 au 11/04/2019
Lot
Nom
Pere
Mere
Issue
58
Gold Tweet H17

On Est Bien x Goldance

On Est Bien
Goldance

14 000€

AGV KARWIN STUD
Vente Mixte de Février Deauville du 12/02/2019 au 13/02/2019
Lot
Nom
Pere
Mere
Issue
143
N (Peninsula 2018) F18

On Est Bien x Peninsula

On Est Bien
Peninsula
Non vendu

1 000€

Salon des Etalons du Lion 2019 Le Lion d'Angers le 12/01/2019
Lot
Nom
Pere
Mere
Issue
7
On Est Bien M06

Enrique x Doucelisa

Enrique
Doucelisa
Vente d'Automne Deauville du 19/11/2018 au 21/11/2018
Lot
Nom
Pere
Mere
Issue
362
On Est Extra M17

On Est Bien x Autoritaire

On Est Bien
Autoritaire

2 000€

SARL IMPERIAL BLOODSTOCK
Show AQPS Le Lion d'Angers le 23/08/2018
Lot
Nom
Pere
Mere
Issue
17
Iconerusse M18

On Est Bien x Tuffe

On Est Bien
Tuffe
Absent
44
Istoar de Montave M18

On Est Bien x Just In

On Est Bien
Just In
Non classé
Salon des Etalons du Lion Le Lion d'Angers le 13/01/2018
Lot
Nom
Pere
Mere
Issue
70
On Est Bien M06

Enrique x Doucelisa

Enrique
Doucelisa
Vente d'Automne Deauville du 20/11/2017 au 22/11/2017
Lot
Nom
Pere
Mere
Issue
340
Rainbow Storm H16

On Est Bien x Rainbow Oceane

On Est Bien
Rainbow Oceane

4 500€

MILL HOUSE STUD
Open Yearling Sale 2017 Kill du 25/10/2017 au 26/10/2017
Lot
Nom
Pere
Mere
Issue
594
Gold Eagle H16

On Est Bien x Gold Queen

On Est Bien
Gold Queen

13 000€

Ivan Clarke
Vente d'obstacle Fairyhouse le 31/01/2017
Lot
Nom
Pere
Mere
Issue
128
Rainbow Storm H16

On Est Bien x Rainbow Oceane

On Est Bien
Rainbow Oceane
Racheté

7 000€

Salon des Etalons Le Lion d'Angers le 14/01/2017
Lot
Nom
Pere
Mere
Issue
53
On Est Bien M06

Enrique x Doucelisa

Enrique
Doucelisa
Non classé
Land Rover Sale Part 1 Kill du 07/06/2016 au 08/06/2016
Lot
Nom
Pere
Mere
Issue
127
N (Melanie Du Chenet 2013) H13

On Est Bien x Melanie Du Chenet

On Est Bien
Melanie Du Chenet

6 000€

Michael Kennedy & Jack Kennedy
Vente de yearlings La Teste du 12/09/2013 au 13/09/2013
Lot
Nom
Pere
Mere
Issue
135
Snow Guest F12

On Est Bien x Convent Guest

On Est Bien
Convent Guest
Racheté

8 000€
Production
Récents vainqueurs
Meilleurs produits
30/06/2020 - Elypson (5a) - Aix-Les-Bains (Plat) - 2000m
17/05/2020 - Gold Tweet (3a) - Vichy (Haies) - 3300m
08/11/2019 - Sinaloa (3a) - Saint-Galmier (Plat) - 2350m
03/11/2019 - Abbarezt (5a) - Meslay-du-Maine (Steeple) - 4200m
06/10/2019 - Amie Intime (7a) - Biguglia (Plat) - 2400m
22/09/2019 - Elypson (4a) - Divonne-Les-Bains (Plat) - 2400m
15/09/2019 - Amie Intime (7a) - Biguglia (Plat) - 2400m
01/08/2019 - Elypson (4a) - Saint-Malo (Plat) - 1800m
30/03/2019 - Chuck Bass (4a) - Nimes (Steeple) - 3400m
06/03/2019 - Amie Intime (7a) - Marseille Pont de Vivaux (Plat) - 2000m
30/06/2018 - Amie Intime (6a) - Marseille Pont de Vivaux (Plat) - 2000m
12/06/2018 - Elypson (3a) - Aix-Les-Bains (Plat) - 2000m
22/03/2018 - Scandaleux (5a) - Fontainebleau (Plat) - 2200m
07/02/2018 - Scandaleux (5a) - Cagnes-sur-Mer (Plat) - 3200m
08/12/2017 - Apollo Creed (3a) - Cagnes-sur-Mer (Haies) - 3400m
05/10/2017 - Apollo Creed (3a) - Compiegne (Haies) - 3400m
28/05/2017 - Viva Cuba (5a) - Biguglia (Plat) - 2400m
30/10/2016 - Scandaleux (3a) - Saint-Cloud (Plat) - 2100m
23/10/2016 - Viva Cuba (4a) - Cavaillon (Plat) - 2200m
18/09/2016 - Scandaleux (3a) - Compiegne (Plat) - 2000m
10/04/2016 - Best Filly (3a) - Lisieux (Plat) - 1900m
18/12/2015 - Amie Intime (3a) - Pornichet (Plat) - 2100m
28/10/2015 - Christal House (3a) - Maisons-Laffitte (Plat) - 3000m
05/12/2014 - Viva Cuba (2a) - Marseille Pont de Vivaux (Plat) - 2000m
18/11/2014 - Elegante (2a) - Saint-Cloud (Plat) - 2000m
22/06/2014 - Snow Guest (2a) - Aix-Les-Bains (Plat) - 1200m
30/06/2020 - Elypson (5a) - Aix-Les-Bains (Plat) - 2000m
17/05/2020 - Gold Tweet (3a) - Vichy (Haies) - 3300m
08/11/2019 - Sinaloa (3a) - Saint-Galmier (Plat) - 2350m
03/11/2019 - Abbarezt (5a) - Meslay-du-Maine (Steeple) - 4200m
06/10/2019 - Amie Intime (7a) - Biguglia (Plat) - 2400m
22/09/2019 - Elypson (4a) - Divonne-Les-Bains (Plat) - 2400m
15/09/2019 - Amie Intime (7a) - Biguglia (Plat) - 2400m
01/08/2019 - Elypson (4a) - Saint-Malo (Plat) - 1800m
30/03/2019 - Chuck Bass (4a) - Nimes (Steeple) - 3400m
06/03/2019 - Amie Intime (7a) - Marseille Pont de Vivaux (Plat) - 2000m
30/06/2018 - Amie Intime (6a) - Marseille Pont de Vivaux (Plat) - 2000m
12/06/2018 - Elypson (3a) - Aix-Les-Bains (Plat) - 2000m
22/03/2018 - Scandaleux (5a) - Fontainebleau (Plat) - 2200m
07/02/2018 - Scandaleux (5a) - Cagnes-sur-Mer (Plat) - 3200m
08/12/2017 - Apollo Creed (3a) - Cagnes-sur-Mer (Haies) - 3400m
05/10/2017 - Apollo Creed (3a) - Compiegne (Haies) - 3400m
28/05/2017 - Viva Cuba (5a) - Biguglia (Plat) - 2400m
30/10/2016 - Scandaleux (3a) - Saint-Cloud (Plat) - 2100m
23/10/2016 - Viva Cuba (4a) - Cavaillon (Plat) - 2200m
18/09/2016 - Scandaleux (3a) - Compiegne (Plat) - 2000m
10/04/2016 - Best Filly (3a) - Lisieux (Plat) - 1900m
18/12/2015 - Amie Intime (3a) - Pornichet (Plat) - 2100m
28/10/2015 - Christal House (3a) - Maisons-Laffitte (Plat) - 3000m
05/12/2014 - Viva Cuba (2a) - Marseille Pont de Vivaux (Plat) - 2000m
18/11/2014 - Elegante (2a) - Saint-Cloud (Plat) - 2000m
22/06/2014 - Snow Guest (2a) - Aix-Les-Bains (Plat) - 1200m
Statistiques production en france
à jour le 07/06/2019
| Courses | Victoires | Place | Gains |
| --- | --- | --- | --- |
| 309 | 18 | 132 | 704 961 € |
| | 5.83% | 42.72% | |
Saillies & Naissances
Déclarées en France d'après les données gérées par le SIRE-POMPADOUR
2020
monte
2020
juments
saillies
12
naissances
déclarées
0
2019
monte
2019
juments
saillies
13
naissances
déclarées
1
Naissances
IRISH TOUR

par IRISH WELLS

: FEE NOMEN (F20 PS) - Anne Jehanno
Saillies
AUREA DU VERGER

par AMBROISE

BALKEVIE

par KHALKEVI (IRE)

DIVINE WELLS

par IRISH WELLS

DREAM'S BURG

par SAGEBURG (IRE)

HELIOMARINE

par HELIOSTATIC (IRE)

JACIANNE

par FABULOUS DON (SPA)

LUTH MAGIC

par SAINT CYRIEN

MADISONE FOOL

par USEFUL

QUELLY

par HOMME DE LOI (IRE)

QUORISANDRE

par PASSING SALE

RED CITY (GER)

par TIGER HILL (IRE)

SOVEN

par FABULOUS DON (SPA)
2018
monte
2018
juments
saillies
10
naissances
déclarées
6
Naissances
AZARRA (IRE)

par GREEN TUNE (USA)

: AYOUMI (F19 PS) - Nicole Schlatter
EMPEROR'S PRINCESS

par HOLY ROMAN EMPEROR (IRE)

: ON EST FEN (M19 PS)
QUINZA

par FUNNY BABY

: JONQUIN (M19 AQPS) - Patrick Le Gloannec
SUMIKO (GB)

par FANTASTIC LIGHT (USA)

: MISUKO (F19 PS) - Laurent Le Texier
TURGIT D'ACADOUR

par TURGEON (USA)

: JABADAO VOUSTER (M19 AQPS)
WHITE VILLE

par LE HAVRE (IRE)

: A NOS SOUVENIRS (M19 PS) - Claire Taupin
Saillies
BOLERO D'AZUR

par VERGLAS (IRE)

KAMILLE II

par DADARISSIME

SATI BELLA

par SATRI (IRE)

SHINAWAY

par GOLD AWAY (IRE)
2017
monte
2017
juments
saillies
28
naissances
déclarées
23
Naissances
ALICENORA

par ASTRONOMER ROYAL (USA)

: MISHKA DES MOTTES (M18 PS) - E.a.r.l. Ecurie Des Mottes
BLOANE

par DANO MAST (GB)

: ISLEBRIAND (M18 AQPS)
COMECA

par SMADOUN

: ITSLIKETHAT (M18 AQPS) - Haras De La Rousseliere
FLEUR DIVINE

par DENHAM RED

: BIEN DIVIN (M18 PS) - Damien Cadot
GOLDANCE

par GOLDNEYEV (USA)

: SACRE PIERRE (M18 PS) - Elie Lellouche
JUST IN

par START FAST

: ISTOAR DE MONTAVE (H18 AQPS) - Anthony Bonichon
KAI JI

par MY RISK

: SOLAUCE GREE (M18 PS) - Tanguy Hallier
KESTREL MAIL

par CRICKET BALL (USA)

: HIERACHY (F18 PS)
MAYAN SILVER

par KENDARGENT

: MASHA DES MOTTES (F18 PS) - E.a.r.l. Ecurie Des Mottes
MIRTA

par PERRAULT (GB)

: IPONE (M18 AQPS) - Haras De La Rousseliere
MISSION SAUVAGE

par SUPER CELEBRE

: FUGUEUSE (F18 PS) - Elie Lellouche
MYRTILLE D'HERODIERE

par RIFAPOUR (IRE)

: IL EST D'HERODIERE (M18 AQPS) - Andre Fremont
OKTODEZ (GER)

par JAVA GOLD (USA)

: JANE DES MOTTES (F18 PS) - E.a.r.l. Ecurie Des Mottes
PATIENTLY WAITING

par BALLINGARRY (IRE)

: GOOD DES LANDES (F18 PS) - S.c.e.a. Haras De La Rousseliere
PENINSULA

par DANSILI (GB)

: N. (F18 PS) - S.a.r.l. Jedburgh Stud
QUALITY MAG

par KADALKO

: IRON DE LA DOUCAIE (M18 PS) - Michel Marion
QURISTINE

par APRIL NIGHT

: IMBATTABLE (M18 AQPS)
RAIN ARTIST'S

par MONTMARTRE

: IRREPROCHABLE (F18 PS)
SARA DE FLEE

par USEFUL

: ILIAN DES MOTTES (M18 AQPS) - E.a.r.l. Ecurie Des Mottes
STIL LANE

par RIFAPOUR (IRE)

: ISILANE (F18 AQPS) - Christophe Dubourg
TROIKA

par KOTKY BLEU

: IOUCHKA (F18 AQPS) - Herve Robert
UCLEA BERE

par DELLA FRANCESCA (USA)

: ONISWELL TALISKER (M18 PS) - Marie Neuvy
WINOUMA LAUJAC

par HANNOUMA (IRE)

: WINDY LAUJAC (F18 PS) - Jacques Jean
Saillies
BULLA

par DREAM WELL

OPIUM DES MOTTES

par APRIL NIGHT

SAROUSHKA

par WESTERNER (GB)

TUFFE

par MISTER SACHA

VIRFOLETTE

par DENHAM RED
2016
monte
2016
juments
saillies
6
naissances
déclarées
4
Naissances
AUTORITAIRE

par AUTHORIZED (IRE)

: ON EST EXTRA (M17 PS) - S.a.r.l. Jedburgh Stud
GOLDANCE

par GOLDNEYEV (USA)

: N. (M17 PS) - Elie Lellouche
LADY CAROLE

par SUBOTICA

: N. (M17 PS) - Elie Lellouche
TCHITOLA

par CADOUBEL

: HOLA (F17 AQPS) - Roger Laffitte
Saillies
MISSION SAUVAGE

par SUPER CELEBRE

VENUS DU BERLAIS

par BERNEBEAU
2015
monte
2015
juments
saillies
12
naissances
déclarées
5
Naissances
ELOUERA (IRE)

par LOUP SOLITAIRE (USA)

: QU'IL EST BIEN (M16 PS) - E.a.r.l. Jean-Guy Lebrun
GOLD QUEEN

par GOLD AWAY (IRE)

: GOLD EAGLE (M16 PS) - Arsene Schott
GOLDANCE

par GOLDNEYEV (USA)

: N. (M16 PS) - Elie Lellouche
NIGHT ROCKER (GB)

par NIGHT SHIFT (USA)

: RED BEE (F16 PS) - Herve Boisbunon
RAINBOW OCEANE

par URBAN OCEAN

: RAINBOW STORM (M16 PS) - E.a.r.l. Haras Du Camp Benard
Saillies
BIRTHDAY TREAT

par MARTALINE (GB)

DUSZAMBE

par ADIEU AU ROI (IRE)

FAMATINA (SWI)

par ZIETEN (USA)

GALATZA

par JOHANN QUATZ

LADY CAROLE

par SUBOTICA

POLIADA (IRE)

par POLIGLOTE (GB)

RIVIERE FAVARDY

par KAPGARDE
2014
monte
2014
juments
saillies
9
naissances
déclarées
6
Naissances
DJIDJIKA

par SUPER CELEBRE

: ELYPSON (M15 PS) - E.a.r.l. Haras Du Camp Benard
ELOUERA (IRE)

par LOUP SOLITAIRE (USA)

: FELOUERA (F15 PS) - E.a.r.l. Jean-Guy Lebrun
GOLDANCE

par GOLDNEYEV (USA)

: CHUCK BASS (M15 PS) - Elie Lellouche
LADY CAROLE

par SUBOTICA

: N. (M15 PS) - Elie Lellouche
MISSION SAUVAGE

par SUPER CELEBRE

: EMILY THORNE (F15 PS) - Elie Lellouche
VANEZIA

par KOUROUN

: CAILLOTIN (M15 PS) - Dominique Bellet
Saillies
Jumenterie France Sire
Etalons présents parmis les plans de monte et/ou produits des élevages suivants