NOM DE D'LA
2006 (FR)
LOST WORLD et NEWNESS par SIMPLY GREAT
Bai / 2006 / 1.68m / Haras 2015
1.800€ en 2018
Stationné à : Elevage Figerro
Propre frère du regretté Nickname et demi-frère du jeune et convoité No Risk At All, Nom de D'Là est issu de la souche exceptionnelle descendant de Néoménie. Son père Lost World a été un grand étalon d'obstacle. Lui-même a été un excellent compétiteur en haies comme en steeple. Gagnant de deux gros handicaps à Auteuil à 7 jours d'intervalle devant Saga d'Ainay et Full Jack, il a été couronné dans le Grand Prix de la Ville de Nice (Gr.3) à Cagnes en 2014.
Il a commencé sa carrière d'étalon en 2015 au Haras du Mazet avec le soutien de son entraineur et propriétaire Jean-Paul Gallorini. Arrive en 2018 en Saône-et-Loire à l'Elevage Figerro près de Paray-le-Monial.
Performances
Gagnant de la Grande Course de Haies de Lyon, sa première victoire, Nom De D'La était entrainé par Jean-Paul Gallorini. Dans la foulée, il remporte un gros handicap à Dieppe en juin en battant l'excellent Tir Au But. A l'automne, toujours en 2012 alors qu'il est âgé de 6 ans, Nom De D'La signe deux victoires dans les gros handicaps d'Auteuil à une semaine d'intervalle. Les Prix François de Ganay et Jean Laumain tombent dans son escarcelle. Il battait alors les bons Saga d'Ainay, Sable des Ongrais, Rhode Island, Prince Picard, Full Jack, Tali des Obeaux, Tito dela Barrière ... 3ème du Prix du Comté de Nice (Listed) en décembre, il revient à Cagnes sur Mer en 2014 pour s'imposer brillamment dans le Grand Prix de la Ville de Nice (Gr.3) en battant Dulce Leo, Defi d'Anjou, Walk Sibo et autre Lamego.
Meilleures performances
1er

Grande Course de Haies de Lyon (Haies) 4000m


Lyon Parilly - 2012

3ème

Prix Robert Fournier Sarloveze (Haies) 4200m


Compiegne - 2012
Statistiques
| Courses | Victoires | Place | Gains | Indice Distance * |
| --- | --- | --- | --- | --- |
| 34 | 5 | 11 | 265 270 € | 4400 m |
| | 14.71% | 32.35% | | |
* Moyenne des distances des victoires et places de courses Gr.1, Gr.2, Gr.3 et Listed en plat (arrondie à la centaine)
Pédigrée
Northern Dancer

1961 (CAN)
Song of the Marches

1932 (GB)
Lignée maternelle
Télécharger au format PDF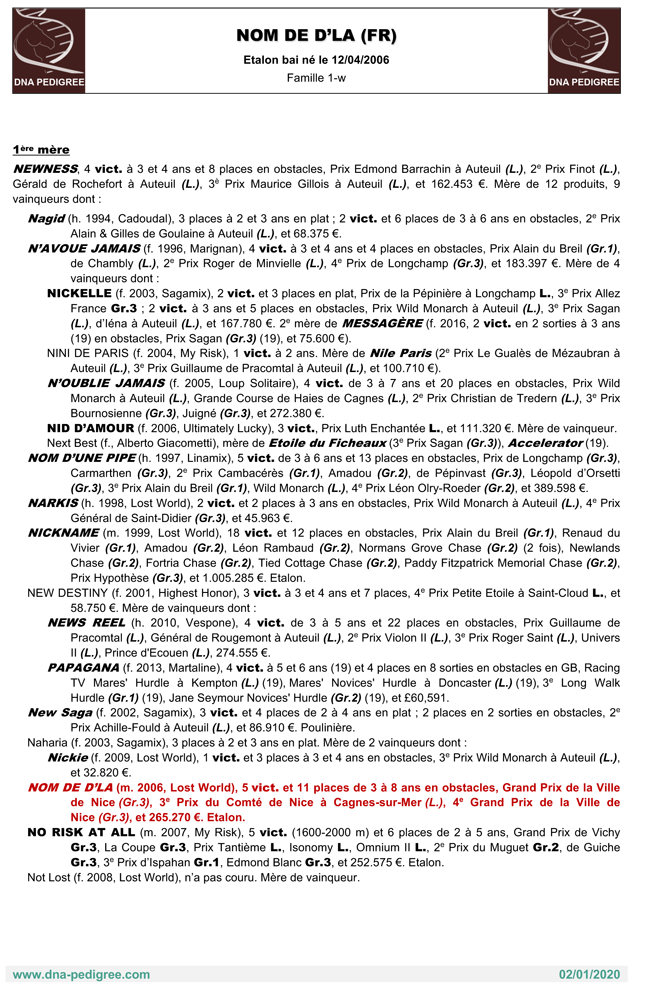 Générateur de pédigrée
Cet étalon n'a pas développé de formule de présentation complète (forfait premium).
Ventes & Shows
Retrouvez la liste des participations aux ventes et shows de l'étalon et de ses produits.
Vente d'Automne Deauville du 19/11/2018 au 21/11/2018
Lot
Nom
Pere
Mere
Issue
269
GIBSY DE BERCE F16

Nom De D'La x Kashmira

Nom De D'La
Kashmira
281
Grand Mario M17

Nom De D'La x Nina la Belle

Nom De D'La
Nina la Belle
Vente 100% obstacle Maisons-Laffitte le 02/11/2018
Lot
Nom
Pere
Mere
Issue
69
HURRY UP M17

Nom De D'La x Baronne Picsou

Nom De D'La
Baronne Picsou

17 000€

BERGER JEAN-LOUIS
Grand Show Anglo La Teste le 20/09/2018
Lot
Nom
Pere
Mere
Issue
71
ZUMBA DU MAZET F16

Nom De D'La x Rumba des Lilas

Nom De D'La
Rumba des Lilas
5ème
Chaser Day Paray-le-Monial le 15/06/2018
Lot
Nom
Pere
Mere
Issue
48
HURRY UP M17

Nom De D'La x Baronne Picsou

Nom De D'La
Baronne Picsou
Non classé
Vente d'obstacle Maisons-Laffitte le 03/11/2017
Lot
Nom
Pere
Mere
Issue
68
BETA AQUARII F16

Nom De D'La x Tour Magic

Nom De D'La
Tour Magic

4 500€

MILAVEAU STEPHANE
Concours AQPS - Finale interrégionale Decize le 25/08/2017
Lot
Nom
Pere
Mere
Issue
75
HURRY UP M17

Nom De D'La x Baronne Picsou

Nom De D'La
Baronne Picsou
5ème
Chaser Day Paray-le-Monial le 16/06/2017
Lot
Nom
Pere
Mere
Issue
97
Hula Heep M17

Nom De D'La x Baronne Picsou

Nom De D'La
Baronne Picsou
Non classé
Etalon Show Vichy le 20/01/2017
Lot
Nom
Pere
Mere
Issue
6
Nom De D'La M06

Lost World x Newness

Lost World
Newness
Salon des Etalons Le Lion d'Angers le 14/01/2017
Lot
Nom
Pere
Mere
Issue
17
Nom De D'La M06

Lost World x Newness

Lost World
Newness
Non classé
Finale Interrégionale et vente de Decize Decize le 28/08/2015
Lot
Nom
Pere
Mere
Issue
126
N (Outre Mer De Guye 2015) M15

Nom De D'La x Outre Mer de Guye

Nom De D'La
Outre Mer de Guye
5ème
Chaser Day Paray-le-Monial le 19/06/2015
Lot
Nom
Pere
Mere
Issue
89
N Penelope De Guye M15

Nom De D'La x Penelope de Guye

Nom De D'La
Penelope de Guye
1er
93
Fantastique Cotte H15

Nom De D'La x Romantique Cotte

Nom De D'La
Romantique Cotte
Non classé
94
N (Outre Mer De Guye 2015) M15

Nom De D'La x Outre Mer de Guye

Nom De D'La
Outre Mer de Guye
Non classé
Etalons du Sud-Ouest Pau le 17/01/2015
Lot
Nom
Pere
Mere
Issue
13
Nom De D'La M06

Lost World x Newness

Lost World
Newness
Etalons Show du Centre-Est Moulins le 17/01/2015
Lot
Nom
Pere
Mere
Issue
17
Nom De D'La M06

Lost World x Newness

Lost World
Newness
Production
Saillies & Naissances
Déclarées en France d'après les données gérées par le SIRE-POMPADOUR
2018
monte
2018
juments
saillies
0
naissances
déclarées
0
2017
monte
2017
juments
saillies
18
naissances
déclarées
9
2016
monte
2016
juments
saillies
36
naissances
déclarées
14
Naissances
BARONNE PICSOU

par GREAT PRETENDER (IRE)

: HURRY UP (H17 AQPS) - Jean-Louis Berger
BE MINE

par GREAT JOURNEY (JPN)

: SOLA D'OC (F17 PS) - Odile Ceremonie
CESARINE PALACE

par GREAT PRETENDER (IRE)

: CHICHI DE LA VEGA (M17 PS) - Jean-Paul Gallorini
DANAE DE JUILLEY

par SMADOUN

: DOODLE JUMP MAZET (F17 PS) - Mathieu Talleux
DOUNA DE JUILLEY

par AL NAMIX

: HELSA DU MAZET (F17 AQPS) - Mathieu Talleux
GOLD FIELD (IRE)

par UNFUWAIN (USA)

: BILLY THE GREEN (M17 PS) - Pascal Guignand
LA BOULOISE

par SLEEPING CAR

: HIRONDEL BOULOISE (F17 AQPS) - Jean-Paul Ninck
MEDANIX

par AL NAMIX

: LA GARELLE (F17 PS) - Sebastien Leloup
NINA LA BELLE

par VATORI

: GRAND MARIO (M17 PS) - Mathieu Talleux
ROLIE DE VINDECY

par ROLI ABI

: ROCK OF STAR (M17 PS) - Alexandrine Berger
RUMBA DES LILAS

par JEBELAND PONTADOUR

: CHACHACHA DU MAZET AA (F17 AC) - Mathieu Talleux
SUPER SISTER (ITY)

par ORPEN (USA)

: SUPERLA (F17 PS) - Fabrice Bazin
VITASSANA (IRE)

par VERGLAS (IRE)

: DRAGEES AUX POIVRE (F17 PS) - Isabelle Gallorini
WALK SIBIR

par SIMON DU DESERT

: WEEK NAME (M17 PS) - Daniel Bonnaudet
Saillies
AMIE DES CHAMPS

par ROBIN DES CHAMPS

ASTREE DE GRAVANGE

par FREEDOM CRY (GB)

CALISPERRIA

par KAPGARDE

DELLA SKALA

par DELLA FRANCESCA (USA)

EVER ROYALE

par URBAN OCEAN

FLEURS DE MARS

par NORTHERN FASHION (USA)

HEIDETIGERIN (GER)

par KONIGSTIGER (GER)

IERBASA DE KERPAUL

par CADOUBEL

KASHMIRA

par RIVERQUEST

KITTY DE JUILLEY

par CRILLON

KLASSICAL RISK

par MY RISK

KOBAL JOLIE

par BALKO

LASKADYA

par LASHKARI (GB)

MADDIE G. (USA)

par BLUSH RAMBLER (USA)

MISS FRITTON (IRE)

par REFUSE TO BEND (IRE)

MONICA SOURNIAC

par KHANJER JOLI

NAYA DE LA BRUNIE

par SATIN WOOD (IRE)

OPALE JOLIE

par EPALO (GER)

PRETTY DE CHADZEAU

par ROBIN DES CHAMPS

RIVA JELOIS

par BLACKDOUN

SARA D'ECUPILLAC

par CHEF DE CLAN

TUTTI FRUTI FERADIE

par HERITABLE
2015
monte
2015
juments
saillies
28
naissances
déclarées
17
Naissances
Saillies
CARMENGA (IRE)

par TIGER HILL (IRE)

CURVES IN CONTROL (USA)

par ARCH (USA)

EVER ROYALE

par URBAN OCEAN

KARINA DE LAVAUD

par DUM'POM

LASKADYA

par LASHKARI (GB)

PRETTY DE CHADZEAU

par ROBIN DES CHAMPS

STILY DE SENAM

par CHEF DE CLAN

SUPER SISTER (ITY)

par ORPEN (USA)

TUTTI FRUTI FERADIE

par HERITABLE

VOIX DE MONTOT

par VOIX DU NORD

WEAKNESS

par INDIAN KEAN (IRE)
2014
monte
2014
juments
saillies
7
naissances
déclarées
4
Naissances
MACIGA

par GUNBOAT DIPLOMACY

: FILOVENT (M15 AQPS) - E.a.r.l. Trinquet
OUTRE MER DE GUYE

par AGENT BLEU

: FABULEUX DE GUYE (H15 AQPS) - G.a.e.c. Delorme Gerard Et Vincent
PENELOPE DE GUYE

par DOM ALCO

: FRISSON DE GUYE (H15 AQPS) - G.a.e.c. Delorme Gerard Et Vincent
ROMANTIQUE COTTE

par ROBIN DES CHAMPS

: FANTASTIQUE COTTE (M15 PS) - Georges Richardot
Saillies
ALYCE

par VILLEZ (USA)

NEIGE DE SORMAIN

par LIGHTS OUT

NOISETE

par RAGMAR
2013
monte
2013
juments
saillies
0
naissances
déclarées
0
2012
monte
2012
juments
saillies
0
naissances
déclarées
0
Jumenterie France Sire
Etalons présents parmis les plans de monte et/ou produits des élevages suivants