PRINCE GIBRALTAR
2011 (FR)
ROCK OF GIBRALTAR et PRINCESS SOFIA par PENNEKAMP
Alezan / 2011 / 1.65m / Haras 2016
Haras de Montaigu / 4.000€ en 2018
Vainqueur de Gr.1 à 2 et 4 ans (Critérium de Saint-Cloud et Grand-Prix de Baden), classique à 3 ans, Prince Gibraltar a débuté sa carrière d'étalon en 2016 au Haras de Montaigu. L'un des rares fils de Rock Of Gibraltar à faire la monte en France. Cet élégant cheval doté d'une accélération impressionnante a très bien été accueilli par les éleveurs en saillissant 77 juments en 2016 et 45 en 2017.
Performances
Spécialiste des distances allant de 2000 à 2400m, Prince Gibraltar a débuté sa carrière en septembre de ses 2 ans par une 3ème place à Chantilly. Très vite, il s'impose pour la première fois lors de sa 2ème sortie. Vainqueur du Critérium de Saint-Cloud (Gr.1) de 5 longueurs en terrain lourd, Prince Gibraltar effectue sa rentrée à 3 ans dans le Prix Greffulhe (Gr.2) qu'il remporte avant de se placer très proche 3ème de The Grey Gatsby dans le Prix du Jockey-Club après une remontée éblouissante. 2ème du Grand-Prix de Paris (Gr.1) puis 3ème du Prix Guillaume d'Ornano (Gr.2), Prince Gibraltar continue sa carrière à 4 ans par une brillante victoire dans le Grand-Prix de Baden (Gr.1), une 2ème place dans le Grand-Prix de Chantilly (Gr.2) et une 3ème place dans les York Stakes (Gr.2) en Angleterre. Tout au long de sa carrière, Prince Gibraltar a battu Karakontie, The Grey Gatsby, Free Port Lux, Ruler Of The World, Avenir Certain, Siljan's Saga, Spiritjim, Chicquita, Nightflower, Sirius, Dolniya et Found.
Meilleures performances
Statistiques
| Courses | Victoires | Place | Gains | Indice Distance * |
| --- | --- | --- | --- | --- |
| 15 | 4 | 8 | 1 195 269 € | 2200 m |
| | 26.67% | 53.33% | | |
* Moyenne des distances des victoires et places de courses Gr.1, Gr.2, Gr.3 et Listed en plat (arrondie à la centaine)
Pédigrée
Prince Gibraltar

2011 (FR)
Rock of Gibraltar

1999 (IRE)
Princess Karenda

1977 (USA)
Northern Dancer

1961 (CAN)

Northern Dancer

1961 (CAN)

Northern Dancer

1961 (CAN)
Admirals Voyage

1959 (USA)

Bubbling Beauty

1961 (USA)

Fleet Nasrullah

1955 (USA)
Lignée maternelle
Télécharger au format PDF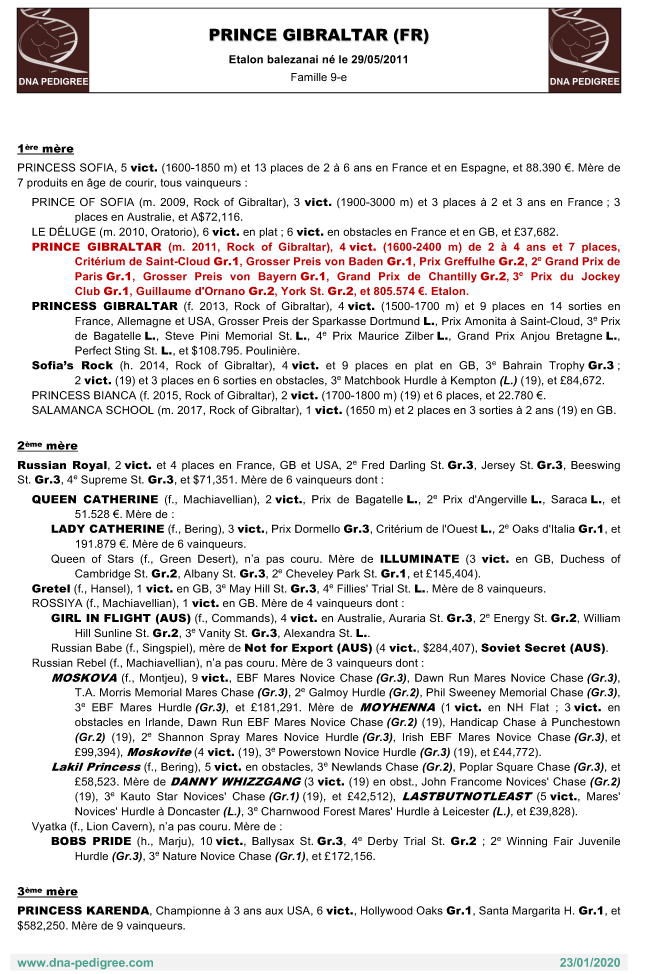 Générateur de pédigrée
Cet étalon n'a pas développé de formule de présentation complète (forfait premium).
Ventes & Shows
Retrouvez la liste des participations aux ventes et shows de l'étalon et de ses produits.
Vente mixte de février Deauville du 13/02/2018 au 14/02/2018
Lot
Nom
Pere
Mere
Issue
147
Sanak M17

Prince Gibraltar x Sanadora

Prince Gibraltar
Sanadora
Racheté

3 000€

Vente d'élevage de Décembre Deauville du 09/12/2017 au 12/12/2017
Lot
Nom
Pere
Mere
Issue
478
Nulparailleurs M17

Prince Gibraltar x Etrangere

Prince Gibraltar
Etrangere

16 000€

ROSSI Jacques
532
N (LASTING VIEW 2017) F17

Prince Gibraltar x Lasting View

Prince Gibraltar
Lasting View

11 000€

HARAS DU SAUBOUAS
585
COTE JARDIN M17

Prince Gibraltar x Perspective

Prince Gibraltar
Perspective

8 500€

FRESNAY AGRICOLE S.A.S
635
N (SCARLET SONNET 2017) F17

Prince Gibraltar x Scarlet Sonnet

Prince Gibraltar
Scarlet Sonnet

4 000€

FRESNAY AGRICOLE S.A.S
637
N (SEBA 2017) M17

Prince Gibraltar x Seba

Prince Gibraltar
Seba

4 000€

ELEVAGE COLLANGE
756
N (DAUPHINE 2017) F17

Prince Gibraltar x Dauphine

Prince Gibraltar
Dauphine

6 000€

ROSSI Jacques
898
N (UPPER JEM 2017) M17

Prince Gibraltar x UPPER JEM

Prince Gibraltar
UPPER JEM

5 000€

KEVIN ROSS BLOODSTOCK
929
CELTIC PRINCE M17

Prince Gibraltar x Celtic Air

Prince Gibraltar
Celtic Air

23 000€

T J BLOODSTOCK
La Route des Etalons 2016 Normandie du 30/01/2016 au 31/01/2016
Lot
Nom
Pere
Mere
Issue
52
Prince Gibraltar M11

Rock of Gibraltar x Princess Sofia

Rock of Gibraltar
Princess Sofia
Vente de l'Arc Saint-Cloud le 03/10/2015
Lot
Nom
Pere
Mere
Issue
43
Prince Gibraltar M11

Rock of Gibraltar x Princess Sofia

Rock of Gibraltar
Princess Sofia

1 350 000€

AGENCE FIPS
Production
Saillies & Naissances
Déclarées en France d'après les données gérées par le SIRE-POMPADOUR
2017
monte
2017
juments
saillies
45
naissances
déclarées
0
Saillies
AMBER TWO (GB)

par CADEAUX GENEREUX (GB)

AMERICAN MOON

par MASTERCRAFTSMAN (IRE)

ARGOMILLA

par DANSILI (GB)

AZUCAR (IRE)

par DESERT PRINCE (IRE)

BACK THE WINNER (IRE)

par ENTREPRENEUR (GB)

BIDEEYA (USA)

par DUBAWI (IRE)

BLANCHE VERTE

par GREEN TUNE (USA)

BLUE CAYENNE

par ANABAA BLUE (GB)

BOLICHE (GB)

par KEY OF LUCK (USA)

BOMBA

par HANNOUMA (IRE)

CASCABEL (SPA)

par DYHIM DIAMOND (IRE)

DAFFODIL FIELDS (IRE)

par MOSS VALE (IRE)

DANUBE (IRE)

par MONTJEU (IRE)

DIAMOND STAR (IRE)

par DAYLAMI (IRE)

DONTSTOPLOVINGME

par CREACHADOIR (IRE)

ELUSIVE KAY

par ELUSIVE CITY (USA)

HIGH PERFECTION (IRE)

par HIGH CHAPARRAL (IRE)

HUECHAHUE (USA)

par ROYAL ACADEMY (USA)

KEYMINDA

par ZAMINDAR (USA)

LA BOHEME (SWI)

par BROTHER'S VALCOUR

LADY ASCOT (IRE)

par EXCELLENT ART (GB)

LAFRIA

par ZAMINDAR (USA)

LUNE ROUGE (IRE)

par UNFUWAIN (USA)

MAID OF DAWKINS (IRE)

par KENDOR

MARMOOM FLOWER (IRE)

par CAPE CROSS (IRE)

MESHHED (USA)

par GULCH (USA)

MILANAISE

par MARIGNAN (USA)

MISS LADY (GER)

par LAWMAN

NELLY DEAN (GB)

par PIVOTAL (GB)

NID D'AMOUR

par ULTIMATELY LUCKY (IRE)

NIJINSKA DELAROQUE

par LUTE ANTIQUE

OAT NIVEAU

par REVOQUE (IRE)

PAINTED GIRL

par MONSUN (GER)

QUALITA (GER)

par KONIGSTIGER (GER)

REINE BERE

par UNTIL SUNDOWN (USA)

RENASCENT RAHY (GB)

par RAHY (USA)

ROXANNE

par FALCO (USA)

SHENTALA

par XAAR (GB)

SIENNA BELLA (GB)

par ANABAA (USA)

SILENT FLIGHT

par SICYOS (USA)

SOMMERNACHT (GER)

par MONSUN (GER)

TOP WAVE

par MEDAALY (GB)

WINNER IN LOVE (IRE)

par REFUSE TO BEND (IRE)

ZANATIYA

par SINNDAR (IRE)

ZONGORAORA

par BERING (GB)
2016
monte
2016
juments
saillies
74
naissances
déclarées
49
Naissances
ALIZEYRA

par LAVERON (GB)

: PRINCE ZALTAR (M17 PS)
ARGOMILLA

par DANSILI (GB)

: REVE DE PRINCE (M17 PS) - Jean-Philippe Duguey
BABOLA (IRE)

par GRAND LODGE (USA)

: PRINCE MANOA (M17 PS) - Clement Delaunay
BAINORAMA

par ANABAA (USA)

: N. (F17 PS) - S.c.e.a. Haras De Manneville
BELLE CHASSE (GB)

par KYLLACHY (GB)

: N. (F17 PS) - Laurent Lengin
CAPHIRA (GB)

par SINGSPIEL (IRE)

: MARGARET'S LEGACY (M17 PS) - Richard Venn Bloodstock Ltd
CELTIC AIR

par KALDOUNEVEES

: CELTIC PRINCE (M17 PS) - Henri Devin
CHARMING CLEM (IRE)

par MASTERCRAFTSMAN (IRE)

: N. (M17 PS) - Patricia Lemarie
DAFFODIL FIELDS (IRE)

par MOSS VALE (IRE)

: N. (M17 PS)
DANUBE (IRE)

par MONTJEU (IRE)

: N. (M17 PS) - E.a.r.l. Haras De Lassos
DAUPHINE (SAF)

par RICH MAN'S GOLD (USA)

: N. (F17 PS) - Haras D'ecouves
DIAMOND STAR (IRE)

par DAYLAMI (IRE)

: N. (M17 PS) - S.c.e.a. Haras Du Ma
DON'T HURRY ME (IRE)

par HURRICANE RUN (IRE)

: N. (F17 PS) - Jean-Francois Gribomont
ETRANGERE (USA)

par FUSAICHI PEGASUS (USA)

: NULPARAILLEURS (M17 PS) - Aliette Forien
FAMOUS PORTRAIT

par KENDOR

: ON CANVAS (F17 PS) - E.a.r.l. Elevage Des Loges
FASHION SCHOOL (GB)

par SHAMARDAL (USA)

: N. (F17 PS) - Mathieu Daguzan-Garros
FERROVIA

par ORATORIO (IRE)

: GOLD PRINCESS (F17 PS)
HOLIDAY MAKER (GB)

par DUBAI DESTINATION (USA)

: N. (F17 PS) - Annie Delarue
HOPAMARE

par MUHTATHIR (GB)

: MISS BRALTAR (F17 PS) - Gheorghe Codre
LASTING VIEW (IRE)

par PIVOTAL (GB)

: N. (F17 PS) - Jason Singh
LIBRE LADY (GB)

par LIBRETTIST (USA)

: LIBERATA (F17 PS)
LUCKY MILLIONAIRE (IRE)

par INDIAN ROCKET (GB)

: LUCKY KOKKIE (M17 PS) - Gerda Kok
MANHATTAN PRINCESS (GB)

par PIVOTAL (GB)

: MANHATTAN GARDEN (M17 PS) - S.c.e.a. Societe D'entrainement Louis Baudron
MOUNE (IRE)

par WHIPPER (USA)

: N. (M17 PS) - Sandrine Andre
MY MISS

par CADOUDAL

: HALCANE DE VIETTE (M17 PS) - Domingo Querol Sanmartin
NOANOA

par WALK IN THE PARK (IRE)

: CANICHETTE (F17 PS) - Luc Monnet
PAS DE TUNE

par GREEN TUNE (USA)

: N. (M17 PS) - S.c.p. Ecurie Du Sud
PERSPECTIVE

par FUNAMBULE (USA)

: COTE JARDIN (M17 PS) - Franck Bozo
PRAGMATISME

par LINNGARI (IRE)

: PONT D'OUILLY (M17 PS) - S.c.e.a. Haras Du Hoguenet
PRAIRIE CITY (IRE)

par ELUSIVE CITY (USA)

: N. (M17 PS) - Hans Georg Stihl
RED SMART

par SMART STRIKE (CAN)

: REDNESS (F17 PS)
REINE BERE

par UNTIL SUNDOWN (USA)

: CHARLOTTE JAG (F17 PS) - Herve Tibeuf
ROUGE DES CHAMPS

par ROBIN DES CHAMPS

: TITANE DES CHAMPS (F17 PS)
ROUGEBURG

par SAGEBURG (IRE)

: PRINCE EXPRESS (M17 PS)
ROXANNE

par FALCO (USA)

: N. (F17 PS)
SANADORA

par MANDURO (GER)

: SANAK (M17 PS) - S.c. Scpa Fertilia
SAUVES LA REINE

par PASSING SALE

: HORSDUTEMPS (M17 AQPS) - Guy Vimont
SCARLET SONNET (IRE)

par INVINCIBLE SPIRIT (IRE)

: N. (F17 PS)
SCARLOCK

par MANSONNIEN

: SCATAR (M17 PS) - Patrick Boiteau
SEBA (GB)

par ALZAO (USA)

: N. (M17 PS) - E.a.r.l. Haras De Montaigu Haras De Montaigu
SIZAL

par SICYOS (USA)

: SIGISMOND (M17 PS) - S.c.e.a. De Maulepaire
SONG OF HOPE (GER)

par MONSUN (GER)

: SONG PRINCESS (F17 PS) - S.c.e.a. De Marancourt
STENASIA

par WALK IN THE PARK (IRE)

: STEBRALTAR (M17 PS) - Patrick Boiteau
SYBILIA (GER)

par SPECTRUM (IRE)

: GAGNANTE (F17 PS) - Gerard Ferron
UPPER JEM (IRE)

par BERTOLINI (USA)

: N. (M17 PS) - S.a.r.l. Baileys Haras Des Trois Chapelles
WONDERFUL LIFE (GER)

par TIGER HILL (IRE)

: BASTILLE FORLONGE (F17 PS) - Pierre Noirot
WYKIKI (SPA)

par CARADAK (IRE)

: LAGERTHA GIBRALTAR (F17 PS) - Sonia Samalassa
YOURS EVER (GB)

par DANSILI (GB)

: N. (F17 PS) - Mathieu Daguzan-Garros
ZONGORAORA

par BERING (GB)

: N. (M17 PS) - S.c.p. Ecurie Du Sud
Saillies
ADVENIO (IRE)

par AD VALOREM (USA)

BACK THE WINNER (IRE)

par ENTREPRENEUR (GB)

BIDEEYA (USA)

par DUBAWI (IRE)

CINDY FLIGHT

par TURGEON (USA)

COUPE DU ROI

par KINGSALSA (USA)

DON'T WORRY ME (IRE)

par DANCING DISSIDENT (USA)

DONTSTOPLOVINGME

par CREACHADOIR (IRE)

FAST VALLEY

par TEL QUEL

HELLO SINDARELLA

par SINNDAR (IRE)

HEURE D'HIVER

par AUSSIE RULES (USA)

LUNE ROUGE (IRE)

par UNFUWAIN (USA)

MAUREENDA

par SHAMARDAL (USA)

MINE LOINTAINE

par ANTARCTIQUE (IRE)

MOON OF ALEX

par ALEX THE WINNER (USA)

MUSCADET (GER)

par SINGSPIEL (IRE)

NARA ERIA

par MARTALINE (GB)

OAT NIVEAU

par REVOQUE (IRE)

QUALITA (GER)

par KONIGSTIGER (GER)

QUEEN EMILIE

par BALLEROY (USA)

SCHOLAR

par SILLERY (USA)

SOLOSOLE (USA)

par GULCH (USA)

SPRING MORNING

par ASHKALANI (IRE)

STENELLA

par TAKE RISKS

WELCOME IN PARIS

par AZAMOUR (IRE)

ZYCIA (IRE)

par BISHOP OF CASHEL (GB)
2015
monte
2015
juments
saillies
0
naissances
déclarées
0
2014
monte
2014
juments
saillies
0
naissances
déclarées
0
2013
monte
2013
juments
saillies
0
naissances
déclarées
0
2012
monte
2012
juments
saillies
0
naissances
déclarées
0
2011
monte
2011
juments
saillies
0
naissances
déclarées
0
Jumenterie France Sire
Etalons présents parmis les plans de monte et/ou produits des élevages suivants